A WiFi adapter is one of those devices that you hardly think about if everything is working just fine, but you quickly remember it if you are having issues with your internet connection. Upgrading your adapter, especially if it has been a while, remains one of the most important troubleshooting steps for internet issues when everything seems alright with your computer, modem, and ISP, and you do not know where else to turn.
Fortunately, a WiFi adapter is relatively inexpensive (in most cases) and can make a world of difference. While many devices will have one built-in, they often are not the best available and cannot get the best signal you need for streaming, gaming, and more. Often people want a replacement and are right for doing so.
However, before reading further, please note that we are currently talking about just USB adapters, given their wider range of use and greater ability to be easily replaced, especially in laptops.
So, without further delay, here are our top five choices, sorted into a representative for each category of consideration. You can either review them all or skip right to what you know you need.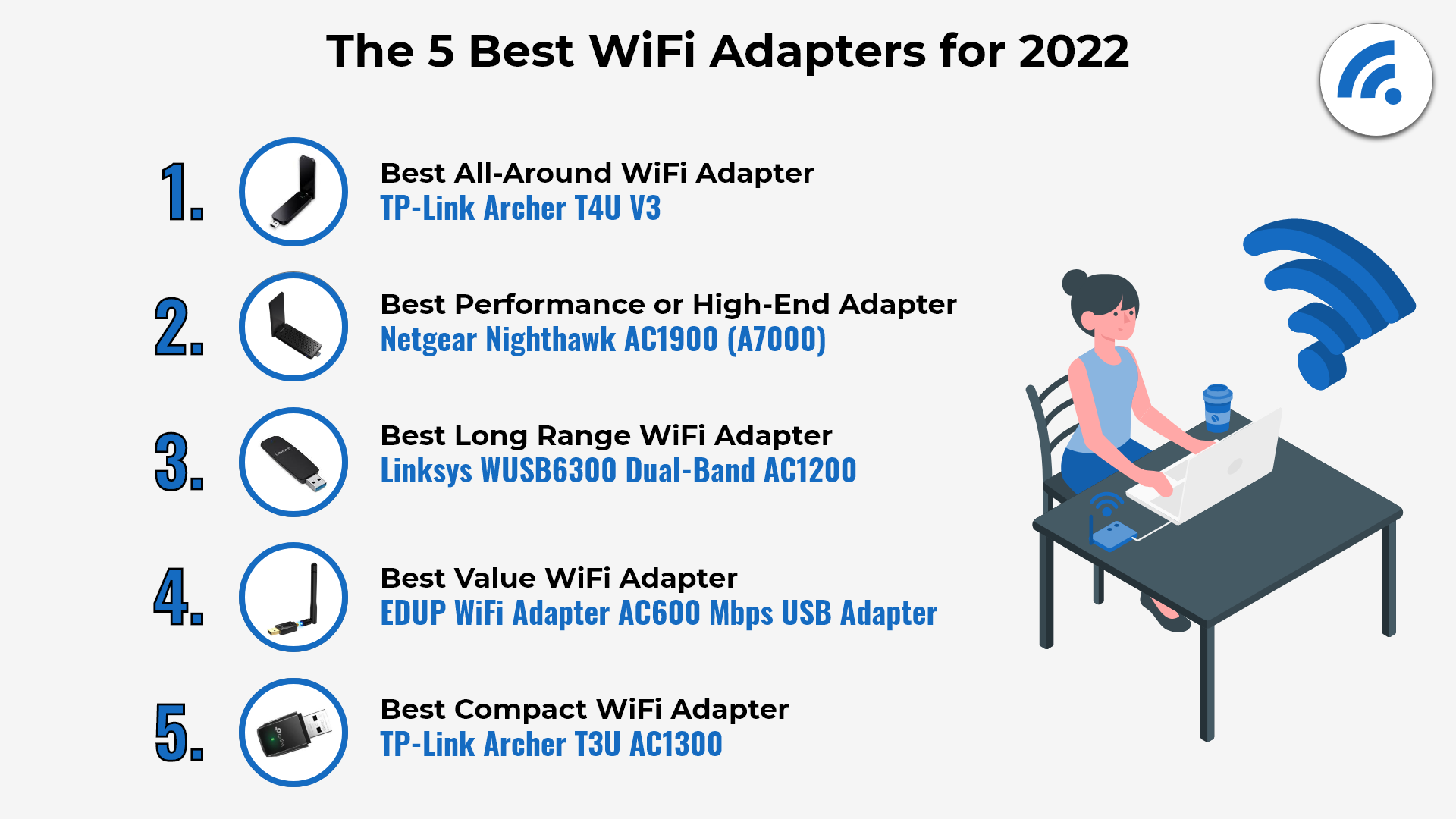 1. Best All-Around WiFi Adapter: TP-Link Archer T4U V3
If you just want to get in, check this article quickly, and then go and place an order, for that we recommend the TP-Link Archer T4U V3. It combines a reasonable price with fantastic speeds (both upload and download) and a more compact size than most other adapters with the same capabilities. While you can look over the stats below, we can simply tell you this: for the average user; the TP-Link Archer T4U V3 lacks nothing.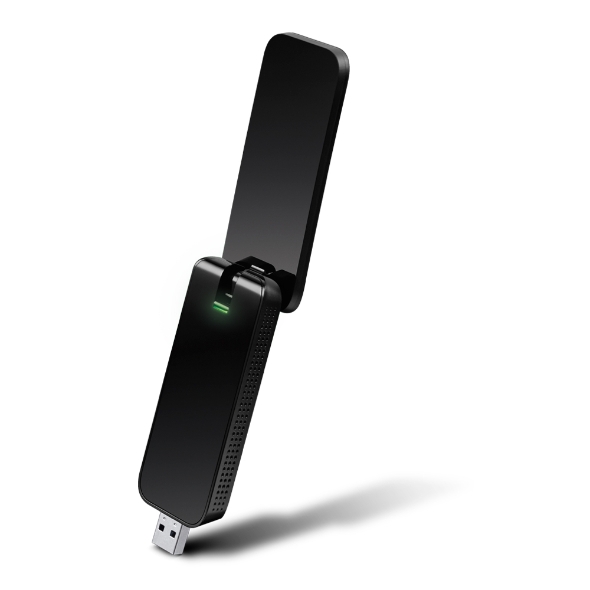 We would like you to note that we are talking about the V3 of the product and that you should make sure that you are getting the correct version. The older models are excellent, but they are obsolete by today's standards.
The TP-Link Archer T4U V3 sells for an average price of about $30-$40, can handle a maximum wireless speed of up to 1300 Mbps with both of its bands (2.4 GHz and 5 GHz), can utilize USB 3.0 technology (not always available with older devices), and will work with both Windows and Mac devices. From our ability to test it, the TP-Link Archer works with any commonly available router.
Pros
· Excellent capabilities all-around that will provide the connection necessary for all but the absolute most demanding of tasks. Any problems will likely be due to the internet service or other equipment rather than this adapter.
· The ability to fold, allowing it to be more portable than other adapters of the same size.
· It works very well both at closer ranges and longer ranges, something that more specialized adapters cannot always claim.
Cons
· As of this writing, it was difficult to find one available to buy at its standard retail price.
· While excellent in most regards, it does not have some of the specialized features you might find elsewhere.
Recommended for
· People who do not want to think much further about what WiFi adapter they want. Trust us; this one will likely have you covered unless you have a special use in mind.
· People who are looking to give a WiFi adapter as a gift.
· People looking for an adapter that will last them the next couple of years, barring loss or damage.
2. Best Performance or High-End Adapter: Netgear Nighthawk AC1900 (A7000)
Some tech-oriented people simply want to have the best at their disposal. Those people will probably want to look at the Netgear Nighthawk AC1900, which is one of the most popular adapters for power users and gamers alike. This device should be able to take almost anything your modem throws out, even if you have a gigabit connection. We have recommended other products in the Netgear Nighthawk line in other articles, and for a good reason. They are just that good when it comes to creating a performance-oriented internet setup.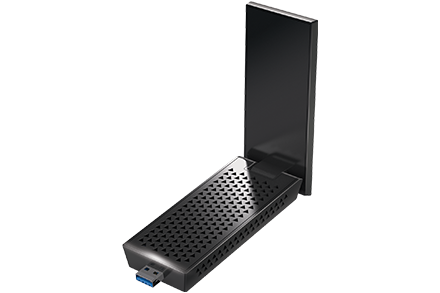 If you are planning on using this device primarily with a desktop or a laptop meant to stay in one place, you will be happy to know that a desktop cradle is included to even further maximize efficiency. As an additional note, make sure not to mix up this device with the Netgear Nighthawk AC1900 router unless you plan on getting both.
The Netgear Nighthawk AC1900 weighs 2.3oz, can use both 2.4 and 5GHz frequencies depending on what is available, can handle speeds of up to 1200 Mbps, and is compatible with both Windows and Mac devices.
Pros
· Excellent connectivity combined with the fact that it will almost certainly be able to hit the max speeds a modem or router is putting out.
· The use of Beamforming+ to improve the speed, range, and consistency of your connections. The included desktop cradle helps matters even further and is magnetic to make the adapter's placement easier to handle.
Cons
· This is a heavier adapter compared to many other models, and it is unlikely you'll want to carry it around.
· When compared to other adapters, the Netgear Nighthawk is on the more expensive end. It probably is not a good choice unless you have an intended use for it.
Recommended for
· Power users, gamers, and those looking to stream 4K content without any issues.
· Those who have an amazing internet setup and want to get the most from it.
· People who see it and know precisely what they need it for in a matter of seconds.
3. Best Long Range WiFi Adapter: Linksys WUSB6300 Dual-Band AC1200
All adapters are meant to work at a decent range, but some are better suited for excursions to the patio or backyard than others, picking up signals others would have trouble with. If you are looking for such an adapter, then you want the Linksys WUSB 6300 AC1200. A sleek and lightweight adapter that, while not able to match all of the stats of our previous two picks, is a competitor that can reach networks others cannot.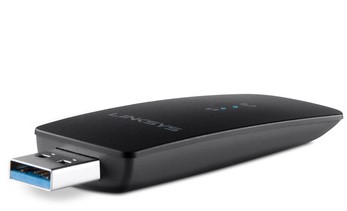 We would like to stress again that this is a more specialized device, and while it will work with nearly any computer like any adapter on this list, we don't recommend you choose it based on thinking you'd just like to have long-range. A specific need, for which this device is suited, is recommended.
The Linksys WUSB6300 Dual-Band AC1200 has a maximum download speed of 867 Mbps on the 5 GHz band and 300 Mbps on the 2.4 GHz band. It is compatible with any AC 802.11ac router, and it works on Windows devices on operating systems going back to Vista. As is common with modern devices, it supports up to 128-bit encryption, and plugging it in is, for the most part, all that is required to make it work with most devices.
Pros
· Some of the best reception at long range in the industry at this price point.
· Excellent throughput when utilizing USB 3.0 technology.
· Lightweight and easy to move around with your device.
Cons
· While it can get a signal from long ranges, that does not mean it is as strong as it could be. Do not expect to download large files at high speeds at the maximum range.
· It also is not the strongest option at closer ranges. If you usually just plan to set up next to your router, this probably is not the adapter for you.
· Compared to other options, there was a higher latency. This is not your best option if you are a gamer or someone who needs fast response times.
· It is slightly expensive, although not prohibitively so.
Recommended for
· People with large homes or those who might use outdoor public WiFi often, which often is not as consistent.
· People who frequently move about their home and want their devices to remain connected no matter what (this is important for things such as video calls and online gaming).
· People who will not use it or use a different adapter (or cable) at close ranges.
4. Best Value WiFi Adapter: EDUP WiFi Adapter AC600 Mbps USB Adapter
Adapters are interesting in that there are plenty of justifications for having more than one. There is the very nice high-end adapter you keep for your home computer, and there's the one you don't mind too much accidentally losing at the hotel. The EDUP WiFi is of the latter category of adapters, and we love it for that reason.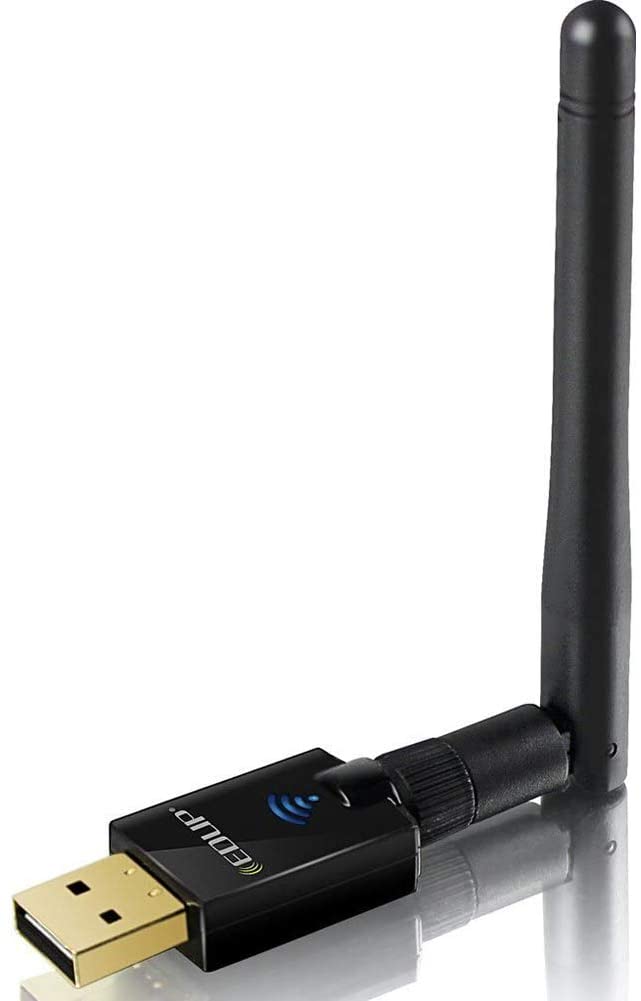 As of the time of writing, it's less than $15 and is just a small USB device with an antenna you can plug into your device and let it be, allowing you to surf the net, handle most of your business and move on with your day. With a good enough connection, you should also be able to download media and stream video as you would with most adapters, although perhaps not at the speeds or video quality you might be used to. We do not recommend it for primary home device usage.
The EDUP WiFi Adapter AC600 can reach download speeds of up to 433 Mbps on the 5.8 GHz band and 150 Mbps on the 2.4 GHz band. It uses USB 2.0 ports (it does not take advantage of USB 3.0 tech) and is lightweight.
Pros
· It can reliably handle all basic networks and is easy to plug in and use.
· You can order several of them for the same cost as most of the other adapters on this list.
· You can plug it in, and it will be ready to go.
Cons
· While the antenna is compact, that does not mean there are not more compact options (there are mini-USB adapters available) that would serve the travel needs better.
· The device does not use USB 3.0 and will not benefit from the technology, potentially limiting some aspects of internet speed.
Recommended for
· People who need a WiFi adapter only for rare occasions or who would otherwise just use an ethernet cable in the house for most online activity.
· People who do not stream on their laptops or related devices too often who just need a basic adapter beyond what is in their device.
· People who want a spare adapter so they can immediately switch if something happens to their main device.
5. Best Compact WiFi Adapter: TP-Link Archer T3U AC1300
When plugged in, the TP-Link AC1300 is smaller than your thumb. That's as unobtrusive as it gets, and if you don't need top-tier performance but are looking for convenience in other ways, the TP-Link Archer T3U (not to be confused with the TP-Link Archer T4U V3 from before) is for you. Why on earth would you want to carry around a small communications array with you while you travel or simply move about the office when instead you could use this.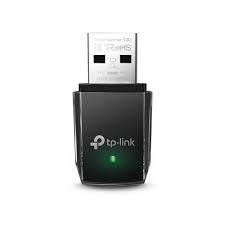 This is the opposite of the garish antenna arrays you have likely seen, which we have tried to avoid recommending in this article. You cannot expect the range to be as effective as you would get from a more dedicated adapter.
The TP-Link Archer T3U AC1300 can support download speeds of up to 400 Mbps on the 2.4 GHz band and 867 Mbps on the 5 GHz band, matching many all-around and even some performance models. It works with Windows systems going back to XP as well as Mac systems. As you might expect, it is extremely lightweight, and you will hardly notice it when plugged into your machine. It also has all the security protocols one would expect from a modern adapter.
Pros
· It is so small that you will hardly notice it most of the time.
· The ability to utilize USB 3.0 technology to allow for faster transfer speeds.
· The device can deal with two simultaneous data streams improving throughput. If you have an MU-MIMO router, you should look more heavily into this adapter.
· An easy setup process that can occur with a CD installation.
Cons
· It likely will not be able to get the reception available to those adapters which have longer, built-in antennas, or larger adapters with more tech installed.
· You will be able to find a better adapter for the same price if you do not care about the size.
Recommended for
· Frequent travelers who do not want to carry around another extra item and would always rather just keep the adapter plugged in.
· People are afraid they might accidentally damage their adapter through regular use and want something that does not stick out.
· People who want a good adapter avoiding ostentation, but also will not stray too far from their modem or router.
Conclusion
In a world filled with cheap and low-quality WiFi adapters, which may work but not truly enhance your WiFi experience, you can trust that you will find a good fit for your needs among the above five selections. We hope you will be able to find the correct choice for your home among the above options and be happy with it for years to come. We also encourage you to research the above options even further and look for the best deal possible online.