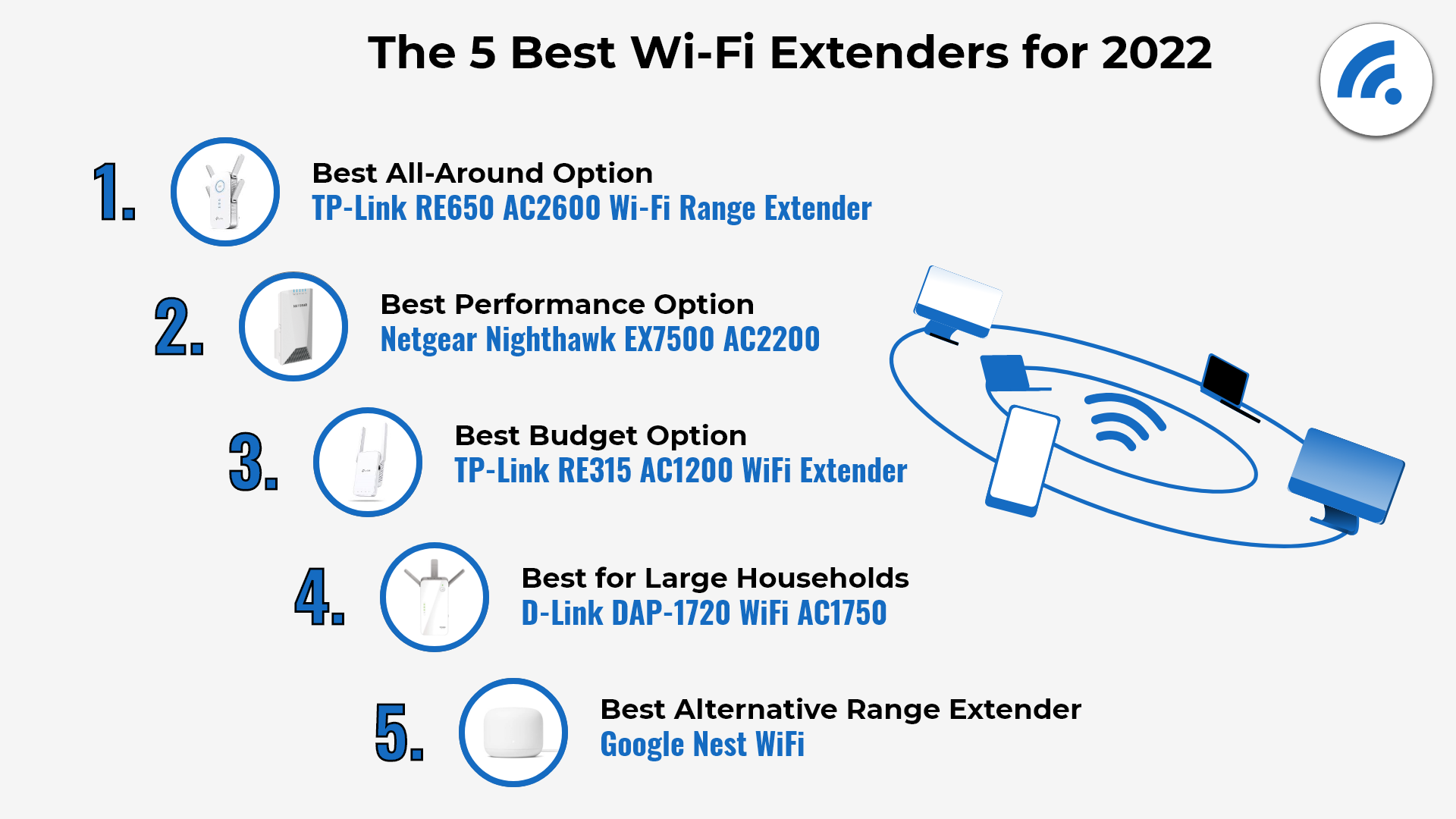 What you look for from a Wi-Fi extender might be different from other readers, and that's ok. Every home is just a bit different, and therefore so will network needs. Yet developers and manufacturers of these products know this. To this end, there are plenty of products on the market, meant for people with different homes, budgets, and download speed needs. There can be a lot to consider, and there is also a lot of junk on the market as well.
We want to help you avoid that, by narrowing down the Wi-Fi extenders on the market to the top performers. We selected one option for five categories that are each best for a certain kind of user, so we can ensure there's something for everyone. Here are our top five WiFi extenders for people in 2022:
1. Best All-Around Option: TP-Link RE650 AC2600 WiFi Range Extender
If you just want an excellent WiFi range extender or aren't sure where else to turn, we recommend the TP-Link RE650 AC2600. It will handle most needs perfectly fine and can purportedly handle 14,000 square feet with all four antennas. We consider this claim is potentially a bit of a stretch when it comes to maintaining a good connection, especially as even most performance models cannot reach these numbers reliably. Still, we can confidently say that this WiFi extender can handle a large area of your home.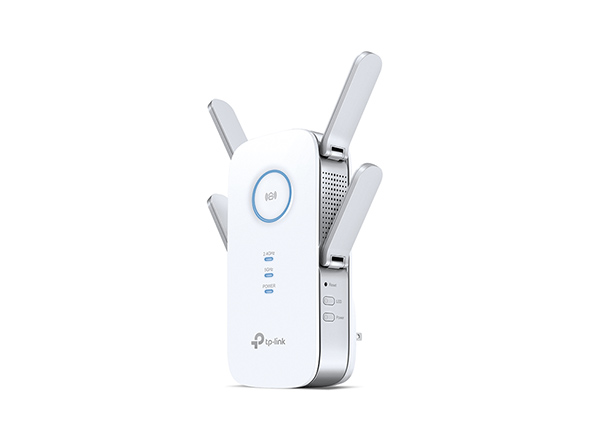 The device has four antennas, none of which are removable. It has a one-gigabit ethernet port, has a general extension range of 75 feet, and you can trust it to provide speeds of at least 500 Mbps at normal usage ranges (assuming your network is capable of those speeds). We would also like to note this is a larger device, being 6.3 x 3.0 x 1.8, and if you are looking for something compact, you might want to look elsewhere.
Pros
· The device is straightforward to use and can be controlled easily from a phone or tablet.
· Few, if any, notable weaknesses in its design or functioning. The worst we can say is that it might not stand up to specialized models in their fields of specialization.
· The ability to handle four devices at once, reducing waiting times for connected devices.
Cons
· Although it is our all-around choice, it is on the more expensive side of the spectrum of extenders.
· Being based on a power outlet, the device could easily take over the entire outlet, making plugging in other devices nearby more difficult. You will need a dedicated place for it.
· There are some better options for those looking for the absolute best connection in the world, but naturally, most of those will cost a great deal more. A wired connection is still obviously better for extreme use cases, and most people won't need to give it a second thought.
Recommended For
· People looking for a general yet above average WiFi range extender for their home.
· People who otherwise are not sure what to get and just want to get an extender and move on with their lives.
· Anyone looking for a range extender that is relatively easy to set up and use.
2. Best Performance Option: Netgear Nighthawk X65 EX8000
The Netgear Nighthawk X65 EX8000 is, simply put, one of the best WiFi range extenders you can buy if you are looking for a performance model, and never a bad investment if you are willing to spend a good deal of money on an extender. Even though it is about two years old at the time of writing, the Nighthawk continues to perform well and can be expanded into a mesh setup if you're willing to spend even more money and realize you need more coverage.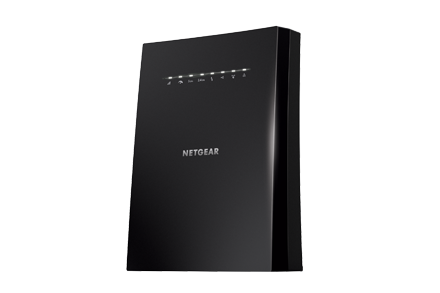 The Netgear Nighthawk X65 EX8000 has 2500 square feet of coverage and can handle about 50 devices at once without issue (making it stand apart for smart homes and power users). It is 8.9 x 6.7 x 3.7 inches, has four-gigabit internet ethernet ports (excellent for dedicated gaming or streaming), a USB 2.0 ports for improved device connectivity, and can generally extend a network's range by nearly 170 feet. It utilizes a smart setup wizard or program, and changing settings is easy for anyone with a couple of minutes to spare.
Pros
· A massive effective range of about 170 feet, making it likely the only range extender you will need in your household if you have a decent router.
· Superior speeds for gaming and other high-use and low-latency requirements.
· The ability to easily expand into a mesh network if you find the need down the line (or right away).
· It will use your existing network's SSID, making it easy to stay connected to the network in your home no matter where you are or what device you are using.
Cons
· Compared to other range extenders, this is a massive device, and will effectively be the size of another modem or router in your house.
· This is an expensive device. You might be paying $100 more than for some other options, but you may not feel like you're getting $100 worth back in extra functionality unless you have a large home, are interested in a mesh setup down the line, or are looking for absolute top performance.
· There may be other routers that offer better performance stats, just based on the age of the Nighthawk, although they are less likely to offer some of the extra features the Nighthawk utilizes.
Recommended For
· People who may wish to expand into a mesh network setup in the future but first want to try an excellent extender before making that investment.
· People interested in a single range extender to handle all their needs that they can mostly forget about for at least a few years.
· People constantly looking to stay ahead of the pack when it comes to their tech.
3. Best Budget Option: TP-Link AC750 WiFi Range Extender
We understand that not everyone can spend three digits on a range extender or even upper two digits. Alternatively, maybe you just need a little boost for a corner of the house. In either case, the TP-Link AC750 WiFi Range Extender has you covered, bringing you the best performance for value without dipping into the unreliable products and cheap knockoffs that flood the market. While this model's price is hard to beat, that does not mean it cannot handle many internet users' needs.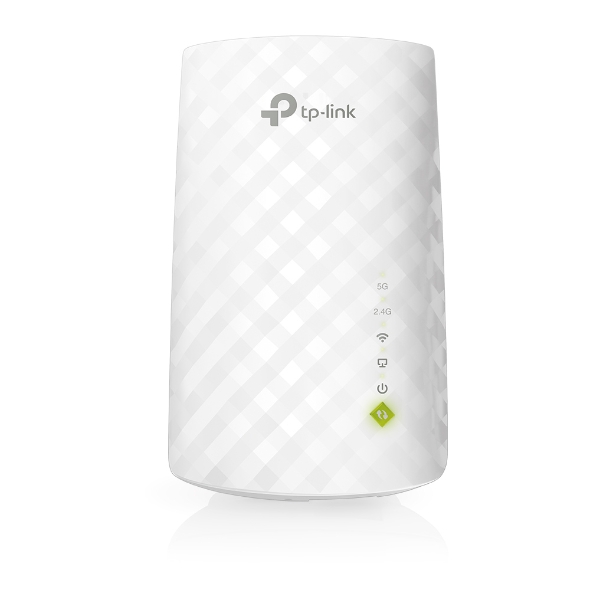 However, as you might expect, you will not get the peak performance found in other range extenders. The TP-Link AC750 WiFi Range Extender has one wired ethernet connection and three internal antennas. It can go up to speeds of 300Mbps on its 2.4GHz connection and 433Mbps on its 5Ghz connection. The device can be controlled via a web setup or mobile app. In the settings, you can modify the security setup and create a password, etc.
Pros
· A relatively small and non-intrusive design. Some would even say it fits well with quite a few aesthetics.
· Extremely low cost compared to other range extenders. You can get one for the price of a middling-price meal at a restaurant or six coffees.
· A reasonably competitive max speed on its 2.4GHz connection.
Cons
· It lacks some of the now normalized features such as MU-MIMO and beamforming that enhance other range extenders' performance and allow for faster response times and speeds.
· It simply cannot provide as fast internet speeds as its competitors. Users with gigabit internet will feel as though something is missing or lacking from their connection.
· The dropoff rate for speed when moving away from the device is noticeable. After 25 feet, and especially after 50 feet, you may not get the speeds you're looking for.
Recommended For
· People needing to cover a smaller area or room with relatively simple internet access. It might be best for places such as guest bedrooms or rarely used attic spaces.
· People looking for a range extender or are interested in trying one out but are unwilling to spend a great deal of money doing so.
· People who might just need a range extender for a short amount of time until they come up with a more permanent solution.
4. Best for Large Households: D-Link DAP-1720 WiFi AC1750
Do you need maximum coverage, yet are not interested in a secondary device or an expensive mesh network? In this case, we recommend looking into the D-Link DAP-1720 WiFi AC1750, a range extender that puts the emphasis on the range. It can reach 95 feet away with its extension, and while some setups and options beat that, they can be a bit more complicated.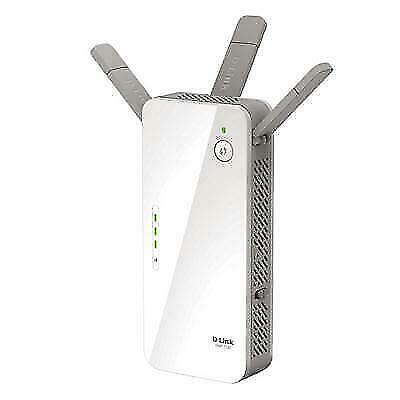 Yet there is always a balance when picking out tech such as this. In this case, you are getting some extra range in exchange for a bit of performance consistency. Compared to other models listed here, especially our performance and all-around choices, the difference is clear, and you might eventually become frustrated with the performance if you are expecting a perfect setup. Effectively, you might want to invest more if performance is really what you are looking for.
The D-Link DAP-1720 WiFi AC1750 can reach ranges of 95 feet away from the device and advertises a combined speed between its two bands of 1750 Mbps (although reaching this is highly unlikely, if not impossible). It has a gigabit ethernet port and a relatively easy setup compared to other range extenders.
Pros
· For the price, it has one of the best ranges we have seen in a WiFi range extender.
· It is excellent if you have multiple stories or verticality in your home.
· A relatively easy setup and useful mobile app that is intuitive enough to walk you through everything you need to know about the operation.
Cons
· It may not provide the speeds or stability of connection that a more focused model would be able to. Consider the price you are paying for the device is effective for the range and little else.
· It does not optimize the channels or data usage like some other models might.
· This is an exceptionally large device that will certainly stand out in your home and potentially block other power outlets.
· As of the time of this writing, it may be relatively hard to find.
Recommended For
· People living in households large enough to warrant a range extender but not so large that a mesh network would be the superior solution.
· People who move throughout the home frequently from corner to corner, but always need a connection.
· Those who do not mind the tradeoff of speed for the range advertised.
5. Best Alternative Range Extender: Trendnet WiFi Everywhere Powerline 1200 AV12 Wireless
The Trendnet WiFi Everywhere Powerline 1200 AV12 Wireless is an interesting choice. It has made this list not only for its respectable ratings and technical specifications but for its ability to use existing power lines in your home to benefit your WiFi network.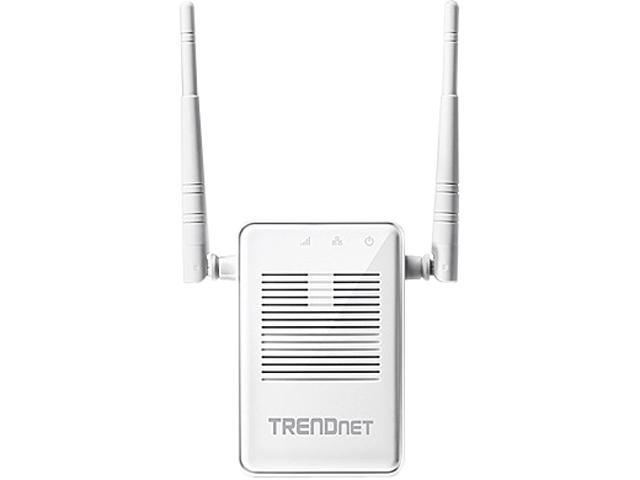 This is not a standard range extender, and we do not recommend that you treat it like one. However, if you have difficulties with other range extenders or internet setups, this might just be the salvation you are looking for. There is a bit of risk in its usefulness. It will partially depend on your power lines, so even if you do everything else right, circumstances beyond your reasonable control might render the device ineffective. That being said, trying it will be cheaper than trying the alternatives.
The Trendnet WiFi Everywhere Powerline 1200 AV12 wireless range extender can provide download speeds of up to 866Mbps on the 5GHz network and 300Mbps on the 2.4Ghz network, more than enough for most uses. It also has three LAN ports for easy wired connections. You can use up to eight adapters on a powerline network, and the wireless network will come pre-encrypted for your information's security.
Pros
· The ability to spread your network over power lines up to 300m long.
· You will be able to clone your existing wireless network settings, saving you time with the process.
· Even though you may not have heard about the technology before, setup should not cause too many difficulties.
Cons
· For the price, you will likely be able to find a better model if you are just looking for a standard WiFi range extender. We do not recommend this to anyone with an average home that is just looking for a range extender.
· It is somewhat older, and it could be outdated by newer versions of the technology soon. That being said, as of writing this, we still believe this is the best option.
· Your connection might be limited by the power lines you have in your home. Poor lines will lead to a worse connection, and there will be little you can do to solve the issue. Alternatively, in rare instances, you might have several power setups in your home that are not as connected as you think, leading to no access points that will work.
· It is a larger set and could very well take over a few of your power outlets and stick out in your home.
Recommended For
· Homes with larger or thicker walls that might hinder traditional networks and range extenders.
· People that are willing to experiment with different technologies and potentially reap their benefits.
· People with an isolated room they would like to extend WiFi into and think that their power lines might be the best entrance point.
Remember that Getting More than One is an Option
One last note in this review that we would like to share is that as stated before, you do not need to get just one. After a certain point, we recommend a mesh network; however, you may just want to get a few of one type of range extender instead of investing in a mesh network. You may want a combination of models for different areas of your home. You know your home best, and a bit of critical thinking will be all you need.
Conclusion
A WiFi range extender can be a game-changer for your home internet setup. It can make the rest of your home keep up with the main room, and with the best range extenders, your whole home will feel like you are sitting next to your router. Just be careful about your choice and note that there are many variations of the above models, some more reliable than others. When shopping, make sure you are getting precisely what you intend to. We hope that this information has helped you and encourage you to return to it as necessary.