We are seeing an uptick in online learning lately for several reasons, perhaps most prominently that there are many children engaged in virtual learning due to the ongoing pandemic. Whether formally or informally, we are now testing the limits of our online learning infrastructure and devising new methods to teach and learn online every single day.
While many of the news stories focus on children and student learning, we should not forget about adult learners and their interests and needs. Many people have lost their jobs or some working hours, leading them to consider and pursue a career change or additional training. Others are finding that they need new skills for a post-pandemic economy. And like always, some people just want to keep learning, taking advantage of cheap or free online resources in the process.
Yet, what are the best options, and where should you start online if you want to learn? Here are 16 of the top resources for you to review and see if they are for you, divided into three major categories:
General Knowledge and Learning
This first set of sites is less focused and more a collection of different sites that act as hubs for other more focused topics, or the sites are some of the best at the topics they cover. On each, you will find nearly a lifetime's worth of learning. It will be up to you to determine which ones fit your learning style, preferences in both design and subjects, and budget.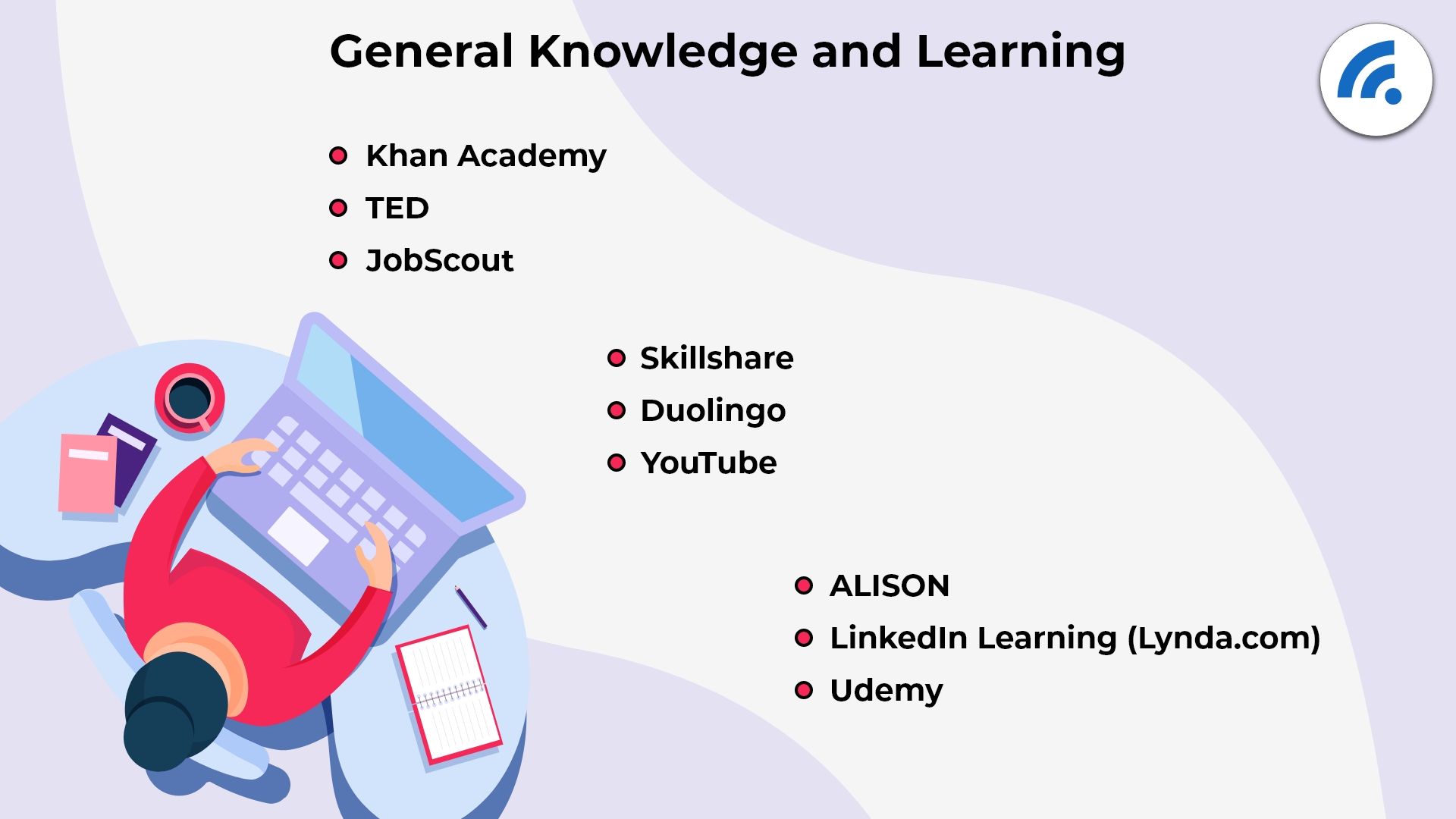 1. Khan Academy
While you might have heard of Khan Academy as something more specific for kids to learn basic math and science skills, in truth, it is a website that is good to use for people of all ages and interests, especially those looking to brush up on skills. While the courses and videos are meant for people of nearly all ages to understand and are divided by grade level, they are adult-friendly and generally come with practice examples for you to work with. Some concepts are generally meant for college-level or adult learners.
Additionally, the site has expanded into more subjects in recent years, and you can learn more about history, art, and even subjects such as economics, all topics that adults could enrich themselves with at any point in their life. If you are looking for an entry-level online resource, especially for math topics, you should start by looking at Khan Academy.
2. TED
Famously hosting talks and lectures from experts and figures on a range of topics spanning practically all human knowledge, TED is a fantastic resource to learn new things, get new perspectives, and hear what the world has to say. You can easily go on the site for 10 minutes during a lunch break, watch a shorter talk, and gain more from your lunch break than you thought possible. Alternatively, you could binge all afternoon and not even get close to bored.
While TED doesn't necessarily have some of the long-term focused courses of the other resources listed here, you can watch multiple videos on one subject, look into the speaker's other works (there is almost always something after a quick Google or YouTube search), or undertake your own research into your new area of interest. There have even been recent efforts to create video series and curated playlists for interested learners on the TED website.
3. JobScout
JobScout, perhaps in contrast to other entries on this list, is dedicated to fulfilling one primary purpose: to help you attain the skills necessary to build or find a career, particularly the online ones. While the site might seem a bit basic by modern standards, that is perhaps by design so people of all skill levels (even people who have barely done anything complex on a computer before) can use it, removing as many distractions as possible.
If you already know precisely what you are doing with your resume and how to look for a job in your field online, your time may be better spent elsewhere. Otherwise, you should look into JobScout and fill in any knowledge gaps you have so you can hit the ground running. It may even be useful to check the site to see if there is anything you do not even know you should be doing, considering how quickly the world turns lately.
4. Skillshare
A subscription-based service you might have heard about from online ads or your favorite online influencers and their affiliate programs, Skillshare is a hub of various user-created courses on subjects both broad and niche. With Skillshare, "user-created" does not mean sub-par, as the course-creators are generally experts in their field, and the best courses easily rise to the top when it comes to visibility. If you see a course on Skillshare, there is something to be gained from it, perhaps a niche skill that would not be covered elsewhere.
There is a monthly cost to the service and its premium model. However, you can sign up and get started for free for a time, allowing you to determine whether it is worth it (we think so, especially if you aren't using other online learning platforms). It may be useful in different measures depending on your field, and hobbyists will likely find the most value, but it certainly is a site that the curious mind will delight in.
5. Duolingo
Another site that is one of the best in its niche for all ages, Duolingo is a language-learning site (that also has an incredibly effective app) that has grown in popularity to become a staple of language learning. They encourage daily practice and exercises as a way to learn languages. They even gamify the process a bit, so you find it easier to come back every day and help you see that you are making progress.
Currently, with over 36 languages (if starting from English) and growing, you can expect to learn just about every major language on the site. If you need to learn a language for work, start here unless your company provides another program for free. Ultimately, Duolingo might be the best introductory method online for most languages, the most well-adapted for mobile, and certainly the best that is affordable by all.
6. YouTube
As expected, YouTube is one of the best learning resources for adults. Just based on the library's sheer size, it is one of the best resources online for practically anything. If it is a skill or basic trick nobody told you about the first time or even deeper concepts in your field, there is a video explicitly on it. If there is not a video on it, then it is likely mentioned in another video. There are dozens of channels to choose from, allowing for all types of learning styles and speeds.
While we will not go into the endless rabbit hole of which channels you should subscribe to and which videos you should watch first, you should know that YouTube itself is one of the biggest search engines in the world and should have a video for just about anything. Just dive in, avoid the non-educational cat videos and misinformation (which unfortunately can be a problem), and enjoy, taking note of what you like best as you go along.
Some of the other sites and resources listed here have their own YouTube channels. We recommend subscribing to them to immerse your daily life in learning and expose yourself to potentially interesting topics.
7. ALISON
ALISON is one of the best online resources for finding additional resources and brushing up on a wide range of skills, ranging from career skills to online marketing to photography to Geography. There is even a popular course on advanced parenting skills.
The site has such a collection that there seems to be a course for just about everything. ALISON commits to making this knowledge free and accessible to all, complete with certificates you can use to bolster a resume or confirm to yourself that you are capable. There are courses that you pay for and a premium program, but the options are generally affordable, and there are many free courses to start with.
These courses might be varied, and you might want to shop around on the site, so to speak, to make sure that you are spending your time in tune with your most important goals. However, we find that most time spent learning is time not wasted, so have fun with it.
8. LinkedIn Learning (Lynda.com)
Previously known as and still accessible via Lynda.com, LinkedIn Learning is another site that provides a vast range of general classes and tools for people looking to further their careers. Having bought the site in 2015, LinkedIn still hosts all of the old Lynda courses, but there are also many new courses, with more added regularly.
These courses are a bit more expensive than previously listed resources, at least on average, but you can mostly expect higher production values (on average). These courses are career-focused, given the platform's owner, and the courses generally have a corporate feel to them, which might be different from most of the more personable courses you are used to. With over 15,000 to choose from, there will undoubtedly be something worthwhile.
9. Udemy
Udemy is another site that provides courses on a wide variety of topics, from technology to project management and more. Still, as opposed to Skillshare and other subscription-based services, they generally charge per course, making Udemy one of the more expensive options (outside of an actual university, which also provides a degree).
The courses are generally high-quality. There are usually checkpoints to go along, and you can go back to previous materials as needed, making it an excellent choice for some adult learners.
Udemy's list price on all of their courses borders on the absurd compared to the discount prices listed. If there is no sale running on a course, you shouldn't take it as the lower price will come around soon (we have yet to come across a time where there were no heavy discounts).
University Resources
For some time now, there have been several top universities that have been posting lectures online, either on their websites, on YouTube, or through another program. Whether they are meant as study aids for existing students, an effective advertisement for the program, or merely a way for universities to give back to the world, they are there for your consumption.
While you won't get a degree from watching these lectures, you can learn and immerse yourself in some of the main ideas running through society now or those that will become mainstream in a few years.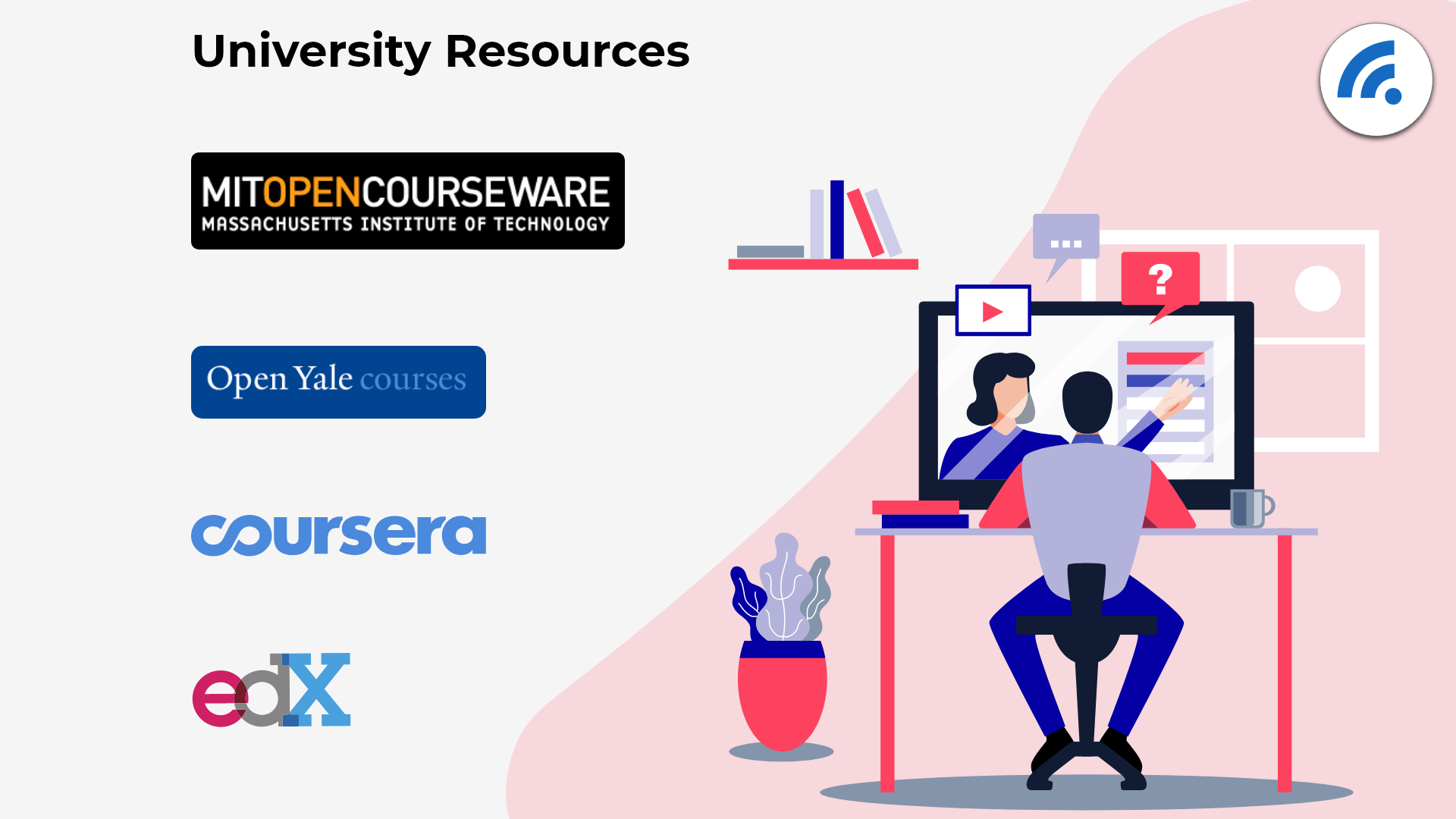 We've listed a couple of the top options here, as well as some websites and tools that more readily collect or make available these classes and lectures, making it so that you don't have to search through each university individually and potentially miss engaging topics. If you look through them all, you might even see some duplicate content. And if there's another university that you are interested in, do not be afraid to look them up to see if they have a similar program.
Do you want to find something from a course at MIT, or are you interested in some of the most interesting ideas available for free online? If so, you should look at MIT Open Courseware, which publishes a great deal of MIT course content in one form or another (at the very least, there are exemplary notes). While not every course has videos for it, there are nonetheless quite a few offerings, and it is worth it for you to work through the backlog to see if something sticks with you.
They are continually updating the site with new material, so you never have to feel left behind. While some of the material can admittedly be advanced and require a basic degree, to begin with, that might make it even more attractive to adult learners hoping to tackle advanced topics and determine whether a more specialized field is for them or not.
For some time now, Yale has been offering well-done recordings for selected courses online. Most of them are introductory courses; more advanced studies are currently not available from them. Still, if you want an introduction to a topic, you'd be hard-pressed to find a better option than a professor from Yale.
Currently, the site has about 30 to 40 courses listed on a wide variety of entry-level topics. While the offerings might seem dated at times, you can find more to either enroll in or review on Coursera, which we shall be talking about shortly. If you are specifically interested in what Yale can offer in adult education, Open Yale Courses is a great resource.
12. Coursera
Another up-to-date site that collects hundreds of courses from more than 200 leading universities and other organizations, Coursera is another top resource for people looking for online courses in skills both new and old on a wide range of topics. They keep course quality top-notch across the board, and as you might expect, there is a clear academic focus.
They also note that many Coursera courses can be used for degrees, certifications, and more. Professional development is key to them, and so if you are seriously considering further formal education, Coursera might be able to help you get a jump start before you dive completely into the pool.
13. edX
Another excellent site that collects courses and makes them easily available to the public, edX has proven extremely popular (hundreds of thousands of learners each day). Most users are thrilled with the quality of the courses they take. A non-profit organization, edX, was founded by Harvard and MIT with the hope of fostering learning online and providing knowledge to as many people as possible.
Certificates are available for many courses, but there are steps involved in that process, so if you're hoping to gain credits or certifications, you might want to look carefully. If you're simply hoping to learn something new, there's no reason not to look into everything edX has to offer.
Coding and Technology
Whether you are looking for a career change, a new skill to add to your resume, or a new hobby, there are plenty of sites and resources online set to teach you about various technology, computing, and coding topics. While there are an endless amount of niche tutorials and plenty of forums and communities of coders, you might find that the following are the best starting points:
14. Microsoft Learn
Being one of the largest tech companies in the world (if not the outright largest), Microsoft naturally has online resources for people to learn to code, use technology more effectively, and use their programs more effectively. While there is undoubtedly a bit of self-interest in providing this information on their programs, there is also too much well-presented information to ignore. Much of what you can learn will let you do your job much more easily and become qualified for plenty more jobs if you're looking for work.
On it, you can become Microsoft Certified in a wide variety of topics, including development, data science, security, and more. Most of these programs are worth your time, and we encourage you to take a closer look once you get a chance.
15. CodeAcademy
One of the premier sites on the internet to learn to code, CodeAcademy offers people the chance to learn coding from the ground up, generally offering tutorials and practice opportunities for a wide variety of programming languages, including Javascript, R, C++, and nearly a dozen others. Most people interested in coding for a particular reason will find their needs met there, and there is a lovely community to get to know on the site as well.
CodeAcademy has a wide range of programs and various courses available, including those related to web development, data science, computer science, and more. If you want to learn more about computers, the internet, and how it comes together, you will not find a better site to start with.
Do Not Forget Tools to Make Learning Easier
If you are hoping to improve your online learning experience in general or are taking online courses, do not forget the importance of learning the ins and outs of the tools you use most often to make the most of your time and most likely money.
Think about the tools and programs you use most often online. Perhaps they are simple web browsers, word processing programs or services, or something else entirely. Nearly all of them have advanced functions that allow you to hold and save data more easily, use them more efficiently, and perform functions you previously would not be aware of. We recommend starting with office suite programs (Microsoft Word, Google Docs, Excel, etc.), the video call programs you use most often, and whatever online platforms you use for formal online education.
And while some of these programs may change or get fazed out of use over time, your knowledge of searching out and learning advanced functions will remain, making learning new tools a breeze. That is one of the most valuable tech skills of all in today's job market and society.
Use These Tools as You Go Along
One last word of advice before concluding this piece: use these tools in conjunction with projects or learning goals you want to achieve if you want the skills and knowledge to stick. Want to learn to code? Have a goal in mind and program your idea as you use some of the sites listed above to teach yourself. Want to learn more about Russian literature? Get a stack of books and read them in tandem with online courses about it. You do not learn how to cook by just watching cooking videos and thinking about them.
So while you can still passively watch and take in the courses, that will only do so much. The best resources and tools listed above will have a practice or active component and help you engage with the material. Even a simple quiz after an online lecture can help you determine if you have grasped the material to help you stay accountable to your learning goals. And while the pandemic might limit things in some ways now, there is always a way to learn and practice if you can find the time and space.
Conclusion
There are so many interesting websites and helpful tools online that we could have easily listed hundreds of resources here and only barely scratched the surface. That being said, most of them are niche and perhaps best for after you have explored the sites listed above. If you're wondering which one to pick or where you should head next, do not think about it and instead just dive right in, knowing that you will be satiating your curiosity in one way or another moving forward.