The internet has become an integral part of pretty much every aspect of our lives. However, over the past year, the internet has literally saved us. With offices shut and almost every business in the world operating in a reduced or altered way, the internet has allowed us to maintain at least some sense of normalcy.
For many, it's been the only means of contacting other people, the only method for making money, and the only way of safely and securely getting the many goods we need to survive.
All of this has led to some pretty dramatic changes in how we use the internet compared to previous years. We could also argue that the COVID-19 pandemic simply accelerated a trend that was already starting.
As an example, due to the growing importance of the internet in general, telecommunications companies have been investing heavily in 5G wireless networks, which are just now being rolled out across the country. This will make mobile internet connections even faster than they currently are, expanding what we can do. Also, more and more devices are being equipped with internet connectivity, giving rise to the Internet of Things.
These changes mean that we can use the internet for pretty much anything, but what do we actually use it for? We turned to the numbers to find out, and here's what we found.
Internet Use Statistics in 2022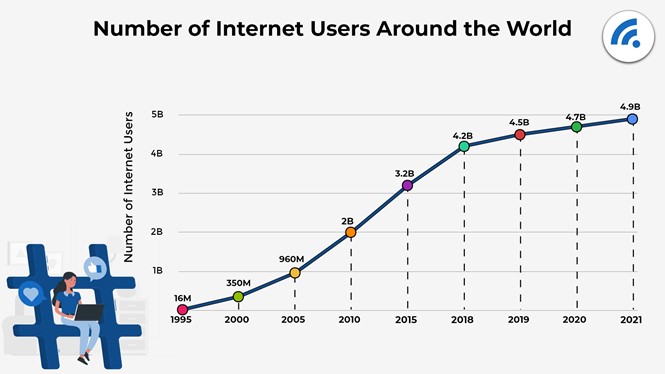 Why People Use the Internet in 2022
To help you better understand how people use the internet, we've divided our analysis into subgroups. Within each one, we can find a range of activities for which we all use the internet. Some you can expect, but others will surprise you.
To Communicate
As you might have guessed, one of the main reasons people use the internet is to communicate with one another. This was one of its original purposes. In the early days of the internet – back in the 1950s and 1960s – computer scientists were trying to figure out how to connect two computers and communicate. Then, when the internet went mainstream in the 1990s, email, blogging, and instant messaging helped make the internet one of our most important communication means.
Here's some more information about the different ways we use the internet to communicate:
Video Calling
While always popular, video chatting has taken on a new meaning from 2020 to 2022. For many of us, it's one of the ways we can safely and reliably keep in contact with people far away.
And with quarantine and lockdown measures still in place in some areas, there are fewer places where we can easily connect with one another. Virtual happy hours, book clubs, yoga classes, etc., have become the new normal.
Furthermore, many things are happening over video calls that we never thought would or could be. One of the most prominent examples is medical visits. In an attempt to keep people safe, many doctors have started seeing patients virtually wherever possible. Things such as home tours, therapy sessions, and job interviews are all happening via video call, and some of this may continue even after the pandemic has subsided.
Here are some statistics about video calling in 2022:
Email
Email was one of the first forms of widespread internet communication. It became so popular in the 1990s that a movie was made about the joy felt when you opened your computer and heard "You've Got Mail."
Some claimed that email use would decline as other communication forms developed, such as instant messaging and video calls, but this simply isn't the case.
Here are some stats about email that show how it's just as widely used today as ever:
Social Media
Social media emerged alongside the internet during the 1990s, but it took off at the end of the 1990s/early 2000s with the release of sites such as MySpace and, more importantly, Facebook. By the end of the first decade of the 21st century, social media had become a worldwide sensation.
Consider these stats about social media use in today's world:
Instant Messaging
Another significant form of online communication is instant messaging. Some of us remember AOL Instant Messenger – AIM – and what is used now is not all that different from this original messaging tool. AIM is no longer used in the same way, although it still exists, reminding us that old fads die hard.
Today, one can instant message on a wide variety of platforms, but the most popular are WhatsApp and Facebook Messenger. WeChat, a social media network/instant messaging platform-specific to China, is not far behind.
Here are some stats about instant messaging: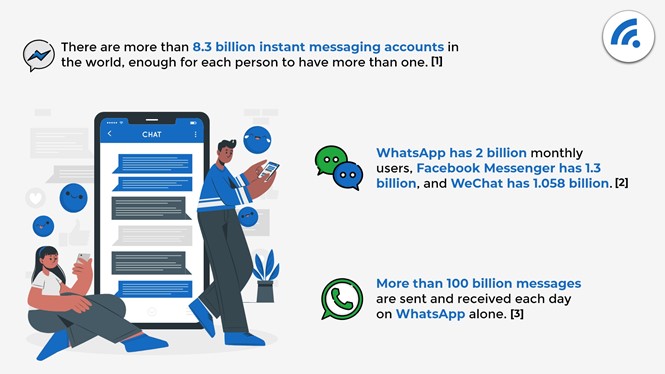 To Work
Perhaps one of the most significant changes to come out of the last few years is the prevalence of remote working.
In general, remote work has been getting more and more popular every year, but the pandemic sped that growth up considerably. The big question everyone is asking is: what happens next?
Some companies have already said they will extend their work-from-home policies throughout 2022, with some extended forever. Many believe that workplaces will be forced to become more flexible in the wake of the pandemic since it has taught us just how much can get done even when working remotely.
However, we will likely have to wait at least another year before we can answer this question.
In the meantime, here are some stats about remote work in 2022: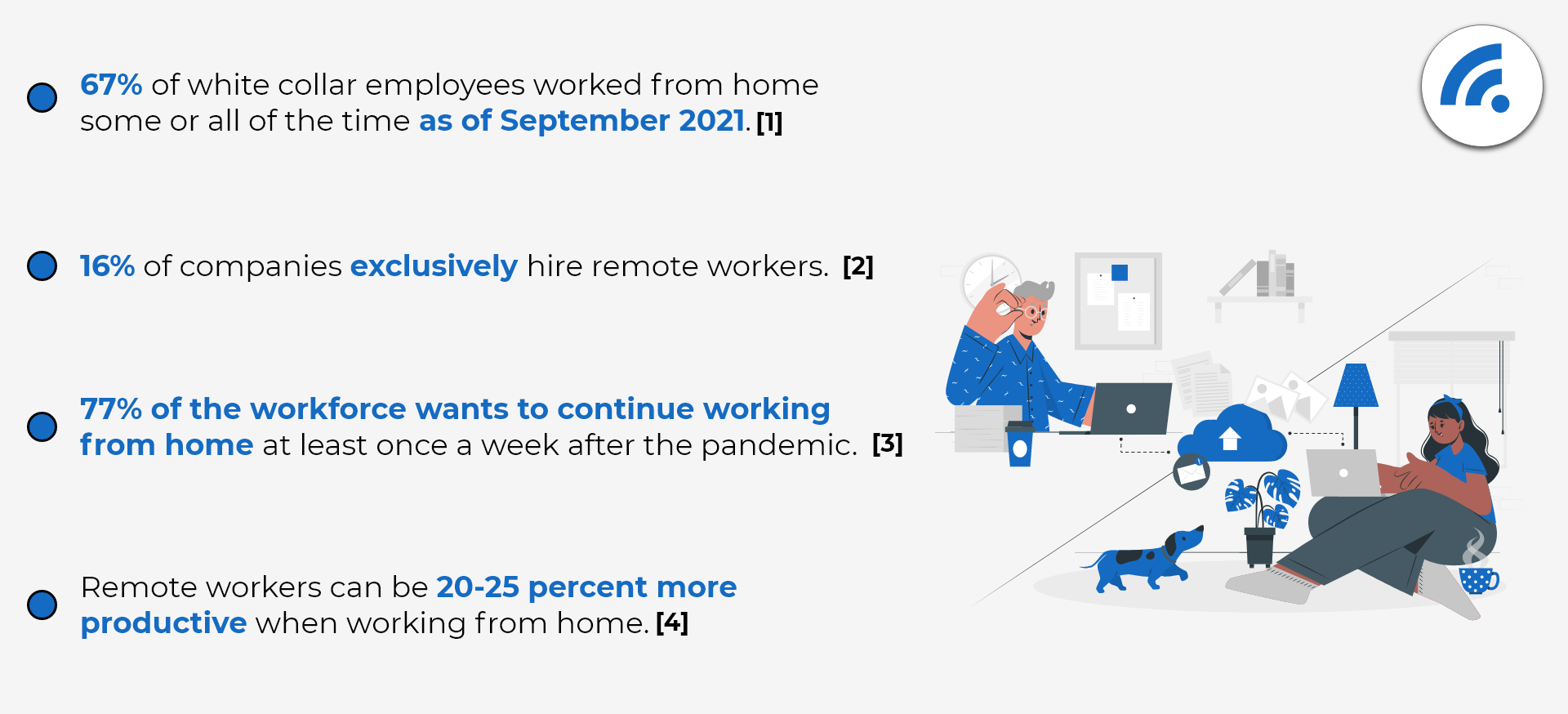 To Go to School
Before the pandemic, remote learning was becoming more and more popular. Still, it was primarily seen as "in addition" to in-person learning. It was a bonus or a perk offered by schools and companies to accommodate students with challenging schedules.
However, the pandemic has forced the world to adapt to remote learning pretty much overnight. Public schools sent kids home and asked teachers to completely transform how they do their jobs. While this transition has forced many to finally appreciate the tremendous work teachers do all the time, the reality is that few people think full-time remote learning is a long-term solution.
For this reason, getting kids, especially younger ones, back into schools became a top priority for pandemic response teams around the country. With the pandemic still raging, many districts, especially those in larger cities and other densely populated areas, have had to accept remote learning or adapt to a hybrid model. Education is conducted partly in person and partly online to limit the number of people in one place and hopefully control the spread of the virus.
This is far from ideal for most people, and the ramifications of this are yet to be understood, but things aren't promising. Here are some stats to consider:
To Get Information
Another big reason why people use the internet is to get information.
Today, you can use the internet to learn about pretty much anything. Here are some of the main types of information people access via the internet, as well as some stats about each.
News
Fewer industries have been impacted more by the growth of the internet than the news media. In the past, people relied on newspapers and TV for their news, but those days are nearly gone. For evidence, just look at how many newspapers are still around today compared to 15 or 20 years ago.
It's easy to see why this is the case. Internet news is instant, and it allows people to follow events as they happen. Of course, some argue this leads to more mistakes and degradation of the overall quality of news. Of course, every change has its positives and negatives. Here are some stats about online news:
Product Information
As you will see shortly, shopping has become a significant reason why people use the internet. It's now easier than ever to find the exact product you want from around the world and have it shipped to you.
However, another powerful reason why the internet has become so popular is that it's an excellent place for people to research products and read reviews about the products they're considering buying.
This is such an important part of people's internet use that entire businesses exist to help people find out which products to buy and how to get the best price. Typically, they use affiliate links to earn a commission based on the reviews they offer.
Here are some stats about people using the internet to learn more about products:
To Be Entertained
Another primary reason people use the internet is for entertainment. This could be anything from reading and researching to watching movies and TV shows to gawking at cute pictures of dogs. However, the three main activities for which people use the internet include watching videos, listening to music, and listening to the radio and podcasts. Here are some stats about each one:
Watching Video
Video streaming went mainstream around 2007-2010 when faster, broadband internet connections become more popular. Since then, it has become one of the main reasons why we use the internet. YouTube and Netflix remain the most popular platforms, but Disney+ and Amazon Prime are not far behind.
Here are some stats about video streaming:
Music
Many of us know the story of Napster, one which promised free music to everyone in the world. This vision never came to pass, but the digitization of music certainly changed the industry. Nowadays, a significant amount of people use the internet to listen to music. Here are some stats:
Podcasts and Radio
Another important source of online entertainment is podcasts and radio. Podcasts were initially made only for Apple iPods (hence the name "pod" cast), but the term's meaning has since expanded to refer to any serial online audio show. Podcasts are widely popular and will likely continue to be in the future. Here is some more information about podcasts and radio:
To Shop
We hinted at this earlier when we talked about product reviews, but shopping is another significant online activity. When most of us think of online shopping, our thoughts tend to go straight to Amazon. This makes sense as Amazon is enormous, but the growth of online shopping has made it possible for many small businesses to reach new customers and grow, giving birth to a new industry: eCommerce.
Consider the following about online shopping:
Conclusion
As you can see (and as you probably expected), we use the internet for many different things and use it often. This past year has forced us all to make considerable changes in how we live our lives, and, thankfully, the internet has been there to help us try and adapt as best as we can.
If the last few years taught us anything as we go into 2022, it's that life can change in the blink of an eye. So, while we look towards the future, let's never forget that we must be ready to adapt to new challenges.