Each year the internet grows, but 2022 was a special year. The Coronavirus pandemic is still going strong, keeping people at home and making us rely on digital technology more than ever before.
Social media, video platforms, eCommerce, and search all saw increased usage that makes us live pretty much our entire lives online. With this increased usage, our internet connection sometimes has a hard time keeping up. Check out the following internet service providers and the plans they offer if you're not happy with your present service.
The big question everyone is asking is: Will this continue? It's likely some of the trends that emerged in 2022 will subside, but some will stick.
For a clearer picture, here are all the most relevant statistics about the internet in 2023.
2023 General Internet Usage Statistics
With a current worldwide estimated population of 7.9 billion, approximately 5.25 billion people have access to and use the internet. That means that 66.2% of the world's population uses the internet.
From the year 2000 to 2023, the usage of the internet increased by 1,355%.

In 2023, Asia continues to account for the

majority of internet users

. 2,790,150,527 people in Asia are online, which makes up 53.1% of the global internet population.

93.4% of North America and 88.4% of Europe have access to and use the internet. These are the two regions in the world with the highest internet penetration rates.

The Middle East has seen a 6,141% growth in internet usage since 2000.

There are currently 370.7 million registered domain names in the world.

34.5% of all websites are using

WordPress

as their content management system.

That's over 127 million websites.
The most common domain name extensions are: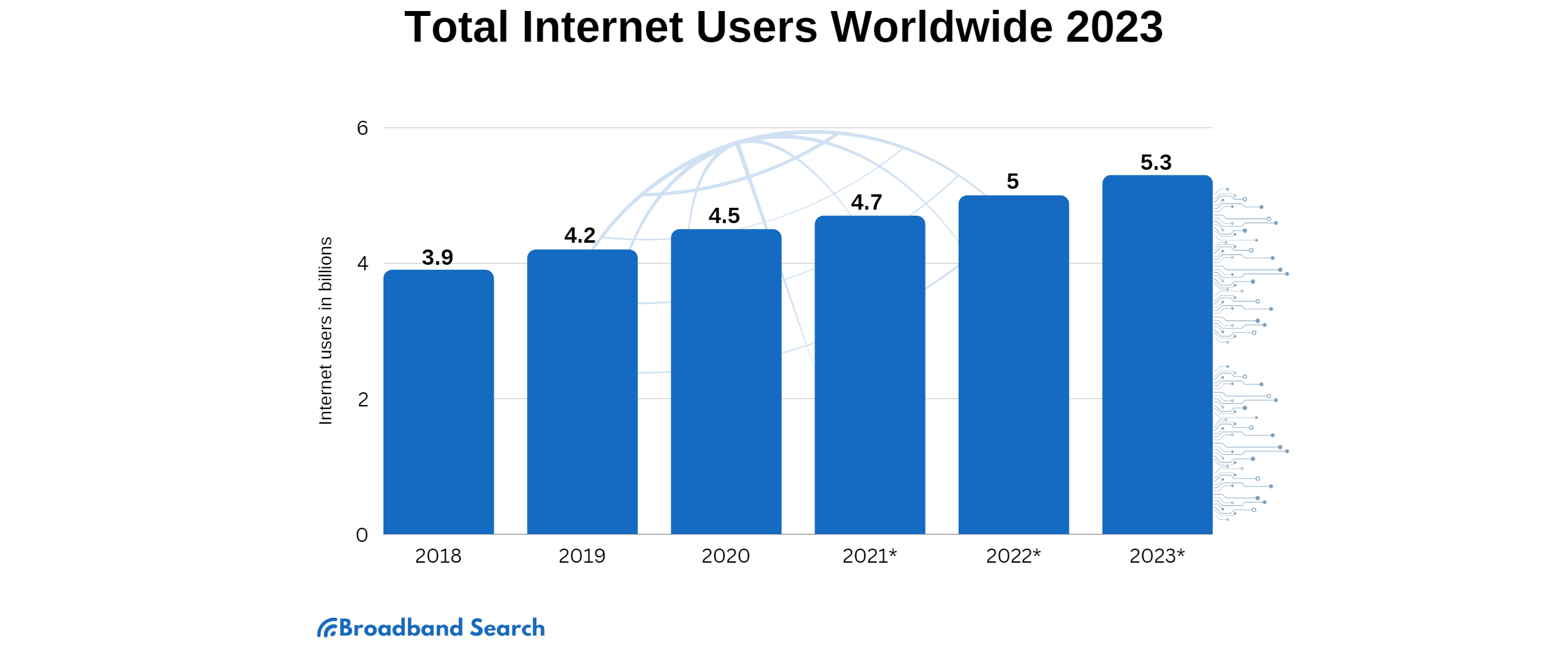 In 2020, 306 billion emails were being sent every day. By 2023, this number has increased to 333.2 billion emails sent and received per day. Additionally, every minute, Americans generate 3,138,420 GB of internet traffic.
With this increased usage, our internet connection and cybersecurity should also keep up. Having said that, privacy should be our top priority, VPN services like NordVPN can help obscure your IP address from your own ISP.
2023 Internet Traffic Statistics
In 2023, 54.4% of all traffic worldwide is conducted on

mobile phone devices

. In recent years the total has been unsteady, going up and down based on current events. Most indications are that mobile will settle somewhere near 50 percent of all traffic. In 2009, just 0.7% of internet traffic worldwide was from mobile devices.

62.78% of people browsing the internet are using

Google Chrome

as their primary browser.

19.3% of people browsing the internet are using Safari to do it.

4.2% of internet users choose Firefox as their main browser.
The top 10 most visited sites on the web in 2021 were:
Google

YouTube

Facebook

Twitter

Instagram

Baidu

Wikipedia

Yandex

Yahoo

Xvideos
More than 6.7 million people blog on

popular blogging sites

like Tumblr, Blogger, and more.

Blogger

is the largest

blogging platform with over 46 million monthly active users. The majority of bloggers are women. Currently, there are more than 1.92 billion websites online.

Every second that a customer has to wait to load a web page increases their likelihood of clicking out. Research shows that as load times go from 1 second to 3 seconds, the probability of this occurring increases by 32%. If a page takes 10 seconds to load, it increases to 123%.

The average

speed of websites

in every industry in the United States is 5-6 seconds. Yet, the best practice, according to Google, is 3 seconds. More than 1.5 million songs are streamed on Spotify each minute.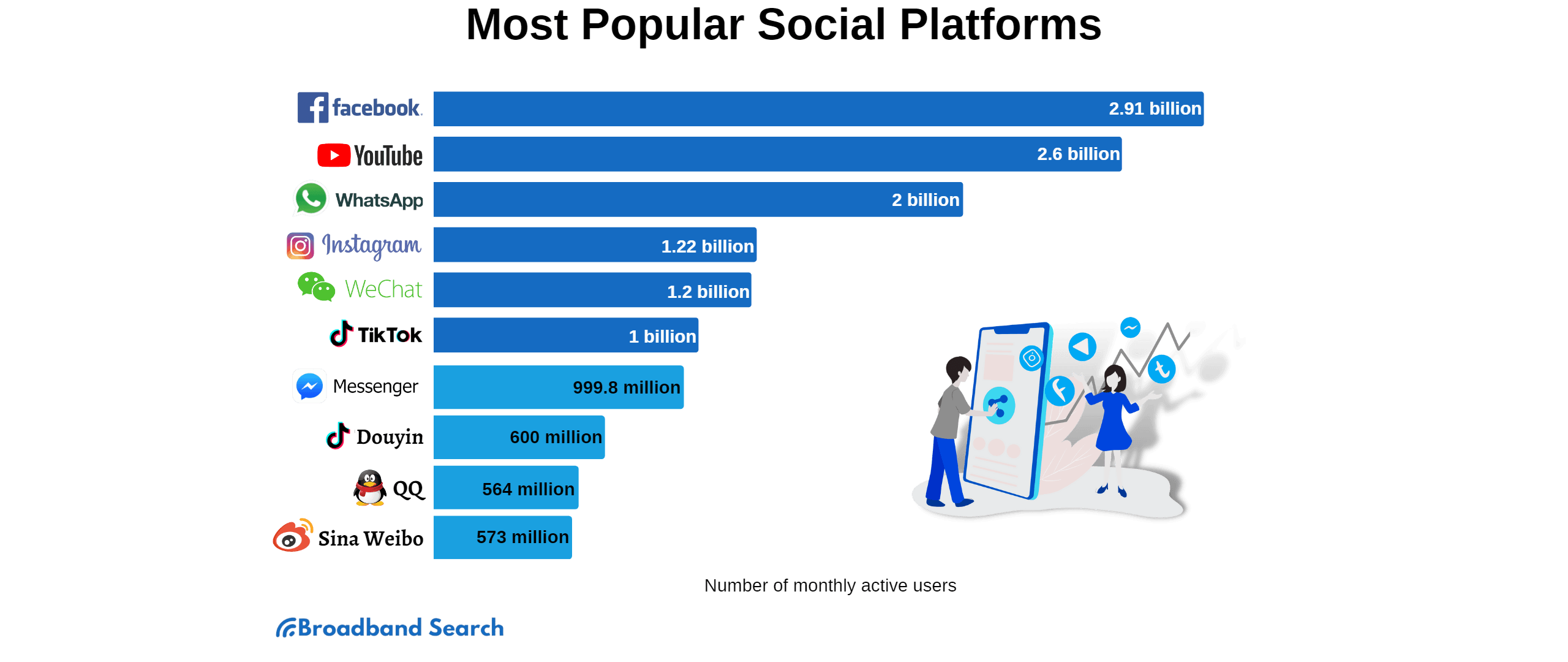 Social Media Statistics
The most popular social media channels in the world are:
Facebook: 2.9 billion active users

YouTube: 2.5 billion

WhatsApp: 2 billion active users

Instagram: 1.478 billion active users

Weixin/WeChat: 1.26 billion active users

TikTok: 1 billion active users

Facebook Messenger: 988 million active users

Douyin: 600 million active users

QQ: 574 million active users

Sina Weibo: 573 million active users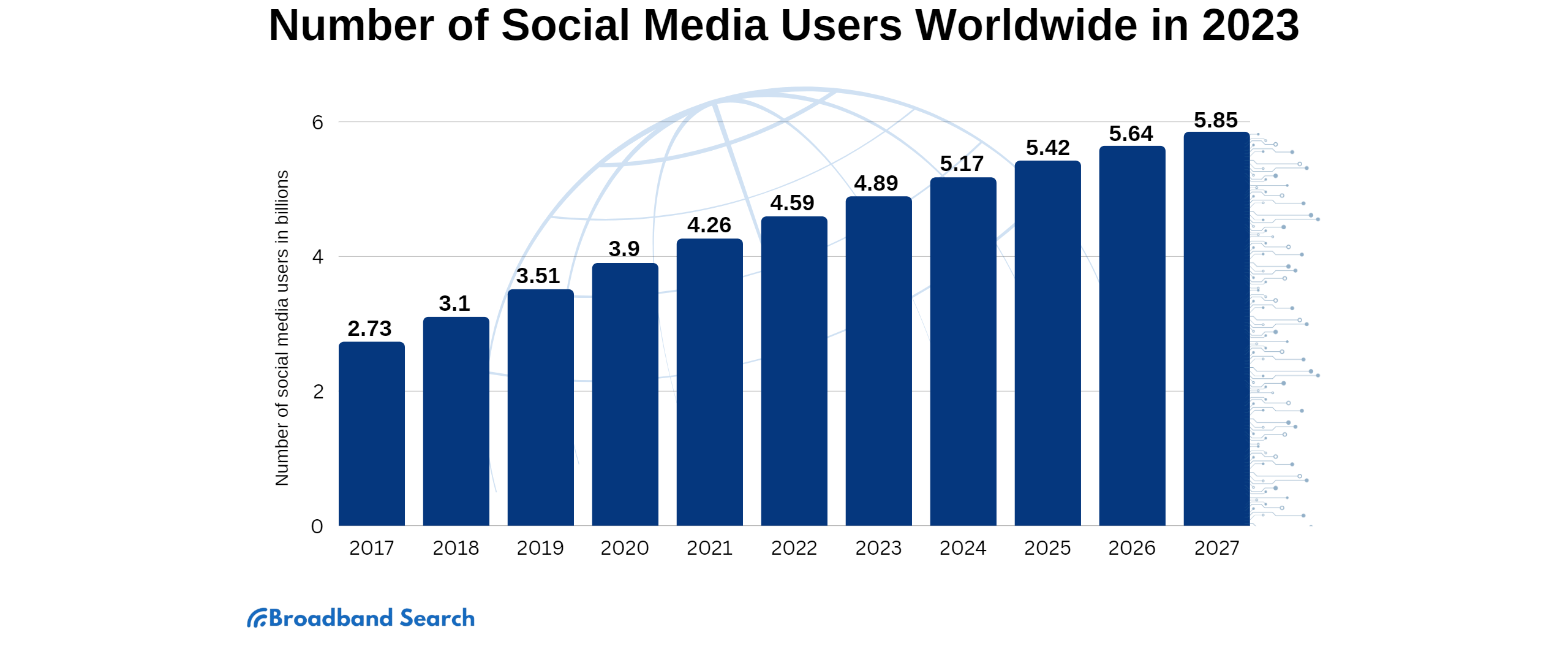 In 2021, there were

4.480 billion social media user

s around the world.

Facebook

is the third most visited website in the world.

TikTok

was the most downloaded app of 2021.

68% of Americans use Facebook as their

primary social media channel

, followed by 35% using Instagram, 29% using Pinterest, and 24% on Twitter.

Only 35% of people using Facebook are under 25.

66% of monthly active users on Facebook come back to the platform every day. 74% of American users are found on the platform daily, too.

The average American uses Facebook for nearly

1 hour (58 minutes) every day

.

The average session duration on Facebook is between 10 and 12 minutes.

88% of Facebook traffic comes from mobile devices using the Facebook mobile application.

Facebook isn't just for connecting with friends and family or using Messenger. In fact, 78% of users have used the platform to find new products and services. Facebook is the most popular marketing platform for any social media channel for B2B and B2C businesses.

80% of people using

Instagram

are outside of the United States.

34% of users of Instagram are in the "Millennial" generation category.

25% of smartphone users have the Instagram application installed on their devices.

22% of Instagram accounts login every single day.

38% of all Instagram users will check their application more than once per day.
In a single day on Instagram, 4.2 billion pictures are "liked." To add to that, there are nearly 100 million new pictures/posts created on Instagram every day, and 400 million more stories are posted. Story feature usage has increased by 100 million posts since 2017.
Every minute, there are at least 79,740 posts published on Tumblr, 176,220 calls made on Skype, 473,400 tweets sent on Twitter, and 2,083,333 snaps sent on Snapchat.
Video Statistics
There are dozens of streaming platforms worldwide. The most popular video streaming platforms based on our most recent information are:
YouTube

: 1.8 billion unique monthly visitors

Netflix

: 150 million unique monthly visitors

Vimeo: 130 million unique monthly visitors

Yahoo! Screen: 125 million unique monthly visitors

DailyMotion: 100 million unique monthly visitors

Hulu: 75 million unique monthly visitors
Here are some statistics on video streaming:
45% of people globally watch an hour or more of

online video content

every day.

50% of people between the ages of 18 and 34 would drop their current task to watch a new YouTube video from a channel they subscribe to.

40% of Millennials report trusting YouTube for high-quality content. 60% of them stated that videos on the platform had impacted their personality and worldview.

Video is an integral part of the buying journey for consumers in the modern world. 50% of people on the internet watch videos and product demos before purchasing anything.

Videos that go over two minutes in length tend to see a significant drop-off in user retention. But, if someone watches more than six minutes of your video, they are likely to stay for the entirety of it.

In the last few years alone, mobile video-based advertising spending has increased by 95%.

More than

50% of content

consumed on YouTube is watched via mobile devices and the

YouTube mobile application

.

90% of video views on Twitter happen through their mobile app.
Search Statistics
Google

accounts for 92.01% of the

global search engine market

share. The rest is divided among Bing, Yahoo!, and Baidu.

For mobile search engine market share, Google.com again dominates with 95.23% of usage worldwide.

Google processes over

3.5 billion searches

every single day. That's 1.2 trillion searches each year and 40,000 every second. In 1999, Google crawlers took an entire month to index 50 million website pages. In 2012, they accomplished the same task in under 60 seconds.
Ecommerce Statistics
In 2021, global eCommerce (online store) sales totaled 4.9 trillion United States dollars.

In 2021, mobile eCommerce sales now account for 72.9% of all online purchases, totaling 3.56 trillion dollars. One in four dollars of

eCommerce spending

is spent on mobile devices. Toys and hobbies were the number one item categories of purchase. The second was video games, consoles, and accessories.
eCommerce sales are largest around the holiday season and weekend days (Saturday, Sunday). According to the latest study, Cyber Monday is the most popular day for eCommerce sales, totaling 7.8 billion dollars in 2018 alone. Black Friday produced 5.9 billion in eCommerce sales in 2018.
The 2021 and 2022 holiday seasons were great years for eCommerce businesses, no doubt because of the pandemic. More people chose to shop from home than ever before.
And if you're someone who has an online store, you'll definitely need a reliable content management system. It's more important to choose a good eCommerce hosting provider than you might think. And since holidays often trigger an intense surge of traffic, you wouldn't find a more reliable server than Kinsta, which is a cloud-based host offering managed WordPress plans.
eCommerce sales around the holidays have been growing for years. It will be interesting to see if the growth experienced in 2022 repeats itself in 2023.
Billions of people around the world use eCommerce. Here are the top countries for eCommerce users:
China: 1.03 billion people shop online

United States: 259 million people shop online

Brazil: 119 million people shop online

Germany: 64 million people shop online

Mexico: 60 million people shop online

United Kingdom: 53 million people shop online
Despite being the leader in total eCommerce users, the average revenue produced per user in China is only $634. In the United States, the average revenue per eCommerce user is $1,952.
When it comes to the average order value of online shopping (globally), the desktop is the winner. Desktop purchases online average $179.98. Online orders via tablets average at $87. Smartphones and mobile devices have an average order value of $79.33.
Amazon is the number one eCommerce retailer in the United States, accounting for 49.1% of all online shopping. Next is eBay with 6.6%, followed by Apple, Walmart, The Home Depot, and Best Buy.
Final Thoughts
The internet and technologies are continually changing. Be sure to check back for more as we keep updating this ultimate list of internet statistics. Feel free to use them in your writing, blogs, websites, and more.
FAQ