The very concept of buffering and waiting for your content is annoying and borderline unacceptable now that we're in 2022. Given the vast array of options, excellent internet service plans, and improved technologies that we have, we shouldn't have to wait long to watch something in clear definition if we wait at all.
Unfortunately, many of us still have a problem with slow streaming services, whether consistently or intermittently. And while there is little we can do if the streaming service is slacking, we can still adjust things on our end to improve the situation. You do not have to hold yourself as a victim of the major streaming services and your ISP. You can adjust your setup, equipment, and household to improve the streaming quality of whatever you are trying to use. We cannot promise everything will work, but we can promise that some of our suggestions should at least help make improvements.
The following 11 ideas are all meant to help you find ways to either reduce interference, improve your internet for streaming, or navigate around the problem altogether (at least for a while), so please keep reading until you find a method that should work for you: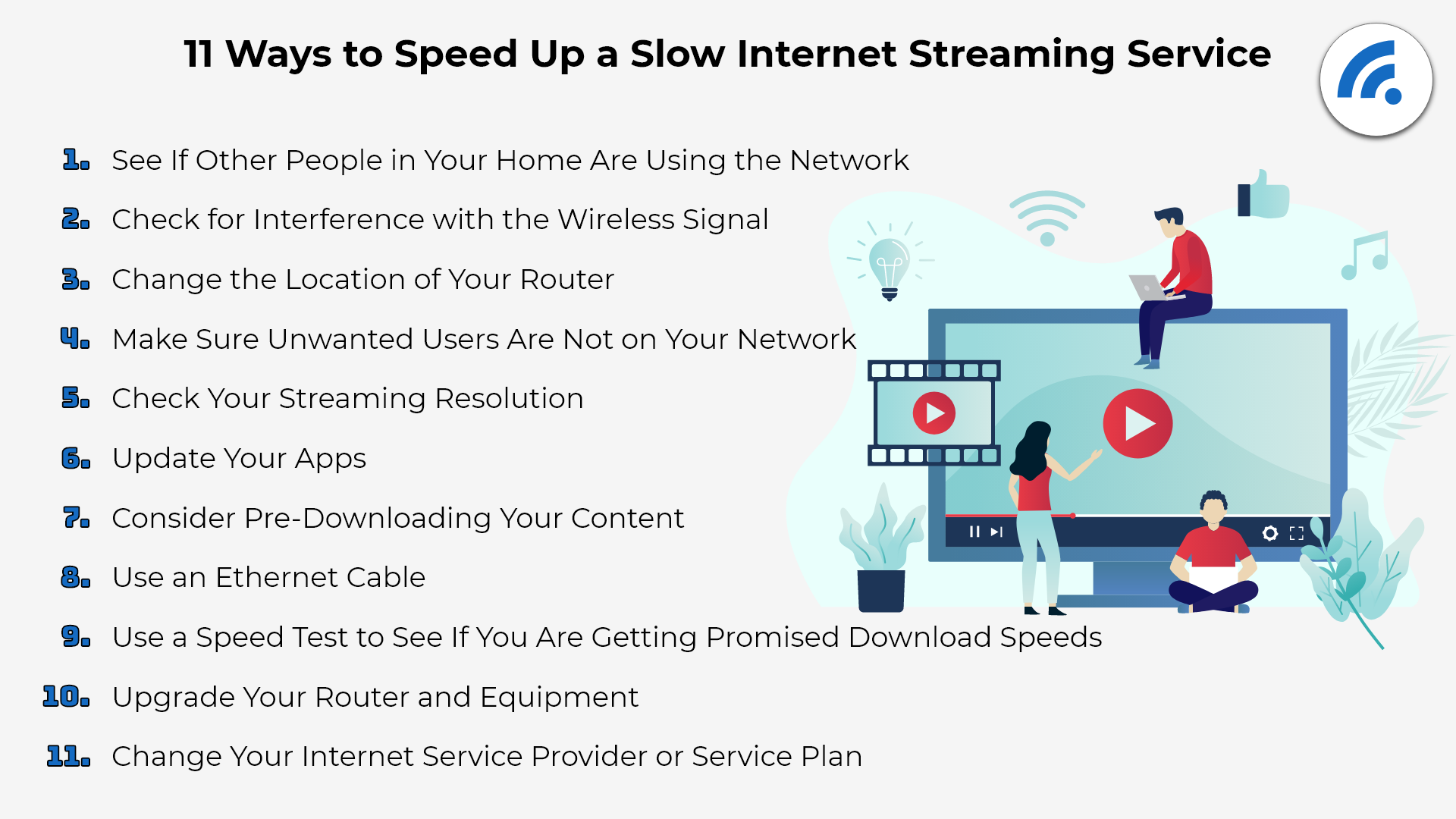 1. See If Other People in Your Home Are Using the Network
Is your streaming service usually perfectly reasonable yet, at times, spotty? Do you have multiple household members who might stream content or do something online on their own devices at any given time? If so, then you might find that their use of the bandwidth in your home is interfering with your streaming by the simple virtue that there is not enough of that bandwidth to go around based on either your equipment (which we'll talk about more later) or your internet service plan.
And while we don't suggest you block or unplug every other device in the house while you are streaming your favorite content, you should at least be aware of this being the cause of the issue, so you can either adjust your schedule or your service plan accordingly. While most service plans should be able to handle more than one streaming device at a time, especially at non-4K resolutions, there might be other tasks interfering or large downloads going on in the background that will quickly pass. Consider this step a call to investigate your network.
2. Check for Interference with the Wireless Signal
Wireless signals are not perfect, and there are quite a few reasons that the signal could get caught up or diminished before it normally would drop off. There might be a thick wall in the way or something throwing out a competing signal. While you would generally notice if your wireless network were to be completely compromised, there might be a situation where your connection is only diminished to the point where it would affect high-end streaming, especially if you do not use the connection heavily on other tasks.
Some common things that interfere with wireless signals are:
Other WiFi networks, especially on the same band. If you have neighbors that live close, this could be a common problem.
Additional networks within your home. Unless there is a specific reason to have multiple networks in your home, we recommend consolidation.
Bluetooth devices can interfere with the 2.4GHz band on WiFi. You should note that Bluetooth causing issues is tough to detect, as the interference would be sporadic by nature.
Other types of radio-based equipment, such as some baby monitors, actual radios, or radio locators. This is unlikely, but it could cause some slight interference.
Your TV could give off a signal that blocks WiFi signals, so we do not recommend placing your router near it. That simple change could make a world of difference.
Thick walls and metal. Plaster and thin walls will not significantly affect the signal, but anything more sturdy could be an issue.
There are additional items and features that could cause signal interference, but they are mostly rare. Start with the above and then move on to other items on this list if you want to optimize your streaming speeds.
3. Change the Location of Your Router
As we touched upon briefly in the last section, your router's location matters a great deal to how effective your wireless network is. If your router is in some hidden corner surrounded by junk and covered by dust (as we know more than one router is), it might not be able to get out the full extent of your signal and suffer from slow streaming.
Try to place your router so that its effective range can easily reach all of your primary streaming devices. Alternatively, invest in equipment such as a mesh network or a range extender that can increase your network's effective range so that nowhere in the house is a dry spot. Also note that a router's effective range can drop off heavily after 25, 50, or 75 feet, so look up your router to see how effective it is. You might be able to get a consistent 100Mbps close to the router, but you will not be getting that on the other side of the home, no matter what they advertise.
You might need to experiment for a little while, but this is a cost-free solution that can easily be reversed if it does not work or makes things worse.
4. Make Sure Unwanted Users Are Not on Your Network
While we have already touched upon members of your household potentially sharing bandwidth and making it so that no one had enough, you also need to make sure that more malicious actors aren't on your network either. Potentially having cracked your password or using another method to tap into your internet connection so that they don't have to pay for it themselves.
While there are more complicated ways to check to see if this is the case, involving IP access logins and other technical terms, you can simply change the login and security information on your network and call it a day. It will be slightly inconvenient for a while as you have to input information again on every device that uses the network, but you will also have the peace of mind of knowing that there is no one else on your network.
And to touch upon another important topic, this is also a vital step for your network's security. If someone else can access your network, they can also likely spy on your network's users, leading to identity theft and a whole host of other problems. Get rid of the security vulnerability before it is too late.
5. Check Your Streaming Resolution
This is not a solution we would necessarily recommend as it involves lowering your standards instead of making technology work better in your household. Still, in some cases, it might be best to lower the resolution you're streaming at to lessen the strain on your connection. For the point of comparison, 4K content can be almost twice the bitrate of HD content, which itself can require two to four times the bitrate of standard definition content. That can be a huge difference.
Also, you should consider what the content you are streaming is. You probably want to max out the definition of those beautiful nature documentaries, but a standard YouTube video is a different proposition. Similarly, the definition chosen on a smartphone probably does not matter as much as what you stream it on a smart TV, as far as viewing experience goes.
Despite these differences, under few circumstances would we recommend reducing your streaming resolution to anything below standard definition (720p). You deserve better than that, and nearly all content produced today is not created with lower definitions in mind. All you will be watching is a pixelated mess that is not worth your time or effort, and if reducing it to the standard definition doesn't help, you have a more serious connection or internet problem to contend with.
6. Update Your Apps
This will likely be an uncommon way to find the solution that you are looking for, but when was the last time you updated your streaming apps? If it has been a long time, you might find that some optimization has not occurred or that the past version might not be working as well as it could with the content you are trying to stream.
You will want to check the apps on the offending devices, of course, but if you are doing it for one device, you might as well do a sweep and make sure everything is up to date. Chances are you'll find that the apps have updated automatically all along, or you'd be notified if a lack of update would affect performance (or prevent you from using the app in the first place.) This is a low-effort potential solution that could make a big difference to your streaming experience.
7. Consider Pre-Downloading Your Content
This is another solution that involves settling for a less than ideal experience, but it can certainly work if you need to do something. Certain streaming apps or programs allow you to pre-download your content to a device and then watch at your convenience. If you know what you want to watch ahead of time and know that you won't otherwise be using the internet for a while, you can plan on this and download your streaming content so that you can watch without issue later.
You will need to check if there is this functionality within your app (or your current subscription plan for the app), and whether there are any restrictions that might apply. Additionally, you might find you can only do this on specific devices such as smartphones, and you might have difficulties doing it on your smart TV or computer.
Ultimately, we recommend other solutions first, but this can be an excellent stopgap measure and something you may appreciate more when you are traveling or know you will not have internet service for a while. It is also a great way to control what you watch so that could don't binge a full series when you should be doing something else out in the world.
8. Use an Ethernet Cable
If you think that there's little more you can do with your wireless signal, you can skip directly to something that can get the most of your internet service plan by using an ethernet cable to establish a direct connection. If you are streaming on your computer, then the connection will be easy, but otherwise, you will want to check for an ethernet port on your smart TV or another streaming device. This one change could easily double the speed of your internet connection, which in turn will have a significant impact on your streaming if the connection was the cause of the slow speed.
Unfortunately, if you are hoping to get more out of your smartphone, this will likely not be feasible, and you will want to investigate other options.
9. Use a Speed Test to See If You Are Getting Promised Download Speeds
You might have gotten one of the very best internet packages available in your area and the top technology to ensure you are making the most of it. Still, for some people, the download speeds they were promised (that they use to stream content) are not what they are getting.
If you're worried this might be the case or are just curious about how your internet connection is operating, we recommend trying a speed test app or website. There are many to choose from, and most will work just fine. Just make sure it is reputable and unlikely to be biased in any way.
There are more in-depth guides covering the best speed test practices, but to summarize, try to test around your intended streaming device's location and test under conditions that would be normal for that time. Run the test a few times to make sure consistent results are coming in. You do not need to make conditions perfect, as conditions in your home when you're streaming will never be perfect.
You can compare the results to the general guidelines that state how fast a connection you need to stream at your resolution and see if your speed matches up to what you were promised. If nothing else is running in the background and you find that you are consistently getting less than 80 percent of promised speed, then it merits further investigation, if not a phone call to your ISP.
10. Upgrade Your Router and Equipment
Your internet service might not be the bottleneck creating a slow internet streaming service experience. Instead, you might be using outdated or, in rare cases, damaged equipment that is inhibiting your streaming experience. Yet what should you check, and what should you check first?
First, you should check your modem to see the maximum speed it can support. While this will not necessarily be an issue and most modems should be able to handle what your service plan allocates you, if you bought one years ago and just moved it to a new ISP, that could lead to problems. Also, many modems are rented to people by their ISP, and the modem you receive should be more than enough for your connection.
Second, if you are using a wireless connection, you should check to see if there are issues with your router and what the max download speed it can handle is. If it is not greater than what your service provides, then it is time for an upgrade. You may also wish to upgrade it from a range standpoint, as there are now routers that can handle a far greater area than previous models.
Finally, you should check your wireless adapter or receiver on your device to see if an upgrade would make sense. Many people go for years without getting a new one, and your streaming speed and effectiveness will reflect that. Most smart devices capable of streaming have a built-in receiver that should handle what is needed. However, if you're having trouble or the signal isn't as strong in that area of your home, you may want to plug in another, more effective, receiver.
11. Change Your Internet Service Provider or Service Plan
We have to admit this might be a somewhat extreme solution if you're just looking to remove some buffering from your streaming services. Still, we also know that if you're not happy with how your internet service is operating regarding those streaming services, you might not be happy with other areas of its performance. It might be time to shop around for a new provider or plan.
Naturally, you will want to see if you can find a faster download speed than what you currently have. If this is possible, then the chances are your problem will be solved. However, we understand that choosing an internet service plan is about much more than download speed, and you need to consider price, customer service, and other factors too. A fast advertised speed does not necessarily make for a good provider. Do your research and do what you feel is best for your household.
Conclusion
Some of these options are easier than others, so in general, we ask you to consider what options you think would be most reasonable and effective for you before merely going down the list. Yet no matter what the source of the problem is, remember that you deserve as much out of your tech, streaming services, and internet services as you can get, and we wish you the best in your efforts to improve them. We also encourage you to bookmark this page for reference in case you ever encounter these problems again.