When you finally decide to rent out your property on AirBNB or through another vacation rental broker, you will probably start your journey by looking up what kinds of amenities make guests happy. Obviously, cleanliness matters a lot. People want to sleep on comfortable mattresses and dry themselves off with quality towels. A luxe coffee station can be a big selling point, though a big backyard pool will obviously earn you higher ratings. And one amenity that's quickly becoming a make it or break it feature of vacation rentals is broadband internet access.
Keeping guests happy (and getting those positive AirBNB, VRBO, or HomeAway reviews) now all but requires hosts to have quality, reliable Wi-Fi available at their properties. Unfortunately, providing that particular amenity is not as simple as searching for internet providers by zip code and then choosing the first internet service provider in the search results. Giving guests access to your property's Wi-Fi network can actually be pretty risky unless you take steps to protect yourself, and you need to make sure those guests can browse safely, too.
Below you'll find more information about why providing broadband access is vital if you want your vacation rental to stay booked, what you need to know to choose the best internet providers in your property's zip code, and how you can protect yourself as a host.
Why You Need to Offer Guests Free Wi-Fi
Broadband access is a relatively easy amenity to add to your vacation rental since it doesn't require a big investment of money or time the way adding a hot tub or upgrading to larger windows would. Sorting through the results you get when you search for internet providers by zip code is relatively easy, and adding free Wi-Fi to your listing will help your rental listing stand out from all the nearby properties that don't offer their guests free broadband access.
Ultimately, after setting up broadband and a Wi-Fi network in your rental, you should start to see an uptick in interest in your property. That's because potential vacationers may not need internet access, but business travelers definitely do. Wi-Fi can make your rental more appealing to different types of travelers. And you may end up earning more money from your property, too, if you can increase your nightly rates by an amount that's slightly more than the cost of your broadband plan.
Choosing Between Internet Providers in Your Rental Zip Code
When you compare internet service providers that operate in your vacation rental zip code, the plans and packages may look pretty similar at first. You should consider the price of available packages in your comparisons, but there are other factors you need to take into account.
First, look for the most reliable internet providers in the zip code. There have been stories of hosts getting penalized by brokers because guests complained about the internet going down during their stay. Second, look for ISPs with good customer service because if your guests do experience a service interruption, you'll have an easier time fixing the issue if your broadband provider has friendly, helpful representatives. Third, look at bundles because having anytime access to on-demand movies or sports is another easy to set up amenity. Finally, make sure that the information you're looking at is unbiased. Sites like BroadbandSearch offer impartial reviews of local ISPs so you can make an informed decision.
Do You Need Always-On Service
One question to ask yourself when you're searching for internet providers for your rental by zip code is whether you need year-round broadband delivery. If your property is usually only occupied during peak tourism season, it probably doesn't make a lot of sense to pay for broadband for a full year. There are short-term contract options out there that can make offering guests internet access less expensive. Here are some of the different options for vacation rental properties:
Standard Broadband Plans
If you tend to rent out your property all year long or you find a bundle package that's inexpensive enough that you still come out on top when no one is renting, go for a standard plan. Just make sure you're okay with paying for bandwidth no one is using.
Short Term Contracts
Some ISPs offer service on a monthly or quarterly basis, and if your vacation rental is empty for part a set part of the year then signing up for one of these shorter term contract plans can be a way to keep costs down.
Hibernation Packages
There are also providers that let you put your service on hold at will for a price, so if you know that your rental won't be occupied for a period of time (because of seasonal tourism) you can pause your service by paying a small monthly fee.
Figuring out which type of plan makes the most sense given your situation is a matter of running the numbers. You need to be sure that offering your guests broadband access isn't going to eat into your profits.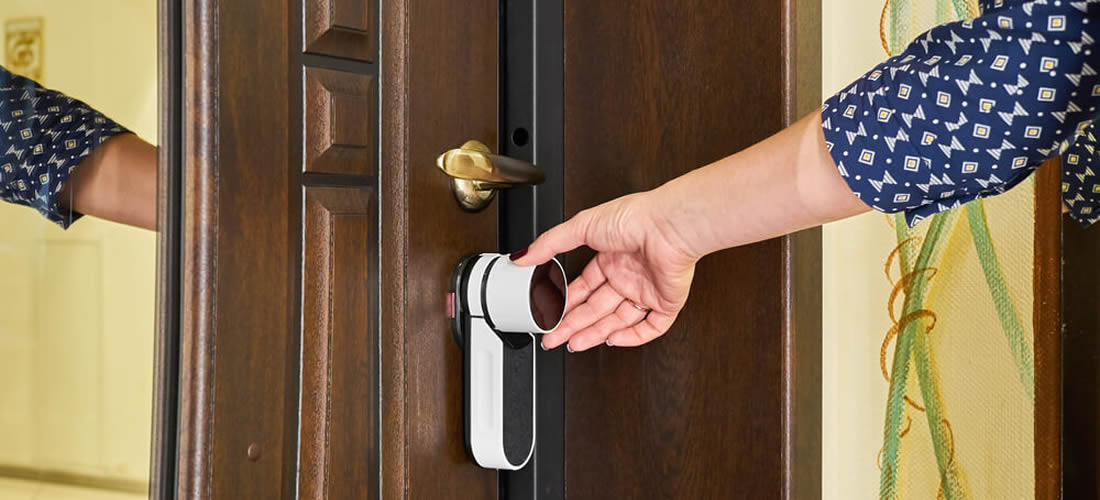 Can Your Plan Handle Smart Gadgets?
When you're thinking about how much data you expect guests will use, you might also want to think about how much data your property will use! Smart gadgets can make it easier to manage and maintain a vacation rental property, but most will use some of your bandwidth.
For example, you can avoid the hassle of having to give guests physical keys (and having to ensure that those keys are returned) by installing smart locks. All you need to do is give guests an access code or access via mobile app, and they can come and go as they please… until check-out time, when their access expires. Smart locks also let you monitor who is coming and going and when, as do video doorbells. These smart doorbells give you a one-way video and two-way audio to your door so you know when guests are sneaking in extra people or uninvited pets. Just make sure that any smart device that can record or transmit audio, video, or still images is disclosed in your listing.
The Two Most Important Considerations
The only downside to offering your vacation rental guests free broadband internet access is, as mentioned above, the potential risk. There are two main risks you need to think about when you make the decision to offer Wi-Fi and when you're choosing an ISP for your rental.
The first is the risk that your guests' internet habits will use up all your available data. Offering free Wi-Fi as part of your vacation rental's amenities can get expensive if the internet providers in your zip code don't offer unlimited data plans. All it takes is one guest who decides to spend their vacation binge watching three seasons of their favorite show on Netflix to send your monthly bill amount into the stratosphere. Make sure that your rental rate is high enough to cover any overage charges your ISP might dish out.
The second risk you run is that your guests will use your connection to download less than legal content. In the best case scenario, they're downloading movies illegally and you get a warning letter from your broadband provider. However, some ISPs won't bother with a warning, and will go straight to termination of your service contract or even a lawsuit. In the worst case scenario, your guest uses your vacation rental Wi-Fi to conduct highly illegal activities and you're left having to prove that you weren't the one downloading that content or making those purchases.
Avoiding Those Worst Case Scenarios
Guests expect broadband access, so you probably feel like you have to offer it if you want your property to get regular bookings. Luckily, you don't have to be a major tech geek to ensure that your guests don't do anything illegal with your connection. The easiest way to protect yourself is tweaking a few settings on your router, though there are also more complicated steps you can take. Here are three ways you can secure your vacation rental network:
Change your Router Settings
First, make sure you've changed the default router password so tricky guests can't easily make additional updates to your settings. This is network security 101! Next, set your router to block peer to peer downloads. That step alone will stop a lot of illegal activity. Finally, chances are that your router can be configured with a guest network that will let your guests get online but will ensure they can't access any of the devices or sensitive information (like shared files) on your network. Some routers will let you set bandwidth and use restrictions on the guest network so there's no chance your guests will hit your plan's cap.
Install a guests-only Wi-Fi device
If you have a separate Wi-Fi device for guests, you can set up that device to only allow access to family-friendly websites by configuring the router's DNS entry for OpenDNS. There have been debates about whether hosts should be allowed to limit their guests' online activities, but you're under no obligation to allow content you find objectionable on your network. You can also do useful things like have guests register to use the network using their contact information so you can collect that for marketing purposes.
Install a VPN Router
This is the most technologically challenging way to keep your rental property broadband secure but it's also the one that will allow your guests the most freedom while still protecting your interests. When you set up a virtual private network (VPN), your ISP can't see what your bandwidth is being used for. That means that if you happen to have guests who use your connection to move illegal content, you won't end up on the hook for their activities.
Make Sure Your Listing Passes the Filters
Are potential guests filtering property listings by whether they have free on site Wi-Fi? You bet they are! And if you're not listing broadband as an amenity, then your property is getting filtered out. These days, travelers absolutely consider internet access a must-have amenity so if you want to keep you booking calendar filled, find the internet providers in your zip code and get your rental connected. Just be sure you're protecting yourself. The guidelines above may just save you from having your connection cut off or worse!
Are you ready to start searching for internet providers by zip code? Find the ISPs in your area that can help you take your vacation rental listing to the next level.