While you might not think about it most of the time, your modem is one of the most important pieces of technology in your home. Without it, you would probably have a harder time reading this article, or be forced to use your data plan for it. And there is a strong chance you are using one provided by your ISP. This is fine, but you might be paying a rental fee you would rather not, and it might not be the absolute best choice for your home. So you may wish to buy another option and use that instead. Yet there are so many modems, and you probably don't go shopping for them often. What is best? What is best for you? What should you be looking for?
We hope to answer these questions, so here are four of the top modems you can get in 2022, one for four types of potential buyers: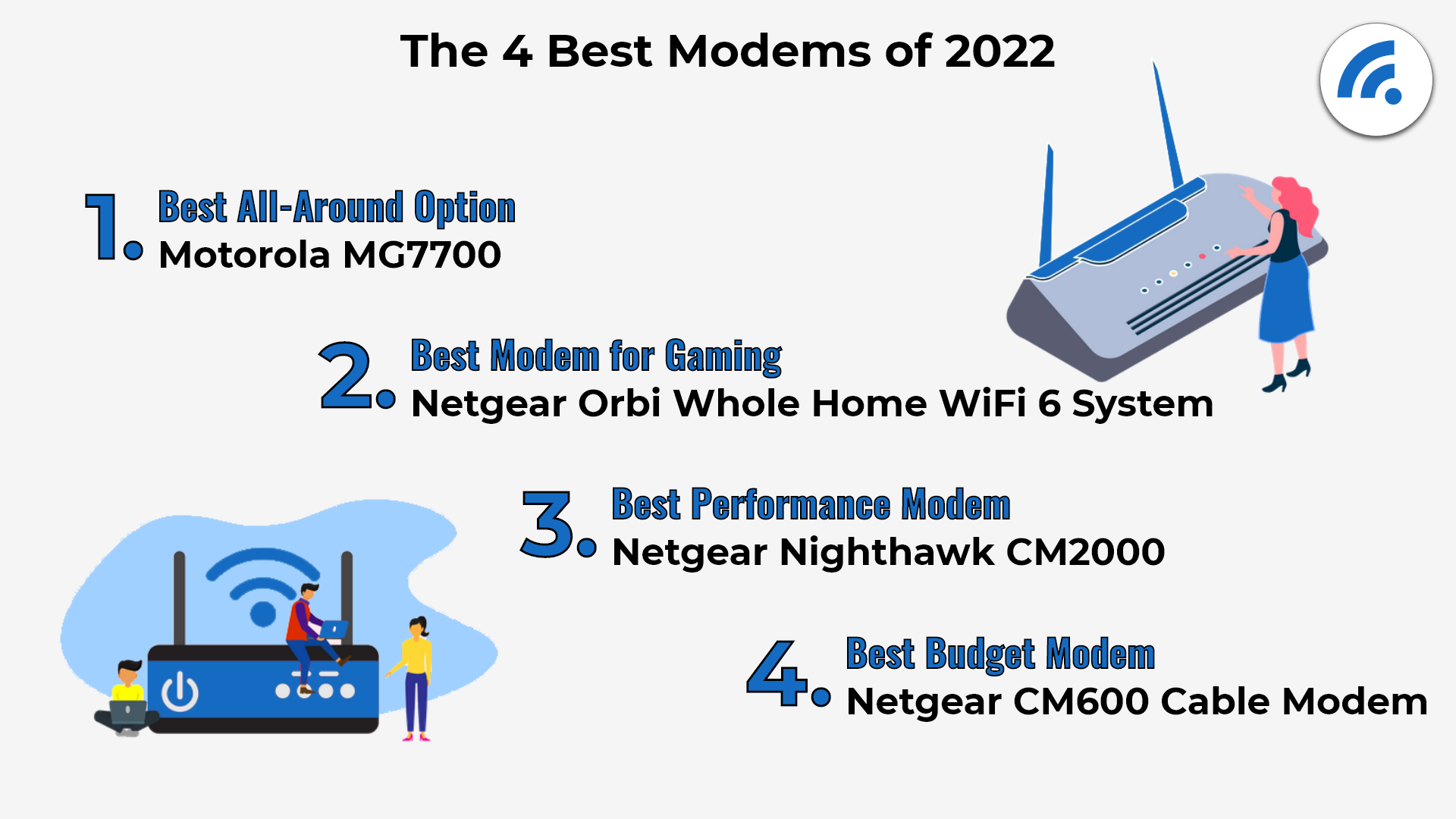 1. Best All-Around Modem: Motorola MB8600
If you want a generally good modem that will serve the needs of the average household, you will want to get the Motorola MB8600, which is an extremely popular modem. And it is popular for good reason: it can support speeds that even the best internet plans have and can take care of plenty of devices on your network. Specifically, it can work with Gigabit internet speeds (1,000 Mbps) upstream and downstream speeds of up to 3.8Gbps. It is also compatible with any router with an ethernet LAN port, so there are few worries about router compatibility.
There is a Broadcom chipset installed for security reasons, AQM to reduce web lag, and 3.1 DOCSIS 3.1 with DOCSIS 3.0 as a backup option, making sure you have the fastest speed available at all times. To finish things off, the model isn't even terribly large as far as modems go, and the LEDs provide just about all the information you need, especially with the manual and information provided.
Note that all of these quality features and specifications do not come cheap. As of this writing, the price is about $150, though it might fluctuate depending on the store and availability. However, the modem is a fantastic investment in the average home, and you will be pleased once you get it fully set up.
Pros
A modem that can take advantage of just about any high-speed internet plan.
It has support for Comcast, Cox, and most of the other top cable providers across the country.
It is very easy to set up, requiring just a few connections and a tiny bit of time.
Cons
It can seem a little expensive, especially for those needing to buy a router as well.
It is only compatible with cable services, making it a non-option for DSL and fiber users.
Recommended for
People who don't otherwise know what to get and who are looking for a solid modem for their household.
People who are paying for an excellent cable internet plan and want to make the most of it.
People who already have a solid all-around router and want something to match it.
2. Best Modem for Gaming: Netgear Orbi Whole Home WiFi 6 System
The people who are interested in getting a modem and making sure it is the perfect one are disproportionately gamers, and there are certainly modems designed with gaming in mind. If you're looking for one of these, then you want the Netgear Orbi Whole Home WiFi 6 System, which is why we included it on this list of otherwise just modems. It will not be cheap, and it is technically more of a modem router combo than anything else, but it is what you want and what you were looking for all along. Tri-band WiFi 6 is a step forward, and the system even has 4 Gigabit Ethernet LAN ports for that direct gaming connection.
It will work with all the major cable providers in the United States, set up easily and control easily with a handy app, and uses a mesh system to allow you to get complete coverage throughout your home. Whether you're console gaming in the basement or PC gaming in the office, the Netgear Orbi should be enough for you. It can support more than 40 devices at once, and provide coverage of 5,000 sq. ft with another 2500 sq. ft per node you buy. And while there are other mesh systems and high-end gaming modems in 2022, this is simply one of the best.
This system will have a larger area than most others and still provide excellent signal strength throughout. For that level of consistency, we recommend this system as a potential alternative to our performance option below.
Pros
It is a system designed for people with great performance and gaming needs in mind, and it's a great choice for a home that wants to invest in its network.
It is a system that will stay strong and last you years.
It has an astounding range that can be expanded a great deal, all while supporting top download and upload speeds (1000 Mbps).
Cons
This is an extremely expensive system and will be overkill for smaller households. In gaming, other gaming modems provide the same performance but don't overdo it on the coverage.
It is technically not just a modem, meaning you're losing out if you already have a great router.
It can be a lot to understand and set up if you are just looking for something simple for gaming.
Recommended for
People who game online regularly want an extremely fast and consistent connection, whether they are using a wireless connection or an ethernet cable.
If you have a smart home and are also a gamer, this might be the perfect system for you given the number of devices it can consistently support.
People with very large homes who are looking for a system that will assuage all their fears
3. Best Performance Modem: Netgear Nighthawk CM2000
There are some differences between a gaming modem and a performance modem. Mostly that revolves around personal preference, aesthetics, and the priorities of a modem and its connecting systems. Yet what you want with this is top speeds and tons of potential connections, all with the extra features that are meant to wow people just like you. For people looking for such a modem, we recommend the Netgear Nighthawk CM2000, even if it has established a reputation for gaming.
Even looking at it you can tell it is a modem meant for people looking for one of the best single modems on the market, with a sleek design and plenty of indicators to tell you how your internet is doing at a glance. It works with all the major ISPs, and has a 2.5Gbps Ethernet port for maximum direct connection speed. The channel bonding features allow for such speeds, and it uses a 32x8 set up to allow for plenty of connections.
It currently goes for about $300, making it not a choice for the faint of heart or wallet. It can be well worth it over time compared to rental fees, however, and last for long enough to get a great return on your investment.
Pros
This is a modem that allows for speeds that are the absolute top in the world for a consumer plan.
It is a modem that is effectively future-proofed when it comes to speed, coverage, and features.
Cons
It is not the cheapest modem available, and might not be worth it for those looking for something more basic or a mid-range option.
The Nighthawk ecosystem might be a bit much for people who want a simple but powerful router. It isn't necessary, but it is part of what makes the system so great.
Recommended for
People who want a high-end modem that can truly keep up with their great internet needs and larger household.
People who want a modem that can beat out what most ISPs provide and stay that way for several years.
People who have an insanely fast internet service speed and need one of the few modems that can keep up.
4. Best Budget Modem: Netgear CM600 Cable Modem
Not every modem is a cutting-edge powerhouse meant to support your smart home of the future, and not every modem needs to be. Sometimes you want something cheaper yet still reliable. You might also want to simply test the waters of having your own modem. Whatever the case, we think the best budget cable modem for most people will be Netgear's CM600. It seems as though the company has an option for every household, and they do well in most categories.
Looking at the numbers, the Netgear CM600 has 24x8 channel bonding, a max speed of 960Mbps (with some models), and. Note that there might be a few different versions of this modem including the CM700 and the CM500, so pick out the one that is best for you not only now but for the next few years. Regardless of your choice though, it is compatible with all major cable internet providers and has a slim design (though it may not be to everyone's liking). The modem has a gigabit ethernet port as well for your main computer setup.
As you can tell, there are not nearly as many advanced features and extra ports or connections as the other modems on this list. Yet if those never interested you anyway, then this will be the modem for you.
Pros:
Compared to most other modems it is highly affordable and strikes the perfect balance between performance and price.
It will work with the vast majority of cable internet plans on the market today.
It is easy to set up and use.
Cons
The modem may not last as long as others in terms of being powerful enough to meet all of your needs.
It does not have all the extra features and options that you might expect from other modems.
Some people might not like the aesthetic of the modem.
Recommended for
People who do not have an amazing internet connection want something reliable to tide them over for a few years.
People who want to try out having a modem on their own, but do not want to make a huge investment at this time.
People who are buying a simple modem for someone else and just need to grab something functional.
A Few Quick Notes on Buying a Modem
While we generally recommend the above four modems, there are some other things you should keep in mind:
Due to some supply issues in the tech industry in general, some of these modems might be hard to find at times or be temporarily priced at a point where they wouldn't be better than other options. Research what is available if you can't wait, or wait a while if you can. Eventually, things will return to normal.
Make sure that the modem is compatible with your ISP. This information will be easy to find and often advertised.
Take your time when setting it up, and follow the instructions carefully so you can get the most out of your modem. If something does not work, do not hesitate to make a return and try something else.
Depending on your needs, you may also need to get a router. Find one that will pair well with your choice from the above (or another) and give your home the coverage it needs.
Even the best modems need replacement after some years. Try to make it a yearly habit to check if you need a new one or if you could do better.
Conclusion
There is nothing like an amazing modem to help boost your internet experience, and if it has been a few years then you might be due for an upgrade. If this is the case, we hope that one of the above options spoke to you and you feel like it will be a good fit for your home. Remember that you will be using it constantly whether you realize it or not, so take your time and pick out exactly what you need. Good luck with your choice and may your connection never be interrupted.