If you aren't aware that streaming is the new way to watch TV, then we're sorry to say but you're living in the past.
But we know that's not really you. Nearly everyone these days has a subscription to at least one of the big three streaming services: Netflix, Hulu, and Amazon Prime.
We also bet that you, or someone you know who gives you their password has access to other streaming services, such as HBO GO or Disney Plus.
However, despite having all this content at your fingertips, how many times have you sat down to watch something, scrolled through what feels like a million titles, only to put on a show or movie you've already seen before? We're guessing this probably happens quite often, because, while there are plenty of shows to watch on these platforms, things do get repetitive.
Luckily, this doesn't mean you need to go crawling back to cable.
There are tons of specialty/niche streaming services out there that offer you a whole new selection of content. Yet most of them are completely unknown to the average streamer.
So, to help you expand your digital library, we've identified 23 relatively unknown streaming services that will allow you to finally watch something completely different and new.
For Everyone:
If you're looking for alternatives to the big streaming services that give you a wide range of content, often for free, then check out some of these: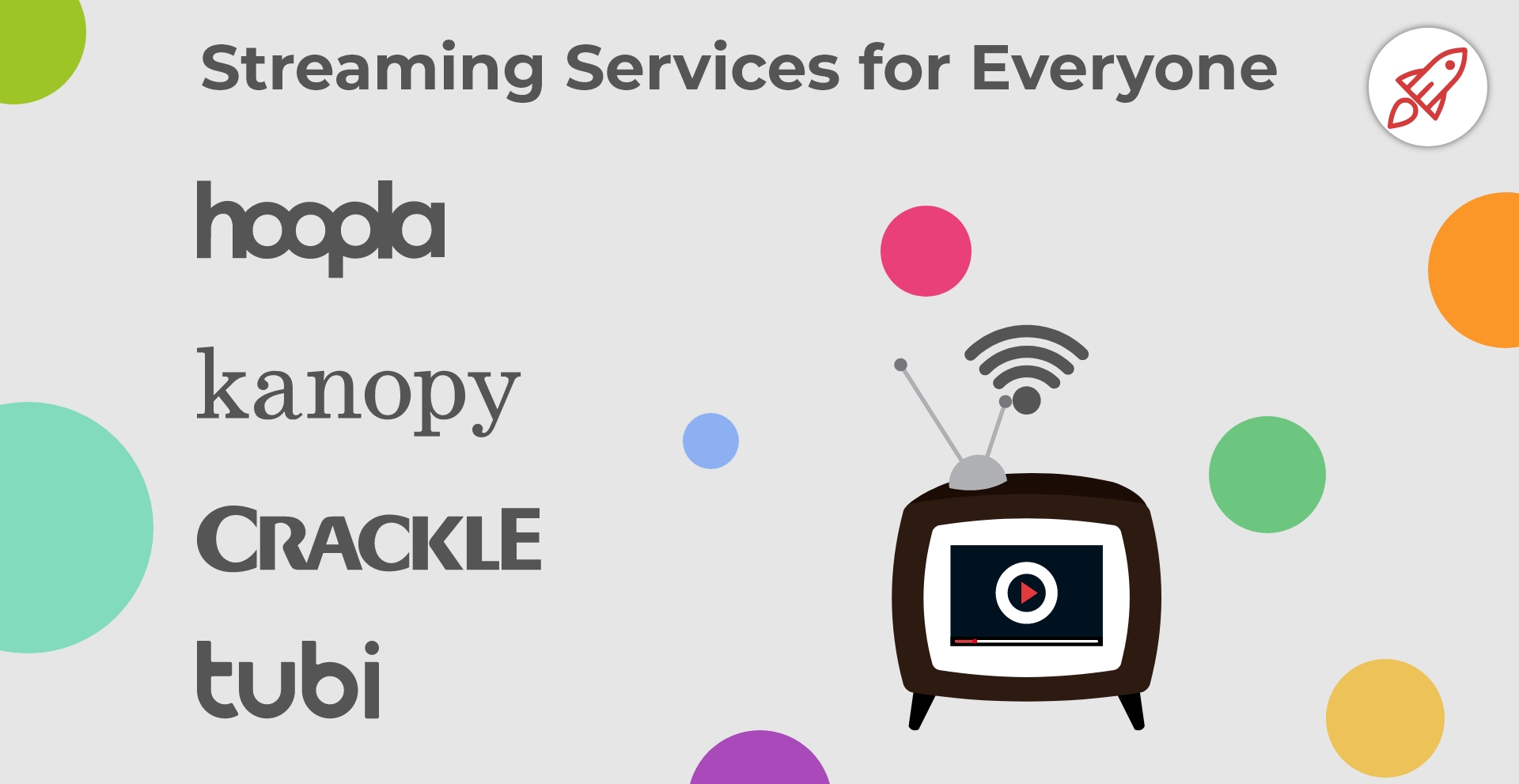 1. Hoopla
Probably the most interesting thing about Hoopla is that it's completely free. Well, not completely. We pay for it with our tax dollars, as part of the funding we give to public libraries.
That's right - that old, dingy library card that's probably hidden in a drawer somewhere has more uses than simply allowing you to check out some new books before you head on vacation - it gives you access to thousands of movies and television shows at no additional cost to you!
The Hoopla catalog features sections such as "Directed by Women," "Cult Classics," and "Based on a True Story," and it even has a full section of films based on Agatha Christie novels, as well as many other strange but delightful specialty categories.
Another nice perk of Hoopla is that it includes all of Miramax's titles. For those who don't know, Miramax was the studio owned by renowned creep and convicted sexual predator Harvey Weinstein. It produced classics such as Good Will Hunting, Trainspotting, and No Country for Old Men.
However, when you stream these titles through Hoopla, the company set up by Weinstein doesn't receive a penny, which will mean you don't need to feel guilty about watching them.
The one catch with Hoopla is that you're limited to eight titles a month. This isn't bad, but if you're haphazard with your choices, you could run out before you've had the chance to find something you really want to watch.
There is also the possibility that your local library doesn't participate, but if this is the case, bring it to their attention. It's relatively easy for them to sign up, and then you and the rest of your community can enjoy tons of movies for free!
2. Kanopy
Kanopy is a very similar service to Hoopla in that it's offered to you free through your library membership. However, it's slightly different in the films it puts up there.
The vast majority of films are what we would call classics, so here's your spot to watch all-time-great directors such as Bergman, Fellini, and Chaplin. It also has lots of new releases too, with many studios that are currently releasing films putting their content up on Kanopy as soon as they're out of theaters.
The categories Kanopy uses to organize its collection is quite useful. For example, it puts "Directorial Debut" and "Critics' Picks" into their own categories, making it much easier for you to find something that is both new to you and interesting.
Like Hoopla, Kanopy also has limits on how many things you can watch in a month, but unlike Hoopla, the exact number will depend on your specific library. The low end of the range is six titles in a month, but some cities allow you up to ten, which is more than two a week. Not bad!
3. Crackle TV
Crackle TV is a free streaming service that, at face value, looks much like Netflix or Hulu but it's different in that it features more than 200 movies and/or television shows that are available on a rotating basis, meaning what's there one month might not be there the next.
It is a great spot to watch network shows that have recently gone off the air, as well as selected episodes of classic shows such as Seinfeld or All in the Family.
The only catch to Crackle TV is that you will have to sit through ads, as this is what makes it free to users. Considering you have to do this with Hulu and still pay $5.99 per month then this doesn't seem all that bad.
Crackle is beginning to offer some original content, although it's still not anywhere close to what the big streaming services are putting out but what can you expect if it's free?!
That the titles change frequently might be frustrating to some, but for others, it's a really easy way to find new shows and expand your streaming horizons.
4. Tubi TV
Thanks to partnerships with a lot of the major film studios, Tubi TV offers you tons of content for free, as long as you are willing to watch ads. In total, there are more than 5,000 titles available from studios such as Paramount, MGM, and Lionsgate, and Tubi also has agreements with Starz, Sky, and ITV.
Not a lot of US television networks participate in Tubi, so if it's free TV you want, you'll have to settle for a smaller selection that is made up of mostly British programming but this is far from a bad thing - the Brits make some excellent TV.
What's nice about Tubi is that the selection is constantly rotating, and it's drawn from a collection of over 50,000 titles, meaning there is always something new to watch. There's a whole category dedicated to stuff that's not available on Netflix or Hulu, which makes it fairly easy to find new stuff to watch without having to cross-compare with the other services you subscribe to.
For Movie Buffs and Enthusiasts:
If you're looking for a place to stream classics, or if you're trying to explore more of the film industry and become more of a buff, check out some of these streaming services: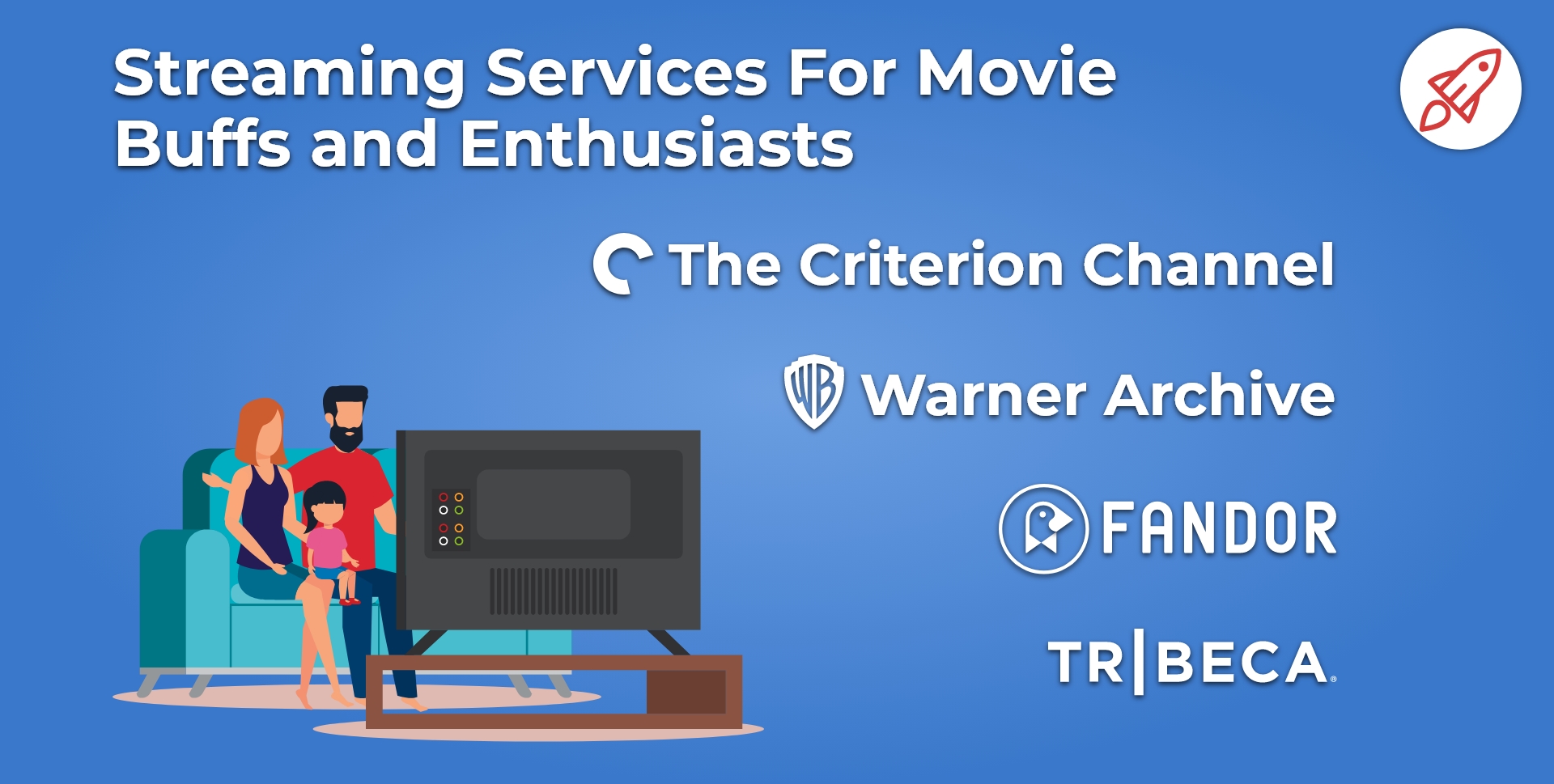 5. The Criterion Channel
Movies are such a big part of our lives, and they have been for so long, but too many of us stream modern classics, or watch them in the theaters, without really understanding the history of the industry.
The Criterion Channel is a way to change this. It features more than 1,000 titles, all from the Criterion list, which is a collection of the best and most important films ever made. It replaced the platform FilmStruck, which used to be the go-to spot for classic films, and allows you to watch films dating as far back as 1917.
You can get access to the Criterion Channel for $10.99 per month, or you can purchase a yearly subscription for just $99.99.
6. Warner Archive
Another good option for those looking to explore the history of film, Warner Archive has more than 800 films to choose from that have release dates ranging from 1930-1990.
The difference between Warner Archive and other similar services such as The Criterion Channel is that its library is made up entirely of movies made by the Warner Bros. studio however considering this is one of the most prominent film companies of all time, this is by no means a knock on the platform.
Warner Archive also has a small selection of classic TV shows dating from the 1960s, 1970s, and 1980s, although this part of the catalog is considerably smaller than the movie one, there are still some gems.
A subscription to Warner Archive costs $9.99 per month or $94.99 per year.
7. Fandoor
Built out of its magazine and well-read online editorial, Fandoor is the ideal platform for movie buffs or those who would like to become one, as it features some 6,000 movies that are considered non-mainstream classics.
The vast majority of the titles found on Fandoor were selected by its staff, which dedicates itself to finding and reviewing obscure movies, so you know what you're watching is going to be good.
Fandoor will every once in a while release some television series, and they are once again random and not well-known but nonetheless fantastic. A lot of these shows come from overseas, which gives you a chance to really expand your horizons.
There is also talk of Fandoor branching into original programming, which should be exciting considering the service's dedication to excellent albeit obscure movies and television, so keep your eyes open for this.
At the moment, a Fandoor subscription goes for $10 a month, or $90 for a year.
8. Tribeca Shortlist
This is a streaming service based entirely on the world-famous New York Film Festival. It includes just 150 titles, but each one of them has been carefully chosen by a select group of well-known film critics and enthusiasts.
Don't be discouraged by the small section. Around one-third of the titles rotate out each month, meaning there will always be something new to watch, and given the criteria for making it onto this list, you can always expect to find something good.
In addition, there is a section on the platform titled "Movies Not Found on Netflix or Hulu," which makes it easy to find movies to watch that are not available anywhere else.
A subscription to Tribeca Shortlist costs $4.99 a month.
For the Specialists:
There are countless genres of film and television, and to truly appreciate each one, you need to spend some time digging deep into each genre. Below you will find some streaming services that are all dedicated to different genres, making it much easier for you to become a specialist: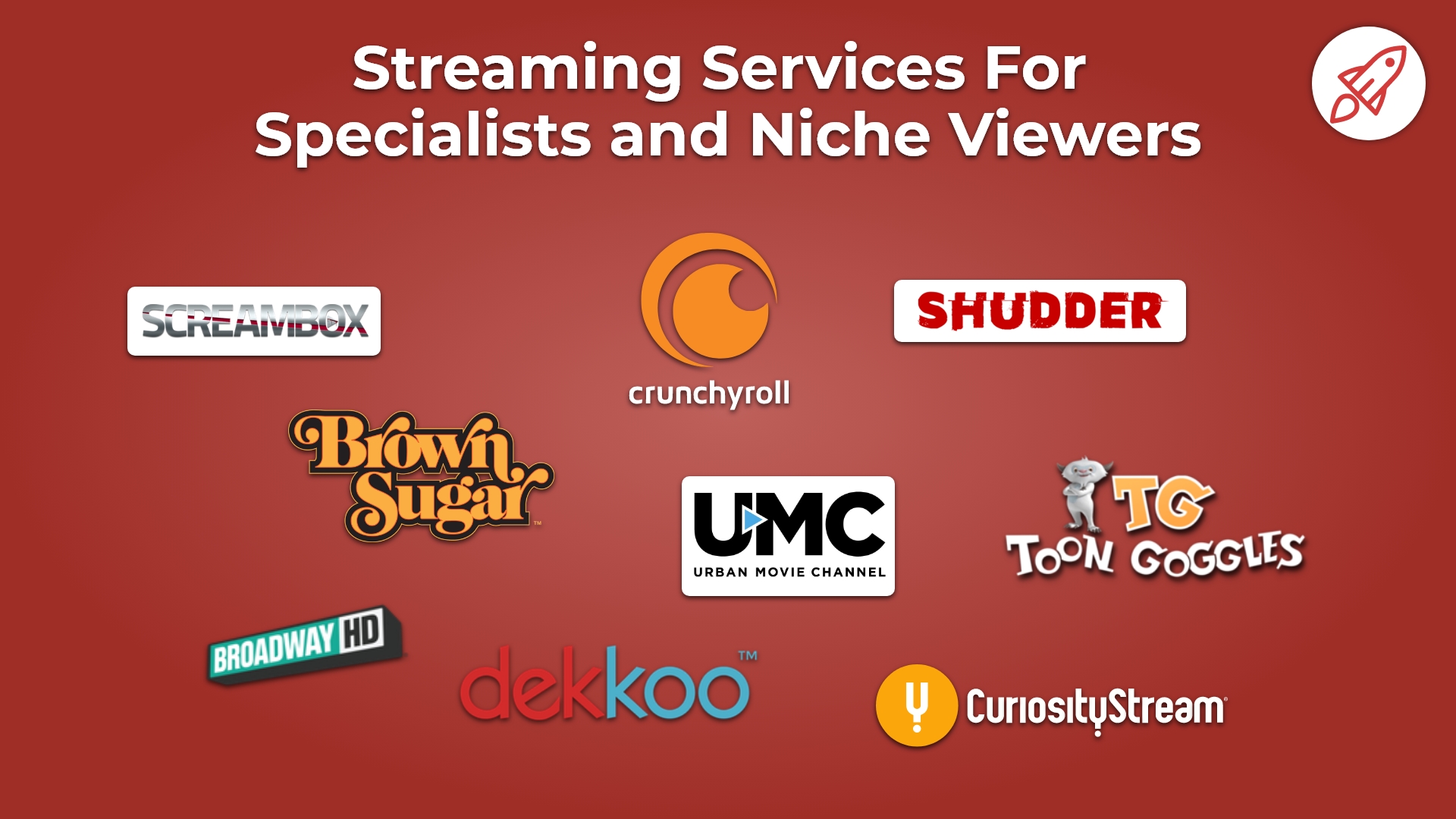 9. Crunchyroll
Although the name does not suggest anything related to television, Crunchyroll is the go-to spot for anime on the web. It includes a wide range of classic titles, such as Dragon Ball Z, Cowboy Beehop, and Samurai Champloo, but it is also the place to go for recently released episodes of newer anime series.
Netflix has indeed added some more anime options, but for true fans, or for those looking for a platform that will allow them to truly explore the genre, it's tough to beat Crunchyroll.
To get access to the service, you will need to pay $7.99 per month, or if you're sure you're going to love it, you can get a year's subscription for $79.99, which works out to about $6.50 a month, so a small saving.
10. Shudder
For this streaming service, the name does give you a pretty good idea of what you can expect: films that make you shudder. That's right, this is a streaming platform entirely dedicated to the horror genre.
It features a lot of the classics, for those who are looking to explore some of the films that have helped make the horror genre what it is today, but you can also catch a lot of newer films that are helping to redefine it and bring it back into the mainstream.
One cool thing the service does is offer a weekly "movie marathon," which lasts 24 hours and features 13 movies accompanied by commentary from Joe Bob Briggs, a famous personality within the world of horror. There are also weekly double-feature events on Friday, and both of these are great ways to find new films and learn a little bit more about what it is you're watching.
Currently, Shudder, which is part of the AMC family, is available for $5.99/month, or for those looking to save a bit, you can buy a year for $59.99, which gives you two months "free."
11. ScreamBox
Similar to Shudder in that it exclusively offers horror films, ScreamBox is different as it focuses mainly on indie films, meaning you've probably never heard of any of the films on this platform. Consider this is a good thing, especially if you're looking to take a deep dive into the genre.
ScreamBox also distinguishes itself by featuring a wide selection of HorrorTube movies, which are what they sound like - homemade horror movies.
Buyer beware! The stuff on ScreamBox is not for the faint of heart, so only sign up for a subscription, which costs $4.99/month or $35.99/year if you're ready to take a significant step towards conquering your fears.
12. Urban Movie Channel
A streaming service launched by the founder of BET, Robert L. Johnson, Urban Movie Channel is a streaming service featuring entertainment designed for and created by Black Americans. There are around 250 titles to choose from, many of which feature famous Black actors such as Mo'Nique, Isiah Washington, and Garcelle Beauvais.
In addition to films, there are some television shows. Although at the moment you will only find about ten, Urban Movie Channel has announced that it will begin producing original content, so expect more to come in the future.
There are also lots of stand-up specials from comedians such as Kevin Hart and Gary Owen, among others, meaning you will not run out of options.
Right now, a subscription to Urban Movie Channel will run you $4.99 per month, or $49.99 for the year.
13. Black Sugar
Black Sugar has cast itself as the go-to place for "badass cinema." It's a commercial-free platform that specializes in black films, and it's where you can find tons of uncut "blaxploitation" films, which are action films featuring black actors that were very popular in the 1970s.
As a result, Black Sugar is an incredibly specialized streaming service, but it gives users the chance to experience a film genre they might not be able to watch anywhere else. It costs just $5.99 per month, so there's really no reason not to at least check it out for a few months to see what you're missing.
14. Toon Goggles
A lot of people these days subscribe to streaming services to have something to put on for their kids. However, few streaming services cater specifically to this market, and if your kids have access to the TV, they can easily find things to watch that are inappropriate.
All of the content on Toon Goggles has been filtered for appropriateness, which means you can let your kids make their own profile and surf through the titles on their own without worrying about them watching something that's not suited for them.
And if this doesn't already sound amazing, know that Toon Goggles costs just $4.99 per month.
15. Gaia
Who says watching TV needs to be mindless and unproductive? Not Gaia, which is a streaming service dedicated to wellness and consciousness. On the platform, you can find yoga sequences, guided meditation sessions, and films and documentaries that are designed to expose viewers to new ways of thinking about life and the reality in which we live.
Interested in trying Gaia? You can get it for two weeks for just $0.99. If you like it, a monthly subscription costs $11.99, and you can get a whole year for $99.
16. Broadway HD
Broadway theater is a truly unique form of entertainment that you used to need to travel to New York to experience. Thanks to Broadway HD, lovers of the many musicals the Big Apple's famous street has produced can watch all their favorites, both past and present, right from the comfort of their own home.
To get Broadway HD, sign up for a monthly subscription for just $8.99 a month or $99.99 for a whole year.
17. Dekko
Although Netflix and some of the other major streaming services are getting better about producing content that deals with some of the issues facing the LGBTQ community, many feel they still don't go far enough. For those who want to learn and experience more from this part of society that is often shunned or overlooked, there's Dekko.
Dekko features a wide range of movies, TV shows, and documentaries that feature themes related to drag, bisexuality, civil rights, and much more. It costs $9.99 per month to subscribe.
18. Curiosity Stream
Created by the founders of the Discovery Channel, Curiosity Stream is a streaming platform dedicated entirely to documentaries. Its motto is to give you a "journey through our world and beyond."
In total, there are over 2,400 films and television series that plunge into topics ranging from animals and the environment to history and space. It's a nice complement to the many documentaries and education programs found on other streaming platforms and is ideal for those who love to learn something while sitting on the couch watching TV.
A monthly subscription to Curiosity Stream costs just $2.99 per month or $19.99 for the whole year. Not a bad deal for all that learning you'll be doing!
For International Intrigue
Interested in watching stuff that's not made in the United States? The following services bring you content from all over the world: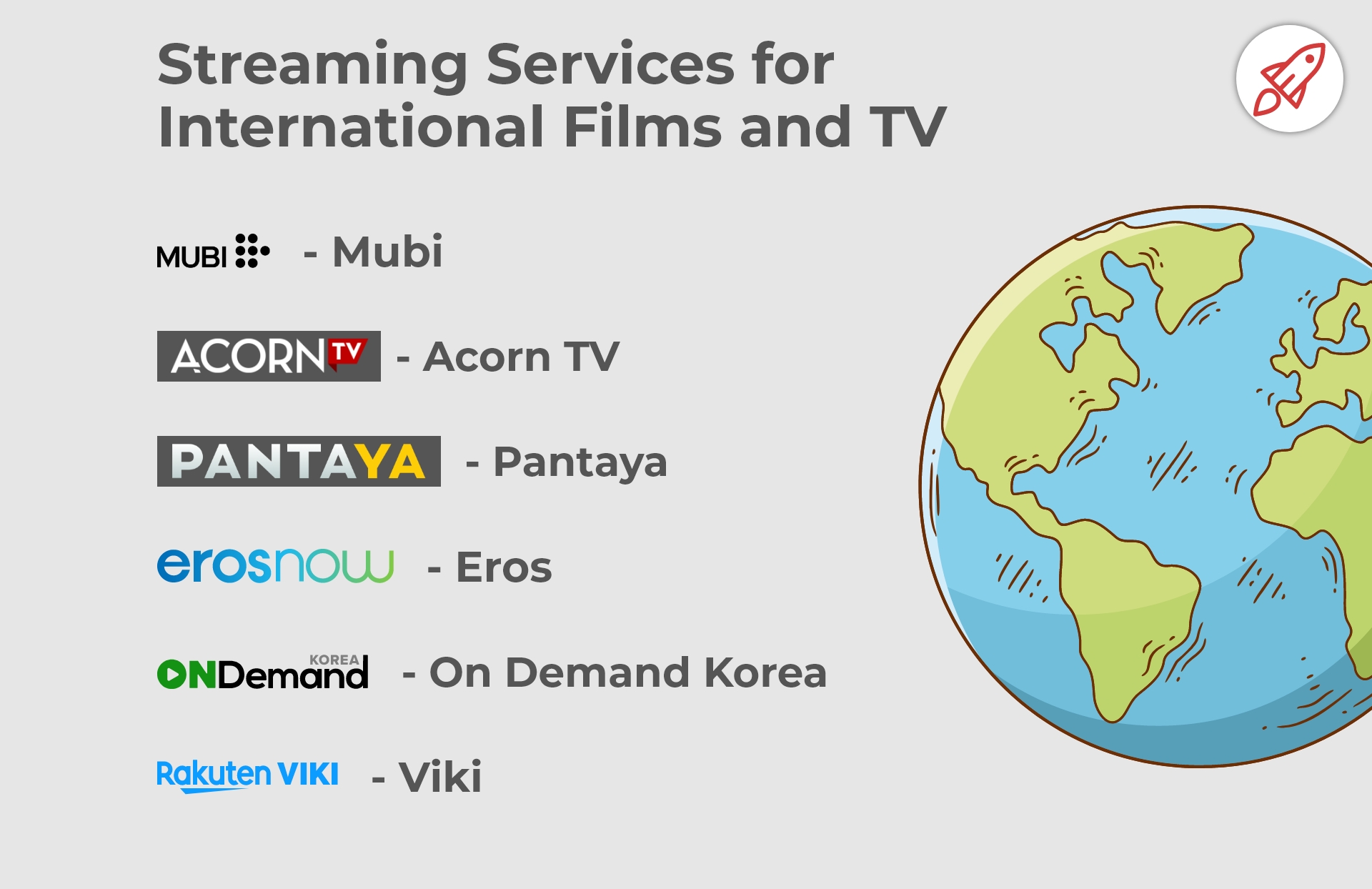 19. Mubi
Although the name sounds similar to the previously mentioned Tubi TV, these two services have nothing to do with one another. Instead, Mubi is entirely dedicated to international films or those that were created outside the United States.
There are just thirty films available on Mubi at a time, but a new one is added each day, and when something is added, it lasts for thirty days. This means there are always new things to watch, and since Mubi also has its own digital film newsletter, a lot of these films are the same ones that are featured at world-renowned festivals such as Cannes.
20. Acorn TV
If you're interested in seeing other parts of the world without having to leave your couch, Acorn TV could be a great streaming service for you. It offers more than 200 television shows from the UK and Australia, as well as around 50 movies that rotate on a monthly basis.
The movie selection isn't amazing, but fans of British television will be pleasantly surprised by what Acorn TV has to offer.
It's free for the first month after you sign up, and then after that, it's just $4.99 per month. It's available on a wide range of devices, too, such as iOS, Android, Amazon Fire, Roku, and Chromecast, meaning you can watch it from pretty much anywhere.
21. Pantaya
As English speakers, we often forget that Spanish is one of the most widely-spoken languages in the world, and there are great films coming out all the time from countries where Spanish is the primary language.
Pantaya puts them all in one spot and makes it really easy for you to search based on country or genre.
It's a great option for those who are looking to experience content from different parts of the world, as well as for those who are interested in learning how to speak and understand Spanish in a fun and exciting way.
The only subscription option that exists is a yearly one, which costs $49.99. That breaks down to just a little more than $4 per month.
22. Eros
India is a land famous for its movies. Many of them feature truly compelling love stories, and the music alone is enough to make any Saturday night more fun. However, on Netflix, Hulu, and Amazon Prime, the selection of Bollywood films is dismal.
If this bothers you, or you're simply curious about watching more movies from the world's most populous country, then consider signing up for Eros, which gives you access to countless films from Bollywood, as well as some original programming, music and music videos.
A subscription to Eros will cost you just $7.99 a month, not bad considering all you get.
23. OnDemandKorea and Viki
Asia is the world's most populated continent and this means that new movies and television shows are coming out at all times, some of which are very good.
OnDemandKorea, as the name suggests, specializes in movies, music, and news coming from Korea, and it's free if you don't mind watching ads. There is a Plus plan, which costs $6.99 a month, and there's also a Premium option, which is $10.99 a month. All the content features English subtitles, meaning you don't need to speak Korean to be able to enjoy it.
For those looking to expand beyond Korea, Viki offers Chinese, Taiwanese, Japanese, and also Korean television shows, with English subtitles, for free, so long as you're willing to watch ads.
Start Streaming
As you can see, there are tons of streaming services available beyond just the big three (or four, or five.) Of course, signing up for all of these doesn't make any sense, as doing so would cost you way more than a cable subscription, but since many of them allow you to sign up for a month and cancel at any time, it's worth it to check a few out to see what you're missing. Who knows? You may just discover a love for a film or TV genre you never even knew existed.