Perhaps one of the most exciting developments to come out of the digital revolution is communicating using video. In the early days of video calling, the quality was poor, and it seemed like it was more hassle than it was worth. However, the technology has improved considerably, as have the devices and networks we use these technologies on. This has made it possible to video chat with friends, family, colleagues, and more both at home and on the go.
Before 2020, though, video calling was more of a convenience than a necessity. But with the COVID-19 pandemic wreaking havoc on all aspects of our lives, it has become a technology upon which most of us heavily depend, both for professional and personal reasons. After all, where would we be if it weren't for virtual happy hours during quarantine and other digital solutions to the complete loss of human contact we all experienced.
However, not all video call solutions are the same. They each offer a unique set of features, and which one is best for you will depend heavily on your needs. And with so many options, knowing which one to choose can be a challenge. So, we've put together this guide, which outlines the key things to consider in a video call solution and reviews some of the top options available in 2022. We hope this information will help you make a more informed decision and get the most out of the video call solution you decide to use.
What to Look for in an Internet Video Calling Solution
Before going into some of the specific video calling solutions available to you, we must outline the critical factors to consider in this decision-making process. Knowing what to look for will help you better understand your own needs, which will make it easier to identify which solution is best for you.
Overall, here are the main things to consider in a video calling solution: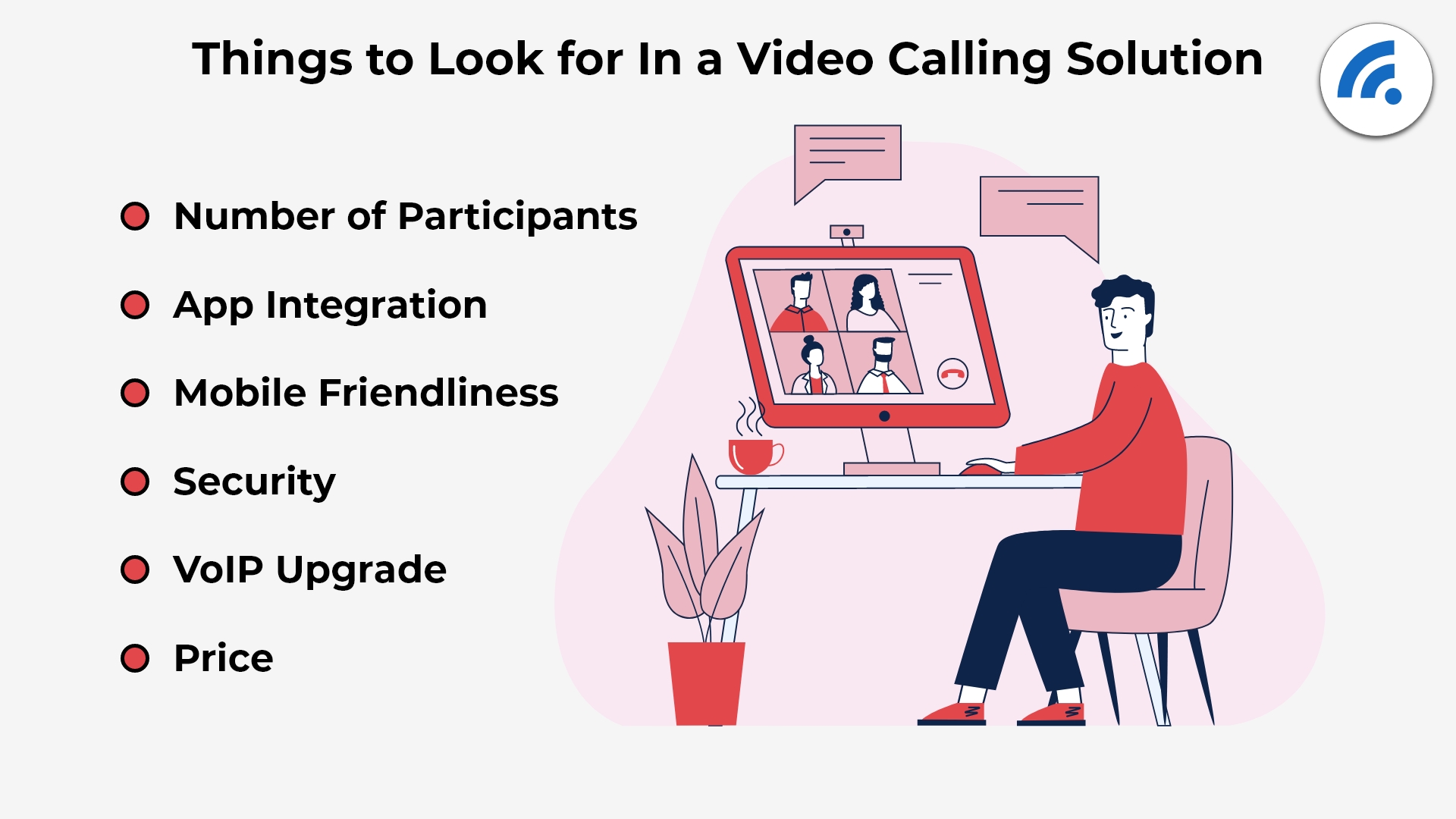 Number of Participants
Perhaps one of the most important things to think about is the number of participants you're going to need on your calls. Some programs have limits, whereas others don't. Or, it's entirely possible that for subscription services, one level allows for a certain amount of people, whereas the next level up allows for more, meaning you may need to spend more money.
It's also worth considering how well the video call solution handles multiple feeds at once. It's possible that a program allows for tons of participants, but that video quality is sacrificed as a result, which often defeats the purpose. For this reason, you may find it useful to try out a few different solutions to see which one works best for you - many services offer free trials - before committing to one thing.
App Integration
With so much of our personal and professional lives online, we all use a wide variety of apps that make it easier for us to do our jobs and communicate with others. However, a lot of this convenience is lost when these apps don't work together. As a result, it's essential to look for video call solutions that integrate well with the other programs you use.
This could mean connecting with your calendar app so that all you have to do when it's time for a meeting is click on a link in the meeting notice, which would launch your video call app and get you on your way. But there are also more robust integrations that allow you to do things such as share and edit documents in groups, access customer/client information on-the-fly, and link your project management software.
Take a look at the various apps you're already using in your work, and then consider how they might be useful if integrated with your video calling solution. Then, look for programs that will allow for maximum efficiency, as this will allow you to get the most out of your video calling solution.
Mobile Friendly
Another thing worth considering is how well your video calling solution works on mobile devices. We live in an era where we depend on our phones for nearly everything, and so it's important that whatever you use works just as well on a desktop computer as it does on a phone.
Of course, it's beyond possible that the mobile version of whichever solution you choose to use doesn't offer all the same features, so make sure you test this out or do your homework before making a decision. But if you think you and/or your team are going to need to use their phones to make video calls, then definitely be sure the mobile version of the program you're using is up to the challenge.
Security
The digital age we live in has made our lives easier, more convenient, and more productive. Still, it has also exposed us to a whole host of cybersecurity risks that we must address if we're going to make the most of these technologies without allowing them to harm us.
As a result, it's important to consider the security of the video calling platform you're using. Unfortunately, however, security and call quality are often mutually exclusive. For each layer of security you add, the slower your connection tends to be, leading to poorer calls. However, for some, this sacrifice will be well worth it due to the gains in security.
The biggest threat you face is someone hacking into your feed. If they do this, they can disrupt your operations by doing something benign, such as presenting inappropriate content through your feed, or they could do something much more malicious, such as access one of your computers and steal information.
Security is always a concern when dealing with modern technology, so make sure you don't forget about it when considering video calling solutions and making the choice that's right for you.
VoIP Upgrade
It might be useful for some people to look at video calling solutions that allow you to upgrade to a VoIP service. VoIP stands for Voice Over Internet Protocol and is effectively a phone service that uses the internet instead of traditional phone lines. It is typically cheaper and easier to scale than a regular phone. It also offers all sorts of extra features, such as automated operators, CRM integration, and AI speech recognition.
For those who need video calling but also need something to handle a high volume of traditional calls, choose a video call solution that allows for a VoIP upgrade. Using the same service for both can help you save money and use the two programs together to leverage your efforts.
Price
Though it's certainly not the least important, the last thing to consider is how much, if any, the money you want to spend. There are many free solutions out there, but sometimes you need to accept some service limitations to avoid costs. For example, some solutions only allow a certain number of callers to communicate at one time on the free version. In contrast, others might withhold certain features such as app integration when you are not a paying subscriber.
For some people, the free version of these solutions might be more than enough for you. But for others with more demanding needs, it might be worth it to subscribe to something that will give you a bit more. In our review, we've included a combination of free and paid services so that you will be able to find something that meets your needs.
The Best Internet Video Calling Solutions for 2022
Now that you have a clearer idea of what to look for in a video calling solution, here are nine options that we consider worth your time and potential money. Take a look at each one and see how they align with your needs. And once you've identified a few that you think might work, consider giving a few a try so that you can really see how they will work with your other systems and processes as well as personal preferences.
GoToMeeting
This paid service is a wonderful option for both small and large companies alike. In general, this is a robust, easy-to-use video calling solution that will make it easy for you to set up and coordinate virtual meetings. It works well with all major web browsers, and it also has an excellent mobile app that allows people to connect to a meeting even when they are on the go.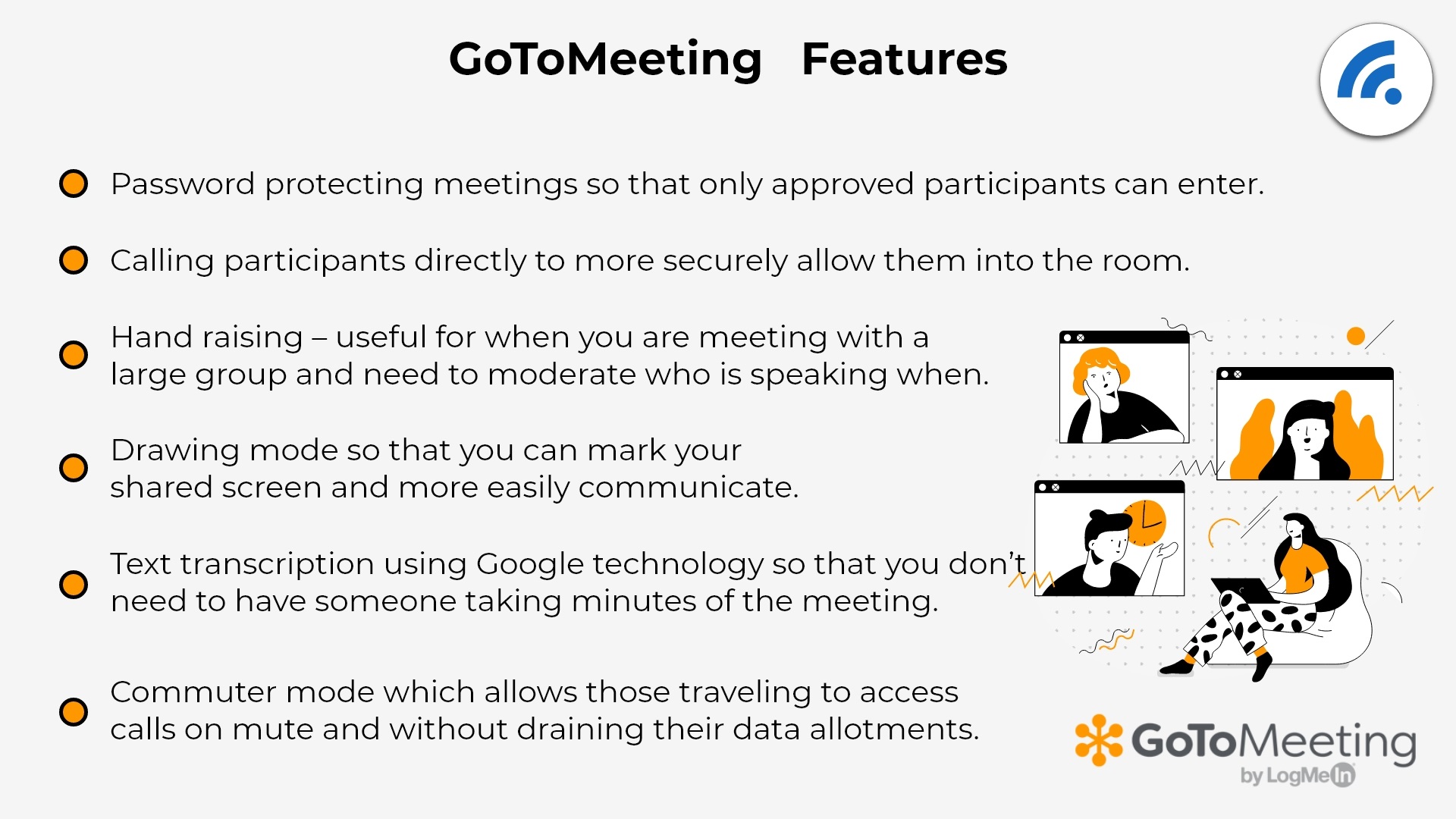 GoToMeeting is also a great option because it integrates well with other "GoTo" products, such as GoToWebinar and GoToTraining, both of which will dramatically expand your virtual meeting capabilities. However, one downside is that there is no price break for signing up for more than one of these services, which can easily balloon your spending. We would also like to see a few more app integrations. But if your primary purpose is simply to hold high-quality video calls, then GoToMeeting is an excellent option.
If this service sounds appealing, here are the costs involved in signing up:
Professional – $14/organizer per month. Allows for up to 150 participants
Business – $16/organizer per month. Allows for up to 250 participants
Enterprise – Custom Packages for up to 3,000 participants
We should note there is a free version, but many of the features you get with the paid plans will not be available and ultimately one of the other options will be better. Some of these features include:
Password protecting meetings so that only approved participants can enter
Calling participants directly to more securely allow them into the room
Hand raising – useful for when you are meeting with a large group and need to moderate who is speaking when.
Drawing mode so that you can mark your shared screen and more easily communicate
Text transcription using Google technology so that you don't need to have someone taking minutes of the meeting.
Commuter mode allows those traveling to access calls on mute and without draining their data allotments.
GoToMeeting generally produces excellent quality video calls regardless of whether users are on WiFi, ethernet, or mobile data. With many useful features and reliability on its side, GoToMeeting will make an excellent solution for small, medium, and even large businesses and organizations.
RingCentral Video
For those looking for a video calling solution that integrates well with other programs such as Google, Slack, and Microsoft 365, then RingCentral Video is going to be the solution you need. To start a meeting while in one of these other apps, all you need to do is press a button and you're good to go.
RingCentral also offers many of the same features that we have now come to expect from a video calling solution, such as screen sharing and annotation, video call scheduling, chat, recording, hand-raising, and more. In addition, with RingCentral Video, you can also easily switch between devices, which works well for those who are constantly on the go and might not always be able to finish a meeting on the device that they start them on.
However, one thing to keep in mind with RingCentral Video is that there is no end-to-end encryption, which means it is considerably less secure than some of the other options discussed on this list. But as we mentioned, this is often the price to pay for higher-quality video calling solutions with exciting features.
There used to be several different pricing options, but more recently they've done away with this in favor of a free and pro+ option. These are:
RingCentral Video Pro: Free – Allows you to host unlimited meetings with up to 100 participants and store cloud recordings of up to 7 days.
RingCentral Video Pro+: $11.99/ per month – Additional cloud storage, meetings of up to 200 participants, and additional perks and features.
One thing worth pointing out before moving on is that RingCentral also allows you to set up a phone system for your business. This is an excellent feature that will enable you to build a more robust phone and video calling solution for your business.
If you think RingCentral Video might be right for you but aren't sure you want to spend the money, just try out the free option. It has plenty to keep you started, including the integrations that would attract you to it in the first place.
Microsoft Teams
For those who conduct business in a Microsoft-centric environment, Microsoft Teams will probably be the ideal video call solution for you.
First designed as a web chat platform, Microsoft Teams allows you to organize your entire organization into... you guessed it, teams. It then provides them with all the resources they need to schedule and set up video calls and other collaboration efforts.
Probably the best thing about Microsoft Teams is how well it integrates with other Microsoft software packages, which makes sense since this was the purpose of the program. You can easily schedule appointments through Outlook and share, edit, and manage documents created using Word, Excel, and PowerPoint. Teams also offer the same combination of video calling features you see with other programs, such as hand-raising, commuter mode, notification snoozing, chats, annotations, recordings, or more.
However, reviewing the pricing structure for Microsoft teams can be a bit of a challenge since one cannot sign up for it on its own. Instead, you need to have a Microsoft 365 subscription, and Teams is included with this service. The pricing is as follows:
Free – Some functionality, but all must have a Microsoft account, and you will not get all the integrations that Teams are famous for.
365 Business Basic: $6 per person per month; requires an annual commitment.
Office 365 Business Standard: $12.50 per person per month; requires an annual commitment
Office 365 Business Premium: $22 per person per month; requires an annual commitment
With each package, you can add more and more users and take advantage of additional integrations and features. Though, as you can see, this service is not cheap, especially as you get up to the Enterprise level.
One thing to point out, and this is often true with Microsoft products is that there is a rather steep learning curve to Microsoft Teams. As a result, it's only ideal for those who are already very comfortable in Microsoft's environment. Those who aren't might find that spending this kind of money is rather frustrating, whereas those who are will likely have a much different experience.
Nevertheless, Microsoft Teams is the perfect solution for those who already take a Microsoft-centric approach to their systems. Because of the many price packages and different features, we feel there are a lot of reasons to be excited about this program.
Google Meet
Of course, Google makes it onto this list. Would we expect anything else? But Google Meet, which was once known as Google Hangouts Meet, is a product designed for those already using G Suite software.
It's also an excellent option for those looking for a video call solution that integrates with other programs at a price that is less of a burden on your budget. For example, the free version allows for calls with up to 100 participants and unlimited call time, both of which are much more expansive than the free versions of other video call solutions. However, if you're relying on the free version, you won't have the option of joining calls via telephone, as this requires a subscription. Instead, you will only be able to use the internet.
For those looking for a bit more, the Basic plan costs $6 per person and comes with a professional office suite and 30 GB of storage. The Business plan costs $12 per user per month and includes unlimited storage and archiving. Lastly, the Enterprise plan costs $25 per person per month and includes even more advanced controls and capabilities.
Overall, Google Meet is one of the easiest and most user-friendly video call solutions on this list, though it is limited in some of the things it can do. If you're just looking for something that will allow you to easily set up excellent quality video calls in a secure environment that integrates with your other Google apps, then Google Meet is going to be an excellent choice for you.
Zoom Meetings
For those looking to get the most out of a free account, Zoom will probably be the video call solution for you. In this free version, you get 720p video quality (when the connection is good) and 40-minute calls with up to 100 participants. Of course, this limit is annoying, but if you want to continue the meeting, you can easily restart it and get a fresh 40 minutes for free.
This combination of participant numbers and quality makes the free version of Zoom stand out against the competition. However, if you need more and are willing to spend some money, you can get a lot from their paid plans. These plans are the Pro ($14.99 per month per host), business ($19.99 per month per host, 50 host minimum), and Enterprise ($19.99 per month per host, 300 host minimum).
The Pro version allows for more storage and admin features but keeps the participant limit at 100. However, the call duration is expanded to 24 hours. With the Business and Enterprise plans, you can have up to 300 and 1,000 participants respectively, and both give you added features such as company branding, custom emails, dedicated support, and more.
All of this makes Zoom one of the most scalable video calling solutions out there. You can easily start with the free plan, which will be more than adequate for most people, but then upgrade to more advanced plans as your needs expand.
However, one thing to point out with Zoom is that its security protocols have been less than stellar. The use of Zoom exploded during the COVID-19 pandemic and many people reported hacking and other intrusions into what were supposed to be private Zoom meetings. The company responded by openly admitting that delivering the type of call quality that Zoom users are accustomed to naturally comes with some security gaps, which is concerning. But, we should point out that the company has responded well to these concerns and implemented updates that make it more difficult for these security breaches to occur.
Overall, and despite these concerns, Zoom is an excellent video call solution for both personal and professional purposes that is worth trying, especially since you will likely be able to meet most, if not all, of your needs with the free version of the service.
Conclusion
As you can see, there is a lot more to consider when it comes to a video call solution than price and call quality. However, we hope that this guide has made it easier for you to identify your needs and, therefore, better understand the different services that are out there. This should simplify the decision-making process and make it much more likely that you find a product that will allow you to use video calling to your advantage.