Working remotely is only possible when you have a reliable internet connection for your home office, which means that finding the right business internet provider for your address is vital when you're a freelancer or working from home. When your connection is spotty, working from home stops feeling like freedom and becomes incredibly frustrating.
When you need to make a switch, searching for "internet providers for my address" isn't enough. As a remote worker, your broadband needs are going to be very different from those of the family across the street.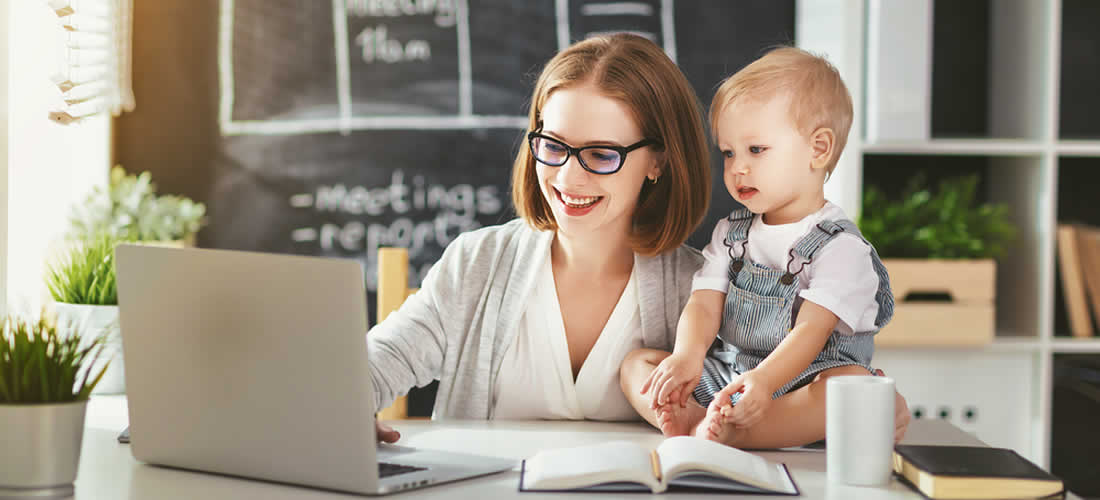 How Do I Find Business Internet Providers for My Address?
It's easy to find plans! Most internet service providers offer one or more business-class broadband plans that have extra features for remote workers and small business owners. They are often significantly more expensive than residential plans but keep in mind that you will get a much higher class of service. For instance, business broadband plans can include website help, the option of setting up your own server, and better, faster tech support.
When you do that search for 'internet providers for my address,' most of the results you get will be for individual and family plans. Some freelancers and remote workers find residential broadband plans sufficient, though many ISPs have Acceptable Use Policies that prohibit business use of residential service plans. The main reason to upgrade to business-class internet is that it almost guarantees that you will have little to no downtown - which is important when a spotty connection can cost you a client!
Compare providers using unbiased sources. Sites like BroadbandSearch lay out the pros and cons of different providers and plans so you can make a smart choice.
What Kinds of Internet Types are There Near Me?
When you're shopping around for business broadband, these are the most common connection types you'll encounter:
DSL
This is usually the least expensive option, with business-class options that are under $100 per month. DSL uses your telephone line to transfer data and is typically just as reliable as cable. The main downside to DSL is that it can get slower the further you are from your ISP's exchange. You should have no issues taking credit card payments with DSL.
Cable
Cable is usually more expensive than DSL, with business broadband plans that can hit $300. This type of connection uses television cable lines to transmit data and it supports digital phone use. Cable download and upload speeds are typically faster than DSL, even when you have multiple users. But you may experience lag during peak usage hours since you will share your bandwidth with other customers in your area.
Fiber
This connection type uses fiber optic cables to transmit data and is both fast and reliable for prices that fall between DSL and cable. However, the network of fiber optic cables that makes fiber possible hasn't been extended into most neighborhoods. If you can get fiber internet, do it because it's one of the best connections around.
How Much Speed Can I Get From Internet Providers for My Address?
When you're running a business or working remotely, you should always opt for the highest broadband speeds you can afford. Why is fast internet so important? Because you need to keep up with your coworkers in the office (or competitors) who are probably using business broadband plans that might be thirty times faster than your current residential plan.
Remote workers have to prove themselves every day, and that's hard to do when your internet connection can't keep up. Business broadband plans offer much higher download and upload speeds so you can compete on a level playing field.
How Do I Compare Speeds From the Internet Providers for My Address?
Today's broadband speeds run the gamut from okay for the casual user to more than enough for the super-user. You may not feel like you use a lot of bandwidth for work but you should nonetheless think of yourself as a super user because you rely on that connection every day.
As you look at super speedy business broadband plans, make sure you are comparing similar plans. Lightning-fast broadband won't do you much good if there are data caps, the ISP offering it isn't reliable, or the plan doesn't support multiple users. Conversely, the most robust business broadband plans won't do you much good if the ISP is offering slower than usual upload and download speeds or they throttle the bandwidth at certain times of the day.
Why Should I Look for Business Internet Providers for My Address?
As noted above, business-class internet comes with benefits that make it easier to work from home. The biggest one is probably that plans have no data caps. The majority of ISPs impose some kind of monthly data limit on their residential customers. When users hit the cap, they either have to pay more or deal with slower internet until the end of the month. Supposedly these caps ensure that no customer takes more than their fair share of all the available bandwidth, but when you're using the internet for work you need what you need. Business broadband plans almost all have no data caps.
Broadband Phone Service from Internet Providers for My Address
If you don't want to use your mobile for business, your business broadband plan will let you make voice calls over your high-speed connection. Broadband phones (also called VoIP or internet phones) use your DSL or cable internet provider's network and hardware adapters to give you what amounts to a landline just for your business.
The cost of broadband phone subscription plans varies from company to company, and the plans are highly variable as well. Some plans offer unlimited local calling or enough minutes that it amounts to the same thing. The sound quality of internet phone service is usually just fine for business purposes. And as long as your business broadband connection is reliable, your phone service will be reliable, too.
Do the Business Internet Providers for My Address Offer Static IP
Some business-class internet connections use static (permanent) Internet Protocol addresses or let you pay for one as an add-on. Static IP addresses allow you to host servers if your business requires it, access computers remotely, and run websites from your home office.
How About Business-Grade Website Hosting?
If you have a website for your freelance business and you don't want to run it on your own server, your ISP may have web hosting features that make it easy to set up and maintain your site and any associated databases. Some even offer e-commerce options that let you take payments securely and manage inventory.
Will My ISP Keep My Business Information Secure?
Cybersecurity is more than just a buzzword. If you're dealing with sensitive client information or your customers' financial information, you need to be sure your data is safe. Business internet plans will often include free security software, cloud backup, data protection, and other options designed to protect your business from hackers and information thieves.
Questions to Ask Business Internet Providers for My Address
Make sure you ask local ISPs about these options and features:
What are the contract terms? Many ISPs require business customers to sign a 1-year contract but some offer a month-to-month commitment. Make sure you ask about whether you'll be charged a fee for canceling early.
Can I bundle services? You may be able to save a little on your business broadband if you get your TV or another service from the same provider. Be aware that the reduced rate you're paying may be a limited-time deal.
Are there any limitations for business use? Some ISPs have restrictions when it comes to things like VPN pass-through.
How quickly are tech and connection issues resolved? Business users need to know they can get online 24/7 and that means business broadband plans typically include tech support guarantees. If your issues aren't fixed in a set span of time, you may be eligible for a discount on your next month's bill.
Can I get a copy of your SLA? Service level agreements often guarantee a certain level of service and if your ISP doesn't deliver, you may be entitled to compensation.
Do I have to pay for additional hardware? Your ISP may give you a free wireless router but if not, make sure you factor the cost in when you're comparing providers.
What extras can you give me? All things being equal, you might choose one ISP over another if it offers free cloud backup, free Wi-Fi hotspot access, or other business-friendly add-ons.
Are the Business Internet Providers for My Address Reliable
When you work remotely, having a reliable connection can mean the difference between meeting deadlines or getting a pink slip. Look at customer satisfaction ratings online and ask colleagues about their ISPs before signing a contract. Trust your gut and trust the recommendations of your coworkers.
Remember that knowledge is power when it comes to choosing an ISP for your home office or freelance business. You know your business and your needs better than anyone. Don't let a representative from a local ISP convince you that you need more or less speed, or that you need a particular plan.
Bottom line: The more you know about the business broadband plans available in your area, the better equipped you will be to make a smart and savvy decision when it's time to pick a provider.
When you're ready to sign up for a business broadband plan for your home office, check out internet service providers in your area.