Watching moves has always been fun. But with entertainment options still limited due to the ongoing pandemic, they've become even more special. Now is the time to watch those titles you have longed to see but haven't had the time to sit and enjoy.
However, as you've probably realized, one of the biggest roadblocks to watching lots of movies is accessing them. Yes, you can buy or rent them, and a lot of titles are available on the leading streaming platforms (Netflix, Amazon Prime, Hulu, Disney+, HBO Max, etc.). But these services aren't always ideal. First, they have a limited number of titles, and second, they're not free.
Each one costs anywhere from $6-$20 per month. On its own, this isn't a major expense. But when we put them all together, they add up. And if you're not accessing all the titles you want, this can be even more annoying.
Many of these sites are still worth your time, but we think you should know what's on them before signing up. But there are also lots of ways to watch movies for free. Below is a list of all the best movie streaming sites in 2023.
Best Paid Movie Streaming Sites for 2023
You're probably already familiar with these sites, but if it's movies you're after, then you'll be most interested in this ranking:

1. Amazon Prime
Amazon Prime takes the prize as the best paid movie streaming service!
A streaming site for movies based purely on the number of titles it offers. You can access pretty much any movie you want with this service. But the big catch will be how much you're willing to spend to view it.
Tens of thousands of titles are included with a standard subscription, but as you work through the platform you're likely to find that many of the best titles cost extra money (either to rent or to buy) or are only included in an extra channel (Showtime, HBO, Cinemax, etc.) that will add anywhere from $7-$14 to your monthly subscription fee.
Some of these titles might be available through your standard plan if you're willing to watch some advertisements, though this isn't always the case.
However, if you're okay spending the money, you'll likely be impressed by both the sound and video quality of the films on Amazon Prime. The platform's user interface isn't amazing, but it's improved and likely will continue to do so moving forward.
2. Netflix
In the early days of Netflix, movies were their specialty, especially back when it was primarily a mail-order DVD rental service. This is not so much the case today, but Netflix can still hold its own.
The big draw of Netflix in movies is its original titles. Years ago, Netflix decided to invest heavily in creating content just for its platform, and while the bulk of this money has gone towards producing TV shows, it's managed to come up with some films that are enjoyed by both fans and critics alike.
Netflix has, over time, been host to several award-winning movies, and we have started to see more nominated pictures on the site as time goes on. And don't forget about the thousands of titles from other studios. Combined, all this content makes Netflix one of the best paid movie streaming sites.
The most popular version of Netflix, which allows for multiple streams at once and gives you access to 4K Ultra HD content (where available), costs $19.99 per month.
3. The Criterion Channel
For those looking to stream movies considered by many to be the best of all time, The Criterion Channel will be the platform for you. It features all the titles from the Criterion list, comprised of the best and most influential films of all time.
The oldest movies on the list go back to 1917, making this an excellent opportunity to brush up on your movie history and finally watch all those classics you've been saying you'd like to see for years and years.
Currently, a subscription to The Criterion Channel costs $10.99 per month, but you can save money by signing up for a year, which costs $100.
4. Fandor
If you want to stream critically acclaimed movies that aren't necessarily mainstream, then Fandor is an excellent option. It has a little more than 6,000 titles, all of which were selected by the Fandor staff, which is made up of movie lovers and buffs from all over the world.
Likely, you won't recognize many titles on this platform, but don't let that scare you away. There are tons of good films to watch, and it's a wonderful opportunity to expand your movie tastes.
A monthly subscription costs $5.99.
5. HBO MAX
An acronym for Home Box Office, alluding to the big screen, HBO MAX is the long-time movie giant's streaming platform and app. It has a large catalog of movies, many of which are critically acclaimed or considered classics.
The selection of films available on HBO MAX is smaller than on other platforms, but there is a lot of quality stuff on there. However, we don't recommend making it your only movie streaming option.
One nice upside to HBO MAX is that in addition to all the movies you can watch, you can also stream all of HBO's original television shows, which include The Sopranos, The Wire, Boardwalk Empire, Game of Thrones, The Watchmen, and many, many more.
Of course, these aren't movies. But having access to these programs on top of HBO's selection of films helps turn this into a nice all-around platform. HBO MAX is free if you already subscribe to HBO as a part of your cable plan. All you need to do is download the app and put in your account information.
If you're not already a customer, HBO MAX costs $15 per month and can be added to other platforms such as Amazon Prime Video, YouTube TV, Hulu + Live TV, etc.
6. Disney+
If you have young children or are a lover of all things Disney, then Disney+ will be the movie streaming platform for you.
In addition to being the home for all the Disney classics, both animated and live-action, this platform also gives you access to Lucasfilm (Star Wars), Marvel (The Avengers, Captain America, Black Panther, and Pixar titles (Finding Nemo, Toy Story, Up, Brave, etc.)
However, if you're not a huge fan of Disney and these other films, then this platform isn't going to do you much good.
Currently, a monthly subscription costs just $8 per month, though this will likely go up soon as Disney+ breaks out of its initiation stage and becomes more mainstream.
7. Hulu
If it's movies that you're after, we don't recommend you rely solely on Hulu. Its streaming platform is more targeted toward television lovers, so its movie selection is not nearly as exciting as other platforms.
If you're using Hulu + Live TV, you can add on some premium channels (HBO, Showtime, Cinemax, etc.), but each plan will cost you around $10 per month, causing your monthly streaming bill to skyrocket.
That said, some people may find that Hulu provides them with access to enough movies to make it worth it, but of the major paid movie streaming services, it is the weakest when it comes to movies.
Specialty Movie Platforms
These nine streaming services will offer you a broad range of movies to watch, but if you're a fan of one particular genre, you may find them to be a bit underwhelming. But don't worry - if there is something you want to watch, there is likely to be a streaming service dedicated specifically to it. To give you an idea, here are a few of the different sites out there: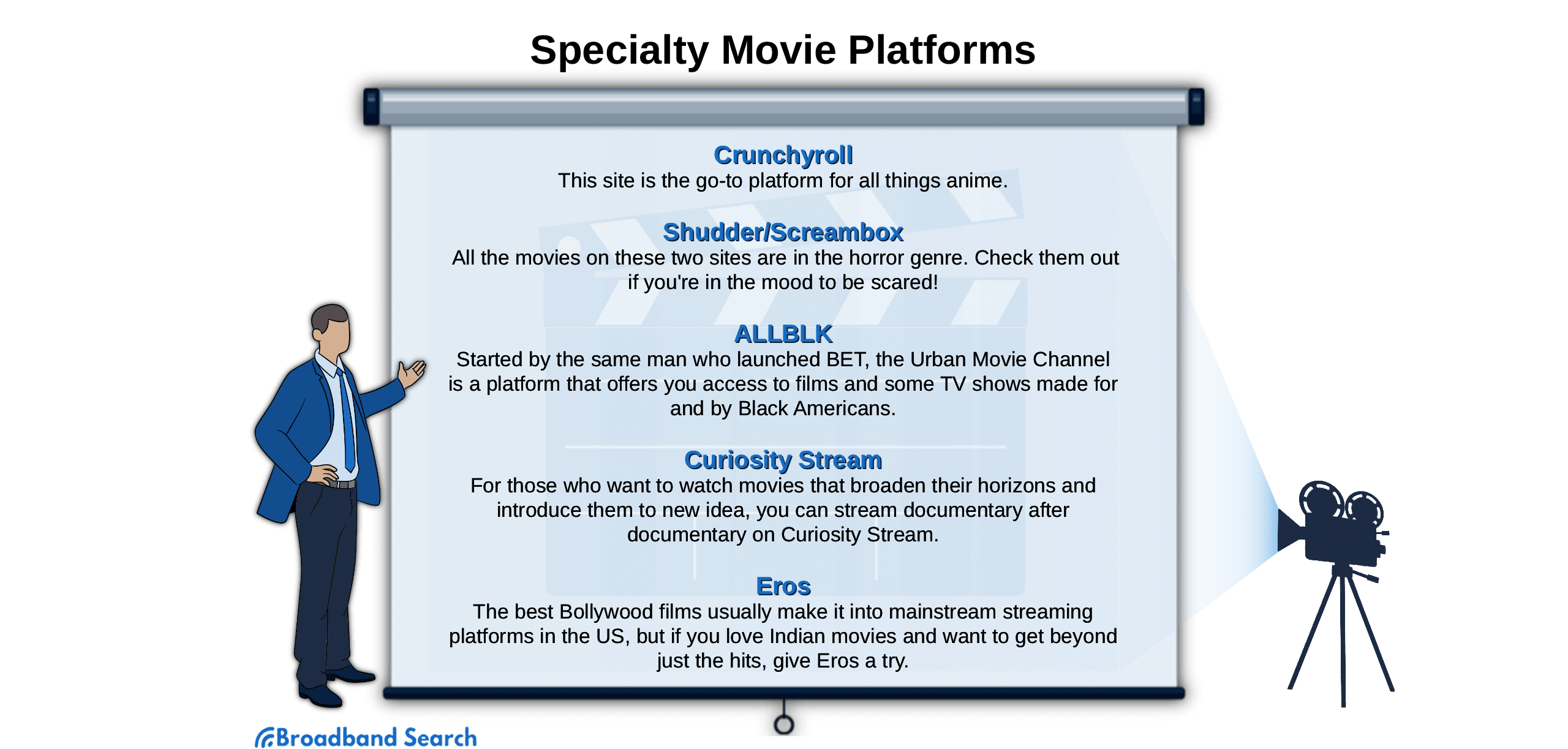 These five streaming sites are just the tip of the iceberg when it comes to specialty movie platforms. So, if you want something, do a quick search to see if there's a site you can use to indulge even your most specific tastes.
The Best Free Movie Streaming Sites for 2023
While paid streaming sites give you access to all sorts of great content, you don't need a math degree to figure out that subscribing to even just three or four of them will cost you close to $50 per month just to watch movies. And this doesn't even include any other streaming services you might have (YouTube TV, Sling, Hulu + Live TV, etc.).
This is a lot for anyone, but don't worry, there are alternatives. Here is a list of the best free movie streaming sites for watching movies: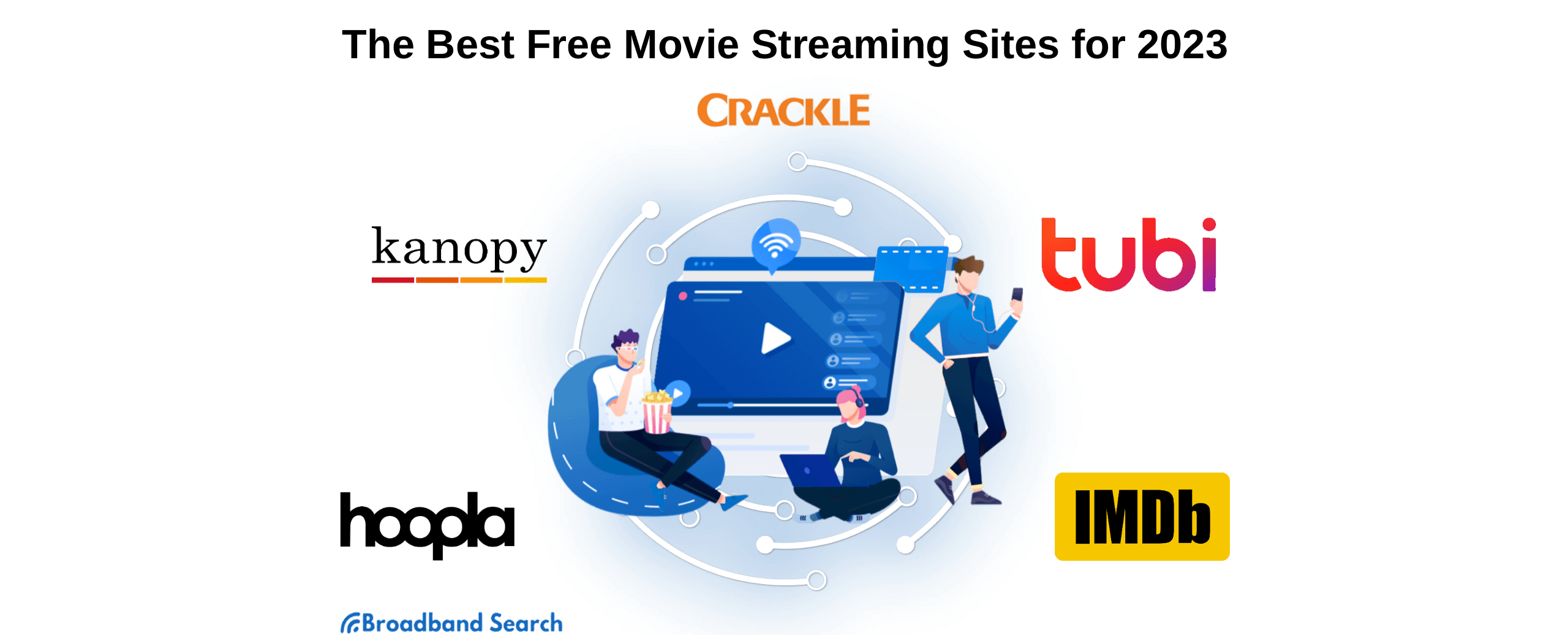 1. Hoopla
Have you ever spent time perusing the movie collection at your local library? If so, you're probably aware that this is an excellent place to access new and old titles.
Hoopla is a free movie streaming site that works with your library card.
Yes, you read that right. To access the thousands of titles on Hoopla, all you need is a library card.
The only downside is that you're usually limited to just eight monthly rentals and the titles your library has in stock. For most people, eight rentals are plenty, but you could always make an account using information from someone else in your home to access more.
One nice thing about Hoopla is its many curated collections. For example, you can search for films using filters such as "Directed by Women" or "Cult Classics," making it much easier to find new titles based on your specific tastes or interests.
Most libraries participate in Hoopla, but consider politely raising it as an issue if yours doesn't give you access.
2. Kanopy
Kanopy is a very similar service to Hoopla, but the big difference is that the collection on Kanopy is almost entirely classic films. You will find movies from directors such as Bergman, Fellini, Chapman, and other famous filmmakers on this platform.
However, despite this focus on the past, every once in a while, a movie studio will reach a deal with Kanopy to release a new film at the same time it enters theaters. This is a rare opportunity to catch a first-run film without ever having to leave your house!
There is a limit to how many movies you can stream in a month, but this number varies by city. However, the minimum is six, which should be enough for most users, especially if you are looking for new movies to watch on both Kanopy and Hoopla.
3. Crackle TV
Crackle is a free streaming service that allows you to watch movies and television shows. Know that this service is excellent for those interested in movies because it rotates which films are available every month. This makes it so that you can never get bored and always find something new.
There are usually some 200 movies available on Crackle TV at any given moment, which is an excellent selection for a completely free service. The catch? You will likely need to watch ads to access content, which is a small price to pay, considering what you get. Comparing it to a service such as Hulu, which charges and still displays ads, it makes Crackle TV an even better deal.
4. Tubi TV
Another option is Tubi TV, which works with many major movie studios - Paramount, MGM, Lionsgate, etc. - to present movies of all types for you to watch.
In total, there are some 50,000 movies available on Tubi TV, but they aren't all available at once. Instead, you will usually find around 5,000 at any given moment.
Not happy with what's there right now? Just wait a bit for the selection to rotate, and you're likely to find something you want to watch.
5. IMDB TV
IMDB has been a household name in the movie industry for some time, and it's now offering a streaming service for those who want to watch films for free. Like the other free services, you will need to sit through ads if you want access.
Since Amazon owns it, IMDB gets to take advantage of some of its parent company's licensing agreements, which means there are usually some good titles on there. It's still a relatively new service, so the catalog should grow going forward but considering it's free, there's no reason not to give it a shot to see if there is something you'd like to watch.
"Watch Any Movie" Sites
These free movie streaming sites are all great ways to watch movies at no cost to you, but as you'll quickly learn, the downside to these sites is that the selection can be limited.
Can you always find something to watch? Sure, but things might be a bit more difficult if you're after a specific title.
If you can't find the movie you want to watch on a free platform or on one for which you already have a subscription, then one option is to go to one of the many "watch any movie" sites.
These platforms are great because you can search for the title you want and get access to it within seconds. Usually, you need to watch some ads to do it, but this is a small price to pay to view what you want when you want. These sites have some issues (described in detail below), but they can be a great option. Here are the six we consider the best both in terms of usability and collections:
AZMovies

LookMovie

Vumoo

Solarmovie

123Movies

Moviestars
Some Things to Consider About Free Streaming Sites
While many people use these platforms quite happily, we wanted to remind you of a few things:
Advertisements

- Almost all free sites provide you with access to free movies, thanks to advertisements. In most cases, the ads show up initially, and you just need to watch them or close them out before you can access your content. However, some websites will interrupt the movie to show you ads. This can be frustrating, but it's the price we must pay if we want to watch movies for free.

Questionable links

- Regulations on some of these sites aren't all that strong, and so from time to time, you may find that clicking on a link will take you to a site that you either don't want to visit or that is trying to get you to download something harmful to your computer. Usually, this happens when you're trying to click off an ad. Perhaps a false "x" is a link to some other site. To avoid this, just be very careful about where you click. If you do get taken somewhere you don't want to go, check to see if the site has a way to report this. Most do, and telling someone about this can help save you, future users, and the site

Accounts

- Some websites on this list let you watch movies as a guest, but some of them require you to create an account. This isn't necessarily bad, but sites requiring an account will have different reasons for doing so. If

online privacy

is important to you, just look into what information you have to surrender and why. This may help guide your decision about which sites to use and which to avoid.

Licensing laws

- For a website to offer a movie for streaming, it needs to have secured licensing rights, but this hasn't always happened on some of these free streaming sites. While we've listed the sites out there, it's up to you as the end-user to determine if the site you're on has the legal right to show content. If not, you should avoid it. Streaming or downloading from these sites can result in fines or other penalties both from your ISP and the government.

Shutdowns

- Because of these ambiguities related to licensing laws, it's not uncommon for some of these free sites to get shut down periodically. When this happens, they usually reemerge on another, very similarly-named site. You can often get the new link from the old site, but keep in mind that getting shut down means the site is likely not operating legally, which should give you pause.
It's Movie Time
Clearly, in 2023 there are many opportunities to stream movies, either through paid or free platforms. Each movie streaming site offers something a little bit different, so we recommend trying them. Most of the paid sites will let you do a free trial so that you can see if you want to commit. But there is no risk involved with the free sites, so go ahead and check them out to see if there's anything you might want to watch. And when you find something, get some popcorn and a comfy seat because... it's movie time!
FAQ
What are the penalties for watching an illegal streaming movie?
The fines can be substantial but vary depending on whether you uploaded it or watched it. The fine for watching an illegal movie range from $750 to $30,000. If you uploaded it the fines start at $150,000. There has also been a push among some politicians to include jail sentences as well.
How much download speed do I need to watch 4K videos?
Standard definition needs a minimum of 3 Mbps. Standard definition should have 5 Mbps, and 4K video needs a minimum of 25 Mbps. This should give you an idea of what sort of broadband plans you should look for from a provider.
What is the best way to find a streaming movie online?
Probably the fastest way to find a particular movie streaming online is to go to IMDB.com and run a search for that movie. Below its listing you will see all the options for viewing it.
What is 4K streaming video?
Basically, it's a very high resolution that works out to 3,840 pixels by 2,160 pixels. The higher the resolution, the clearer the image on the screen, and 4K is the top of the consumer market at present.
When should I tell my internet provider that I'm moving?
The best time to tell your provider that you are moving or canceling internet service would be any time within the last billing cycle (30 days). Service normally remains live until the final day of the billing cycle. If you wait too late to cancel, you might end up paying for another month of service because providers take different lengths of time to process a cancellation.