Your choice of college landed you in NYC, one of the most dynamic places in the entire world, and right now you may still be adjusting to living in the city that never sleeps. Getting here was just step one. Now it's time to start settling in, and that means making sure that you have what you need to succeed both in school and out. One of those things? Is the reliable internet connection you'll use every day to work, play, and stay connected. Luckily, finding the best internet service providers in NYC isn't as hard as passing organic chem, but it will take some work.
Why is finding a good ISP so hard? First, because there are a lot of internet service providers in NYC and so looking at all your options takes time. Second, this might be the first time you've had to compare broadband internet providers. Third, most of the broadband plans out there look pretty similar at first glance. And fourth, some ISPs won't advertise their best plans for students so you'll need to do some digging to get the package that's right for you.
This guide will help you sort through all the noise so you can find the best internet service providers in NYC for not only all-nighters and online exams, but also keeping in touch with the people you care about and keeping on top of everything that's happening in the city.
The State of Broadband and the Internet Service Providers in NYC
New Yorkers across the five boroughs typically have plenty of options when it comes to broadband providers and plans. In fact, NYC may be one of the best connected cities in the entire world! The big players like Xfinity and CenturyLink are here, as are Verizon and Time Warner, but there are also plenty of smaller ISPs in the city, too. The average broadband speed in the state as a whole is about 40 Mbps, which is more than enough for most users, and fiber is now available throughout the city.
More good news: New York City is committed to having universal access to broadband. Part of the OneNYC initiative involves making sure that all NYC residents and businesses have access to affordable and reliable high speed broadband service by 2025. To accomplish this goal, the New York City Department of Information Technology & Telecommunications (DoITT) promotes competition among broadband providers, invests in networks that extend high speed access into low income communities, and works to cover all of New York City's public spaces with Wi-Fi service.
This means that there's probably already solid, speedy broadband in your neighborhood but if not, it will be available soon. Here's how to find it:
Search for Internet Service Providers Nearby
As a New Yorker, you'll have more ISPs to choose from than the average American but your options will still be somewhat limited by your neighborhood. So which ISPs are available in your area, anyway? Unbiased sites like BroadbandSearch will give you a list of internet service providers in NYC, and from there you can drill down by your zip code and street address. Then you can start looking at what each ISP is offering to narrow down your search even further.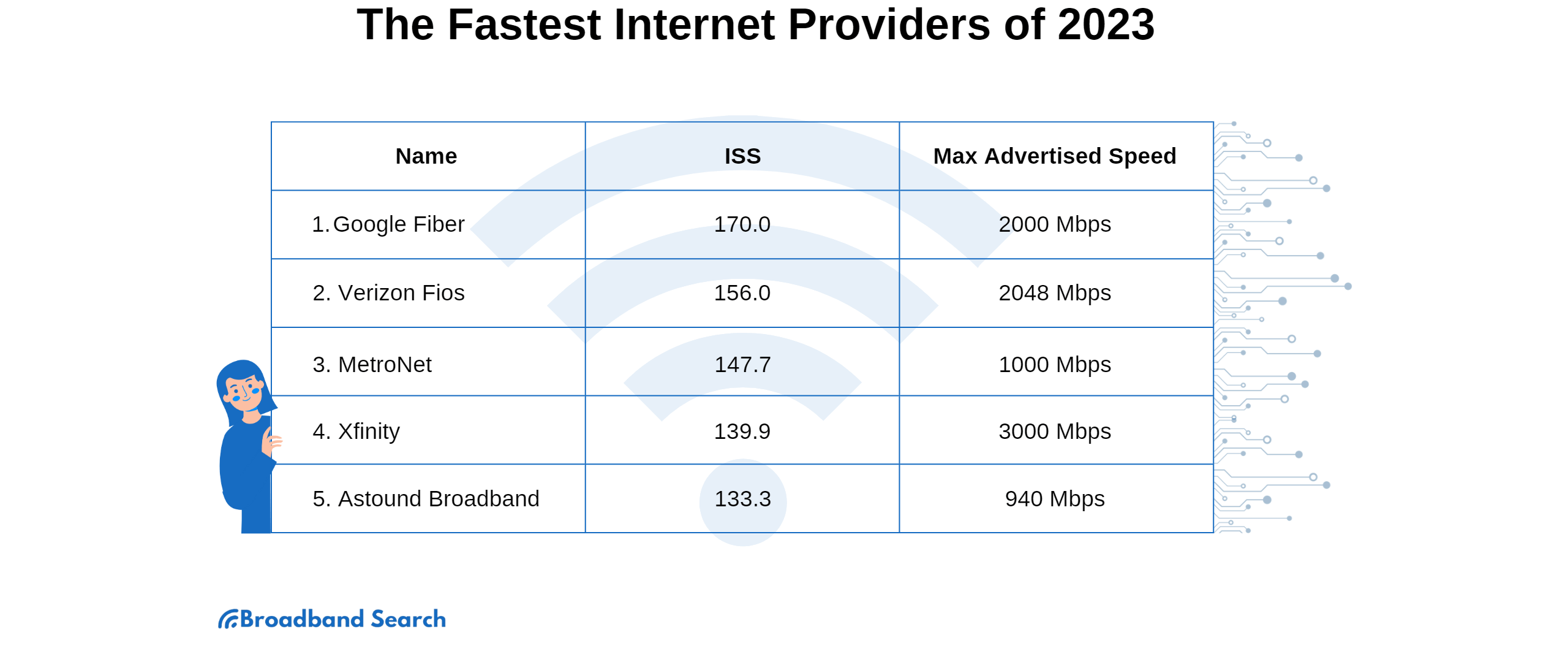 Look at Reliability First
You can't afford to have your internet go down when that term paper is due or you're scheduled to take an online midterm that will be worth 40% of your grade - so choose your ISP accordingly. Cable and DSL are now pretty similar when it comes to their overall reliability, and fiber internet is even less likely to have downtime. Cable can slow down during peak usage hours but chances are good that you won't have any issues.
Ask neighbors and friends who live nearby to tell you about their experiences with different internet providers in NYC and feel free to go down the rabbit hole of online reviews. Past outages aren't necessarily a predictor of future ones because infrastructure improvements are happening all the time in the city, but if you hear over and over that a certain ISPs service is super spotty then stay away.
Symmetrical Speeds Matter
Your first impulse may be to opt into the speediest plan you can find, but don't be swayed by top download speeds. As a student who will be using the internet for everything from research to tuning into lectures to submitting papers, you definitely need more speed than a user whose main online activities are reading email and checking Facebook. But you also should look for plans with symmetrical speeds, i.e., broadband with upload speeds that are just as fast as your download speeds. That's because taking tests online, participating in discussion groups, and submitting work all require sending information, not just consuming it.
Can you get by with a 10 Mbps plan? If you're the only one using it in your household, the answer is yes. Sharing with roommates? Then you need a 25 Mbps plan or higher so you can all be online at the same time without suffering a slowdown. And if your place is the place to be for those marathon study sessions, then look at plans that are 50 Mbps or higher so your friends can hop on your Wi-Fi. Of course, if fiber is available in your neighborhood and fits into your budget, then consider your broadband bills money well spent. Symmetrical gigabit speeds will definitely come in handy.
Think About More Than Homework
How do you use the internet? That should be something you think about as you look for internet service providers in NYC. Do you prefer to live big IRL and stay away from screens whenever possible? Or are you glued to Netflix from Friday PM to the early hours of Monday morning? How many people will be using this plan simultaneously on the regular? Do you stream your gaming sessions on Twitch? Run a game server? Here are some basic considerations to mull over:
Light internet users can get away with cheaper plans with data caps
Ditto for people who live alone
Heavy users need unlimited plans with higher bandwidth
Gamers should look for unlimited plans
People who are sharing one plan are technically heavy users
Users who are hardly ever home should prioritize mobile access
Movie buffs and sports fans can save with bundled packages
Your interests probably haven't changed that much since coming to New York for college, so it may be worth it to ask your parents what sort of broadband package they had when you lived at home. That particular provider may not be among the internet service providers in NYC, but you may be able to get a similar plan.
Student Specific Internet Options
Your broadband technology options will be the same as those of your neighbors, though as a student you might have access to plans they can't get. The technologies in NYC include:
Cable: This type of broadband uses cable TV lines to deliver an internet signal. Your college may have a deal with one of the local cable companies that lets you get broadband for less.
DSL: This type of broadband uses telephone lines to deliver your internet signal. In NYC, DSL is much more reliable than in remote suburbs because users are closer to the hub.
Fiber: Your internet signal is delivered over wires made of bundles of thin strips of glass when you have fiber internet. It is the fastest broadband internet connection you can get.
You can also get satellite broadband, fixed wireless, and cellular internet in New York, but since the wired internet infrastructure is so good and so widely available here, they aren't as popular.
Looking for a student discount? It never hurts to ask! Some internet service providers in NYC offer discounted plans for college students, but even the ones who don't may be willing to cut you a deal if you ask for one. You might even be able to get a deeply-discounted laptop or software products through your ISP if they have a contract with your university.
Pay Attention to Data Caps
Students should opt for broadband plans without data caps whenever possible because life in college can be unpredictable and you can't control your roommates' habits. BroadbandSearch included data caps on its Broadband Nutrition Facts Labels specifically so students and other users could compare companies more easily. If you can't find a local ISP with a no-cap plan, then look at packages that have very high data limits and very low fees for going over your cap. Always get more data than you think you'll need because shelling out for extra data when you hit your cap is usually pricier than paying more upfront.
No Contract Plans are Your Best Bet
Some internet service providers in NYC have no contract plans, and these will always be your best bet. Being able to cancel your plan without any penalties when you go home for the summer or if you transfer schools just makes sense. Or maybe you want the freedom to switch broadband providers if your plan isn't working out. When you lock yourself into a 12 or 18-month contract, you're stuck with your provider or you pay a hefty cancellation fee if you cancel before the end of the minimum term.
And Yes, Price Matters
If your parents are footing your broadband bill, you may be limited in terms of how much bandwidth you can afford. The same will be true if you're paying your bills yourself and living on a budget. Make sure that the broadband plans you're looking at are cost-effective and don't include a lot of extras you don't need.
For instance, there's no point in paying for an internet/TV bundle or an internet/landline bundle if all you need is broadband. If an ISP tries to charge you for things like antivirus software, firewalls, and email addresses, let them know that you don't need them and don't want to pay for them. And don't forget to ask about those student discounts because, hey, you never know!
As a student, finding a reliable and affordable internet service provider in NYC is going to be so important to your college career. You'll never find a perfect ISP but you will find a broadband company that has packages that work for you whether you're online 24/7 or log off when your homework is done.
Are you ready to start shopping for internet service providers in NYC that can get you through undergrad and beyond? Then check out the ISPs in your area.
FAQ
Can I trust online internet service provider reviews?
Maybe you can trust them. Then again, maybe not. PCMag conducted research on the topic and came to the conclusion that as many as one-third of online reviews for this industry are not legitimate. That's a pretty big number so take reviews with a grain of salt.
Is there any way to get out of a service contract?
Typically, no. One thing that has become popular in recent years, though, is for a new provider to buy out your contract with the old provider in return for you signing a new contract with them. It might seem like six of one or a half dozen of the other but it's something to be aware of in the event that you turn out to be really dissatisfied with the first provider.
How fast is a fiber internet connection?
Typical fiber service is sold either at 1 Gbps speed or 2 Gbps. Most people would have no need for the latter. A 1 Gbps connection is plenty fast for anything sane that you might want to do online. This includes online gaming, 4K streaming video, and video conferencing. You might spring for the faster fiber if you plan to build and steer a spaceship out of the solar system.
Do fiber connections have symmetrical speed?
They do, and that is one of their most valuable features. You can expect to have an upload speed that matches the download speed. For the particular activities students are typically involved in, other types of internet might feel limiting due to slow upload speeds.
What is Project 10 Million?
This program aims to deliver broadband internet service to millions of underserved student households. Features it offers are free data for a year, a portable hotspot, and access to a low cost laptop. More information on how to locally access the program can be found on any major internet service provider's website.