With the current crisis keeping most people around the world inside their homes except for the essentials, people have needed to readjust their routines regularly, whether that means work, communication with loved ones, or other things entirely.
And few people have been hit as hard as students, whether they are in kindergarten or their last year of high school. College students face the prospect of online-only classes, something that probably annoys them just as much as their professors.
Fortunately, the internet and the wide selection of tools it can offer are a saving grace during these trying times. There are learning apps and programs that can utilize videos, multiple forms of media, video chat with instructors, guided courses, and much more to provide an education that is as effective as possible, given the circumstances. More interestingly, there is content on everything and for everyone, and people of all ages are now giving distance and online learning a try.
To help you with this process, we have looked into and found some of the best distance learning tools for people of all ages, whether they're focused on sharing content, helping people better connect to educators, or simply supporting their family members' education.
The Best Distance Learning Tools for Children
Ensuring that your children are keeping up with their studies is paramount. However, giving them a textbook and telling them to read in their room probably isn't going to be enough for them to keep up, especially as many of them may only be in online classes when the summer ends. Fortunately, on top of what schools might be using, there are plenty of options that can help your children keep up with the class and their own interests, as cooped up as they may feel.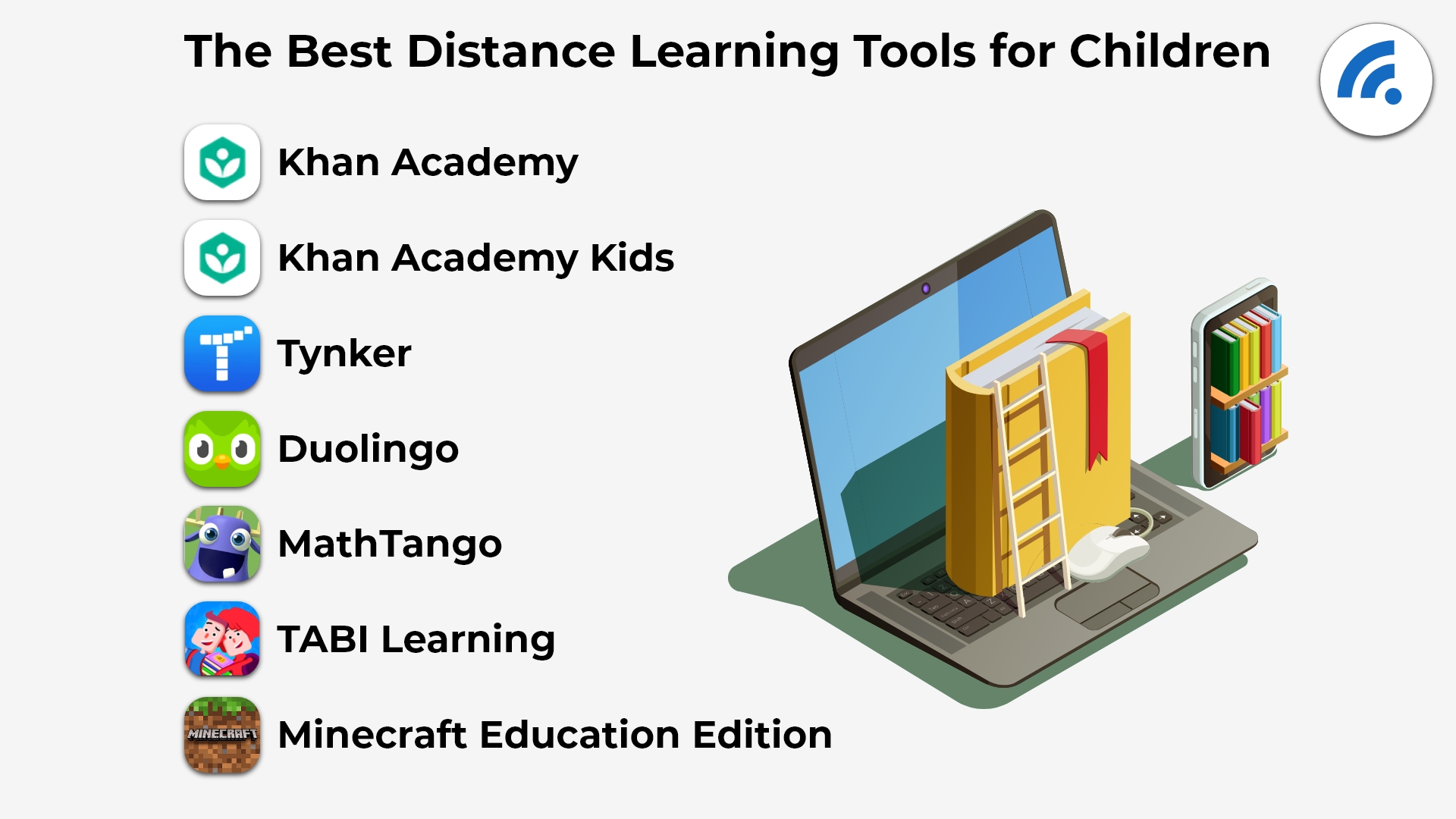 Here are some of our top choices:
Khan Academy: One of the most famous and effective learning websites. Khan Academy is a free website with a host of courses for subjects starting at first grade all the way towards more advanced high school subjects. While focused primarily on math topics, they have a diverse range of courses, including economics and art history. It can even help with preparation for standardized testing.
Khan Academy Kids: What if the normal Khan Academy websites and videos might be too advanced for your younger child? There is also Khan Academy Kids, which focuses on more elementary topics while being fun and engaging to keep your child's attention. Entirely free, it is an award-winning program that every parent should at least look into.
Tynker: Do you want your younger child to experiment with coding? If so, then Tynker is an enjoyable way for your child to experiment with coding concepts, work with Java and scripts, and do things they will find fun. For even younger kids, there is a Tynker Junior app you can check out.
Duolingo: Duolingo is genuinely an excellent tool for learners of all ages. We think the layout of the site, the general design, and the teaching methods used on the site make it a great choice for children learning a new language. And with plenty of options for just about every background and household, Duolingo can be a fun way for your child to engage with their culture, learn new words, and improve their overall language skills. It also happens to be free.
MathTango: A bit more focused in scope than the other tools listed here, MathTango is an app designed to help kids from grades one through four with arithmetic and basic mathematics, utilizing fun games to do so. There are plenty of puzzles in the app, and while it may not be great for strictly remote learning or as a significant supplement to what an educator assigns, it can be a fun option in the summer when there is little else to do.
TABI Learning: TABI Learning mainly covers math topics and is another app that focuses on gamifying learning for children so they will be more entertained, more engaged, and more likely to come back to the app of their own accord. Generally focused on grades three through five, it has a great team behind it constantly focused on improving the app.
Minecraft Education Edition: Does your child, like many children, love Minecraft? If so, you might want to look into Minecraft Education Edition. A Minecraft geared towards children who love to learn and educators who can find new ways to engage their students through a familiar medium. There are many options and modules to look through, and we think a scroll through their website will be well worth it.
Before moving onto the next section, we would like to mention that in addition to all of the above distance learning tools, your child's peers are also learning tools in their own right. This has been talked about frequently in recent months, so make sure that your children can communicate with others, whether in a study environment or outside of it. This will likely happen on its own, but try and ensure you are facilitating it where possible.
The Best Distance Learning Tools for College Students and Working Adults
As you are undoubtedly well-aware, children are not the only ones who can learn things online. College students and graduates looking to learn new skills outside of work necessity can also gain a great deal by learning online. In the current crisis, many people might be looking to retrain themselves after losing their job or hoping to take this time to get a step ahead in their career.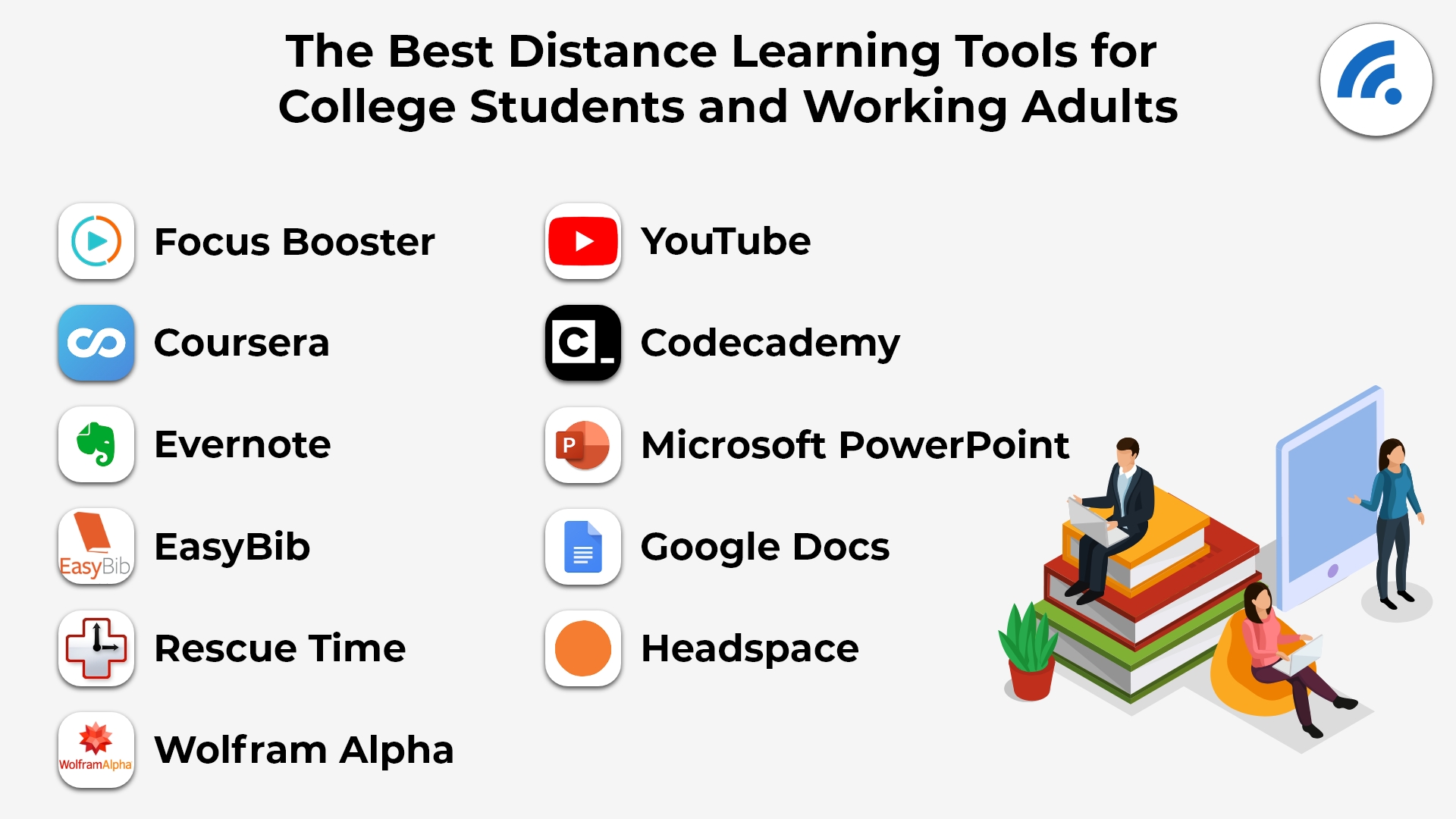 And much like the previous section, most of the tools listed below aren't exclusive to adults. We encourage you to introduce these tools to your children if you think they would be a good fit. Just be sure that the courses would be appropriate for their interests and age level, and that they would not be overwhelmed by either the app itself or the complexity of content they might be dealing with.
Whatever your situation, here are some more excellent tools that can aid remote learning. We think they would be great for both adults and college students:
Focus Booster: The internet and computers are distracting. On top of that, life itself can be incredibly distracting in a learning environment where we need to focus more than ever. And seeing as many more focused spaces such as libraries and study rooms are closed to the public, the Focus Booster app can be an excellent tool for someone spending dedicated time to study while still getting reminders for ever-important breaks. It will act as a timer for you and has additional to-do list and reminder functions for the productivity-oriented.
Coursera: Coursera is an extensive collection of online courses with a vast user base, complete with contributions from top universities covering just about every topic you can imagine. To many people in a difficult time, it can be a great way to boost skills, take a refresher, or expose oneself to new ideas and fields they might otherwise have to go to college and pay a handsome sum for.
Evernote: Taking good notes is essential for any remote (or in-person) coursework, but it does not always need to be done by hand. Sometimes pictures of whiteboards or voice notes taken yourself can spark your memory, and make a much bigger impact. Evernote allows students (and everyone else) to take notes and create reminders their way, and carefully file them away with a series of folders and tags. With distance learning, Evernote's online capabilities and integration are even more useful.
EasyBib: Citations are vital for any academic work, and learning to do them properly is an important skill. Yet you also want to check to make sure that everything is proper before turning in a paper, and EasyBib is one of a few services that allow you to do just that, creating citations for you based on the information you provide. It is a supplemental tool you will quickly wonder how you did without.
Rescue Time: While often used with workplaces to track time, Rescue Time can simply be used to help you better understand how you spend your time online, particularly those hours where you mean to study. And as distraction can be more readily available when distance learning, this app might be a great way to help you stay on track.
Wolfram Alpha: While difficult to summarize in its entirety, Wolfram Alpha is a "computational knowledge engine" that people can use to answer their questions with answers generated from intelligent processing. It is by no means perfect and should not replace experts and more dedicated apps and programs, but it can be a great first place to look or something to explore when you do not know where to go next with your distance learning. We recommend you check it out for yourself, it's a great tool but is undoubtedly different.
YouTube: While the content on YouTube might not always be suitable for youngsters (too many videos slip through the algorithm for us to say it is an acceptable choice for children), there is an educational YouTube video about everything. While we will not list channels as there are simply too many to go over, a quick search will yield everything you need to give yourself primary or supplemental information on your topic of choice. It can be a great study aid for the visual learner.
Codecademy: A way for adults to learn coding from home at their own pace, Codecademy has emerged as a great way to help yourself distance learn some aspects of computer science and programming topics. With many languages to choose from at multiple levels of complexity and skill, you can use it to boost your resume or keep up to par with your classes.
Microsoft PowerPoint: You might think that this is a simple and obvious choice that you already have, and that is used too much. Yet PowerPoint (or similar programs), and learning its proper applications are important for distance learning and conveying information to other people online, whether in a business meeting, an online classroom setting, or as part of a course presentation. It is more useful than you might think, and it is worth revisiting if you have not used it for a while.
Google Docs: You almost have to be using some form of a Word Processing app or program to make it through college or even most jobs today. Yet we wanted to point out Google Docs for one reason: the ability to easily collaborate with others, share comments and notes, and make changes and suggestions on the fly. This makes it excellent for group projects or swapping papers for peer review.
Headspace: While not directly related to classroom learning, recent times have been stressful for everyone, especially college students facing uncertain futures. Headspace is a meditation and mindfulness app that offers guided sessions to people to help with mental health and stress. For people struggling with current events combined with additional stressors, it might offer some moments of respite and a healthier mindset. At the very least, the app tells you to take a few minutes for yourself to clear your mind.
The Best Distance Learning Tools for Educators
Education is a two-way street, and what is good for the teacher is good for the student. If you are an educator, you want to have tools that can save you time on the unimportant tasks, and help you get ideas and communications across faster. On that note, here are some tools we think can help: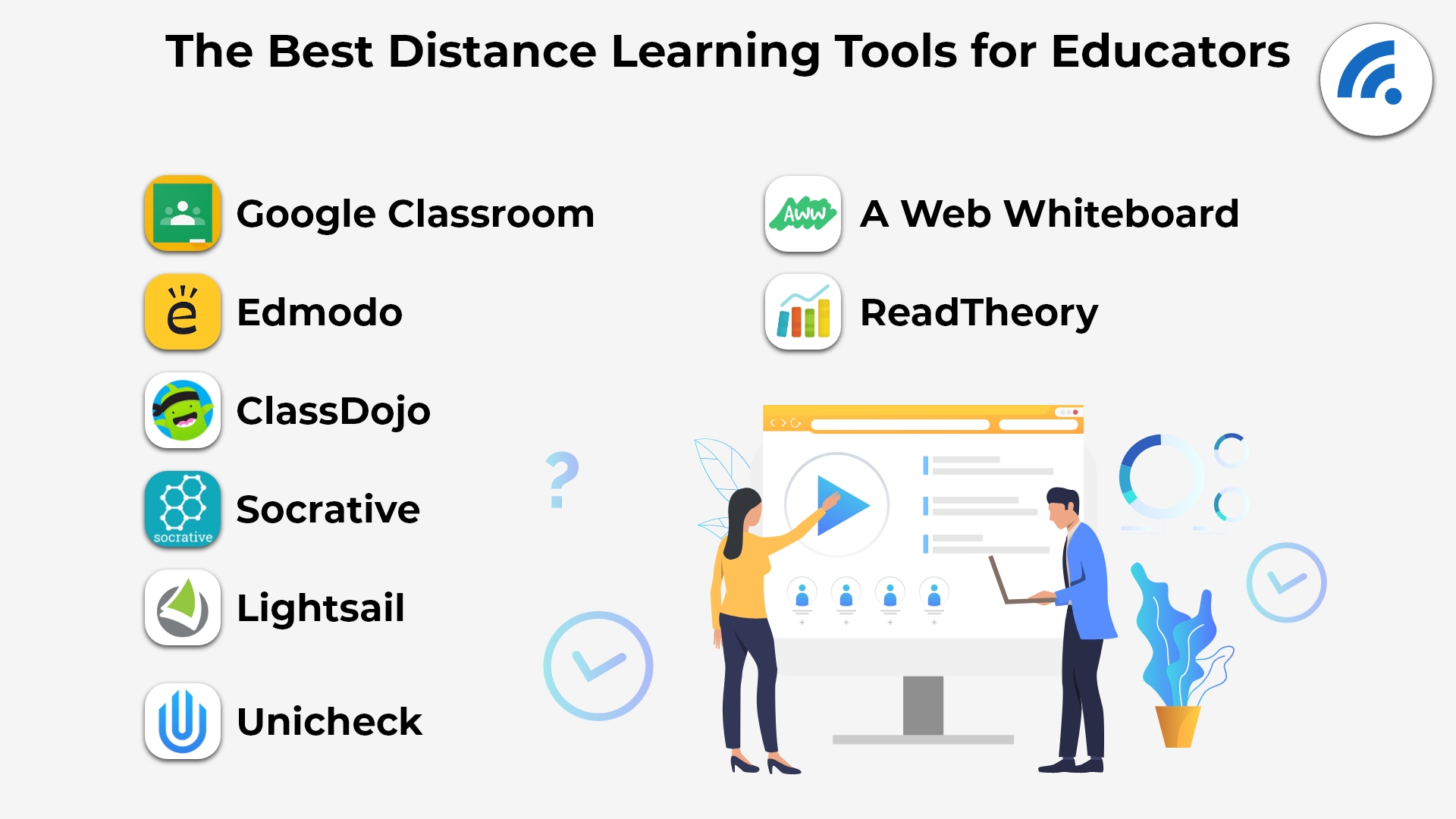 Google Classroom: Recently, Google put out an app that teachers can use as a virtual classroom if their school doesn't have any strict guidelines or a mandated preferred option. While there are many options out there, Google Classroom remains an excellent free service available to all that allows virtual classrooms to exist and for teachers to better instruct their students in a remote environment. It comes complete with all the features a teacher might need for standard operations and is worth some of your time to review it as an option.
Edmodo: Another app or service that allows educators to manage their remote classrooms more easily is Edmodo, which allows educators to connect more closely with students and parents despite the difficulties of a remote learning environment. It allows for messaging, reminders, sharing of materials and assignments among all parties, and the online creation of assignments and quizzes.
ClassDojo: Commonly used by schools and educators, Classdojo comes at no cost to teachers and is another app that allows teachers to have a more direct link with families and students. It allows for more opportunities for encouragement, positive feedback, and in some cases, might feel a bit like social media for the classroom.
Socrative: Another one of the more well-known remote learning apps, Socrative is another top classroom app available for use with students of all ages (the app is free for students) and available for all platforms. It allows for a great deal of tracking, simultaneous room creation, has some fun activities for students, and can be an excellent organizational tool.
Lightsail: With enhanced access available due to the Coronavirus, LightSail is focused primarily on enhancing literary skills among students of all ages. It has progress monitoring, a remote teaching toolkit (especially helpful now), and enough options and programs to enable you to pick the right resources for your circumstances.
Unicheck: Unfortunately, plagiarism occurs in the remote classroom just as much as it might happen when you are meeting students in person. While there are plenty of plagiarism checkers in existence and you might already have one of your preference (which we encourage you to continue using), we found Unicheck to be an excellent choice for detecting problems.
A Web Whiteboard: Simple in its design yet vast in its potential uses, A Web Whiteboard can be used by teachers to share ideas, draw links between items, and allow for immediate collaboration. It is straightforward to use, touch-friendly and has plenty of features that teachers and people from many other walks of life will love.
ReadTheory: ReadTheory is a tool best used by English Teachers (alongside parents) to improve reading comprehension at all ages. It has remote teaching options, is widely used by teachers and students alike, and has plenty of content to work from, allowing for a more customized curriculum for each student.
We understand that what tools you use might be out of your control, at least in your direct connections to your students and your virtual classroom, but we hope you can use some of the above tools to supplement your main strategies and methods.
If you are a parent reading this section, there is no reason not to look into these yourself, and perhaps suggest or pass them along to your child's teacher (without necessarily telling them how to do their job). It might inspire ideas or allow the teacher to understand better what your child needs and what might work best. Communication is vital, now more than ever.
What Makes a Good Distance Learning Tool?
These are not all the distance learning and education tools you can find online; this could not be further from the truth. There are thousands (if not more) of websites, channels, and tools you can find online for more niche purposes, and more will continue to come out every day. To help you verify whether a tool is worth your time, we suggest you look over the following: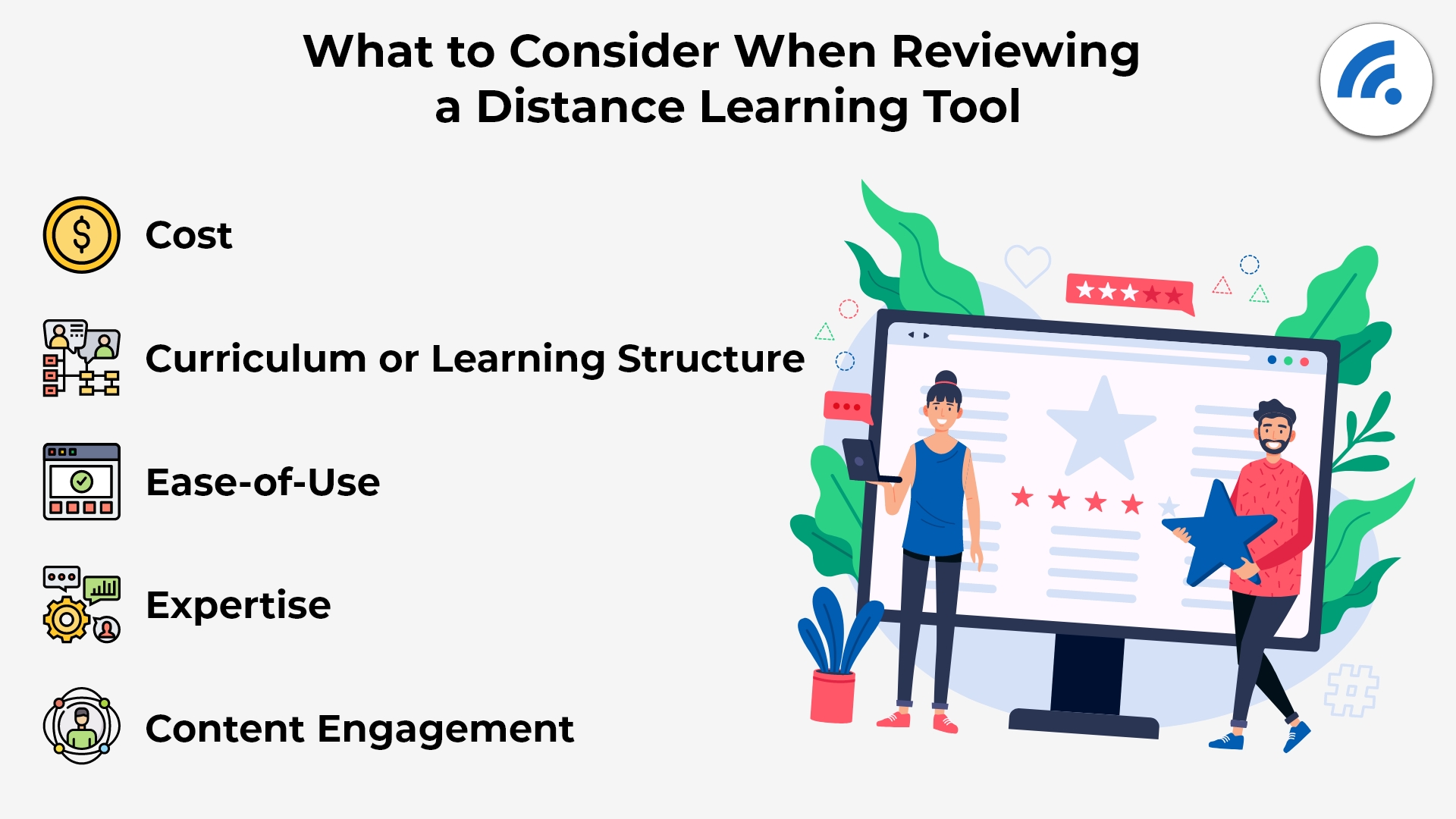 Cost: Is there a price or monthly subscription associated with the app? Is there at least a demo or trial you can try out first? Many apps are worth it, but many more are not, and you cannot pay a substantial fee for every learning opportunity that interests you. As with most things, weigh the cost against potential benefits, effective alternatives, and your financial situation.
Structure: The best tools and courses have at least some structure to them or help guide you towards the courses and subjects that will most interest you or your children. Random learning and videos simply will not be as effective as a more curated experience.
Ease-of-Use or Accessibility: Whatever the nature of the tool, it should be easy to use. If you need to spend 10 minutes getting set up every time you or your child want to study, it will happen a lot less.
Additionally, if you or your child has a learning disability or a different learning method from most people (or any other concern), you should ideally search for a distance learning tool that can accommodate your individual needs.
Level of Research: What is the quality of the tool's content, or how has the user experience been fine-tuned to provide for better learning? Given the amount of research that has been done and the breadth of information available to all, courses should not be outdated, and there should be something new beyond what you can find on a Wikipedia page.
Level of Engagement: While not every tool needs to be subject to gamification, a solid distance learning tool or course should keep you or your children engaged, if not entertained. The less engaged you are, the harder it will be to return to the tool, no matter what content it covers. A monotone speaker backing up a basic slideshow with no way to try out what you learned is just not enough for most people, and you should hope for more.
There is more to it than the above factors, and your own environment and commitment to the courses or learning methods will ultimately mean a lot more than the nuances of each individual tool. Still, you should ask yourself about each of the above before committing.
Conclusion
Distance learning is a trend that is still evolving and shaping itself around the needs of its users. As such might still be flawed in some aspects compared with more traditional learning methods, but that's far from saying that it isn't worth it, especially when those alternatives aren't available and won't be for some time. We do not expect you nor want you to use or try out all the tools above, but we do hope that you will consider some. We wish you and your loved ones the best of luck with their studies.